Oklahoma Tornado Photos Reveal Widespread Destruction in Coweta
Tornado warnings remain in place in parts of Oklahoma as winds of 70mph damaged buildings and left thousands without power in the state.
Dramatic photos and video footage have already appeared on social media, offering early indications of the sheer destruction wrought by the tornadoes.
2 News Oklahoma has published screengrabs from footage reportedly taken by a storm chaser in Coweta.
One image appears to show parts of a roof ripped off a home" while another is thought to show trees strewn across a school's baseball field.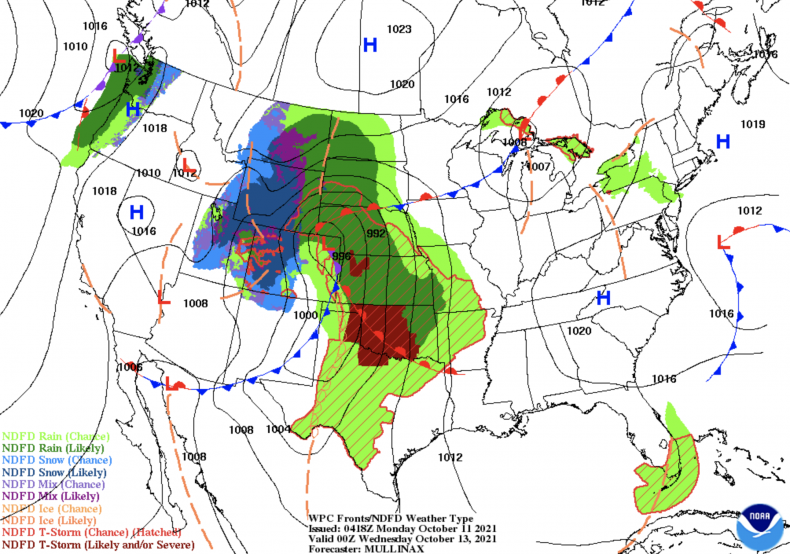 A third image posted on Facebook depicts a gas station near Coweta High School late on Sunday night with its roof visibly buckled by the tornado.
A 4.50 a.m. local time update from National Weather Service Tulsa confirmed the tornados are powerful enough to damage buildings and urged people to immediately take shelter from the rampaging twisters.
National Weather Service Tulsa wrote: "Lofted debris being detected in Coweta! Take cover from this storm now!! This storm is tracking NE. This storm is strengthening quickly!"
Professional storm chasers following the twisters' projected paths were also out in force, with many capturing stunning images indicating the wind systems' imposing size.
A statement released by the National Prediction Center, which Newsweek has contacted for updates, confirmed locals need to be wary in the coming days.
Twisters form only one element of the "severe weather outbreak," which is thought to have left more than 10,000 customers in the state experiencing outages.
Issuing a Moderate Risk for severe weather for central and eastern Oklahoma, the Weather Protection Center wrote: "A trio of storm systems are set to unleash a myriad of weather hazards across the western two-thirds of the Lower 48 the first half of the week.
"The first is unfolding in the northern Great Lakes and northern Minnesota as an occluded storm system is set to generate strong-to-severe storms this afternoon and evening.
"A second storm system is unfolding in the Southern Plains where a potent cold front and late-season dryline are set to ignite severe storms later today [Sunday].
The Center added: "All modes of severe weather; tornadoes, damaging wind gusts, and large hail are possible within severe storms."
Jeff Nicks, of R&J Complete Auto Care on Porter Avenue, told KOCO 5 about the damage he sustained by golf-ball-sized hailstones as the storm swept over his home.
He told local media it "sounded like a war going off" and a blue car looked like a "cannonball had shot through" its windows.
Flash floods have also compounded misery on those living in affected areas of Oklahoma, with a warning issued for central Oklahoma on Sunday evening.