Hailstones "up to the size of nickels" are forecast for parts of Oklahoma early this morning according to the National Weather Service (NWS).
In a special weather statement issued at 4:21 a.m. CDT today, a significant weather advisory for southeastern Garfield, northwestern Payne, northern Kingfisher, northwestern Logan and southern Noble Counties warned of strong thunderstorms up until 5.15 a.m. CDT.
According to NWS, the storms were along a line extending from three miles northeast of Marshall to five miles east of Dover and six miles west of Kingfisher. It is moving east at 45 miles per hour.
As part of the advisory, the weather service in Norman, Oklahoma, has warned that hail up to 1.5 inches in diameter could fall in the aforementioned areas, with wind gusts reaching 50 miles per hour. It is also forecast that heavy rain will lead to reduced visibility, with frequent cloud to ground lightning possible.
Locations impacted include:
Stillwater
Guthrie
Perry
Kingfisher
Crescent
Morrison
Glencoe,
Dover
Cedar Valley
Marshall
Mulhall
Cimarron City
Orlando
Lake Carl Blackwell
Lake Mcmurtry
Lovell
Lucien
Hayward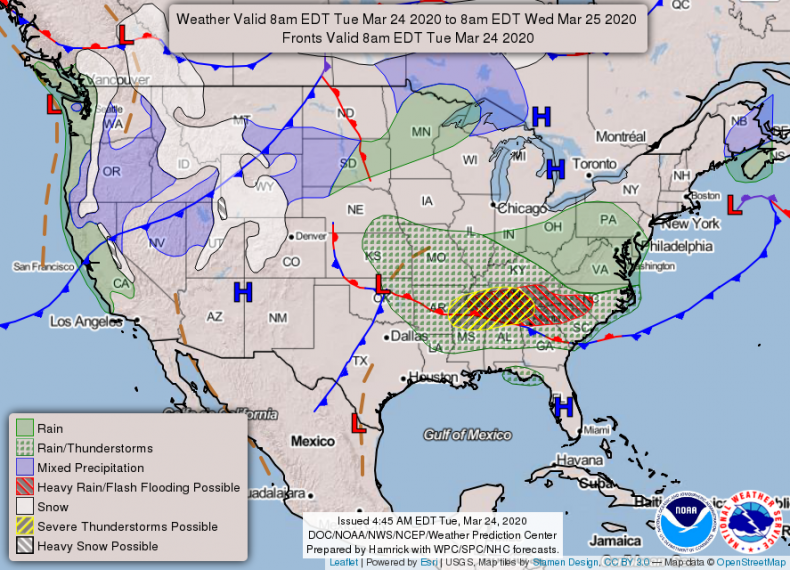 The NWS station in Tulsa, Oklahoma, has also issued an alert for Osage and Pawnee Counties for "strong thunderstorms." According to the special weather statement, at 4.19 a.m. CDT, strong thunderstorms were located along a line extending from six miles west of Fairfax to six miles southwest of Ralston to two miles northeast of Morrison. The movement was east at 40 miles per hour. In this instance, "penny size hail" and wind gusts up to 50 miles per hour are possible.
Locations such as Pawnee, Fairfax, Ralston, Blackburn, Maramec and Skedee are under a "severe thunderstorm watch" until 8:00 a.m. CDT today, as well as the whole of northeastern Oklahoma.
At the Great Salt Plains Lake and surrounding areas, thunderstorms are also bringing hailstones up to the size of nickels, according to NWS Norman, Oklahoma.
An advisory was in place for northwestern Garfield, east central Woodward, Alfalfa, southeastern Woods, northwestern Kay and Grant Counties until 3:30 a.m. CDT due to minor flooding, reduced visibility and cloud to ground lightning.
NWS asks residents in these areas to monitor the weather situation closely and be alert for "threatening weather conditions."
Weather Watch vs. Weather Warning
According to NWS, there are stark differences between a weather watch and a warning, as outlined below.
For severe thunderstorm watches, residents in the affected areas need to be prepared. This is due to the concerns being a possibility rather than being an actuality. People need to stay informed and be ready to act if a severe thunderstorm warning is issued.
The watch area is typically large, covering numerous counties or even states.
In the case of a severe thunderstorm warning, people should take action. According to NWS, this is normally issued when severe weather has been "reported by spotters or indicated by radar."
Warnings indicate imminent danger to life and property and people should take shelter in a substantial building—this does not include mobile homes, which can blow over in high winds. Warnings typically encompass a much smaller area—around the size of a city or small county—that may be impacted by a large hail or damaging wind.
The current warnings and watches are issued a week after NOAA released its Spring Outlook for 2020. The forecast warned that flooding would be an issue for the Midwest, as shown in the graphic below.