Oklahoma Will Let Parents Request Exemptions From School Mask Mandates as COVID Cases Rise
School districts in Oklahoma this week began announcing mask mandates despite a law the state's governor recently signed that was intended to prevent such mandates from being issued.
Two Oklahoma school districts had announced mask mandates as of Friday morning, but both provided opportunities for parents to request exemptions for their children. Governor Kevin Stitt acknowledged the districts' efforts to make those exemptions available in a statement his office shared with Newsweek Friday.
"I appreciate that school districts like Santa Fe Charter Schools and Oklahoma City Public Schools are respecting parents' rights to decide what is best for the health of their children and opt out of mask requirements if they choose," Stitt said.
Stitt previously told local media outlets he did not plan to announce any statewide mask mandates for schools and signed a new bill into law in late May blocking such mandates from being implemented.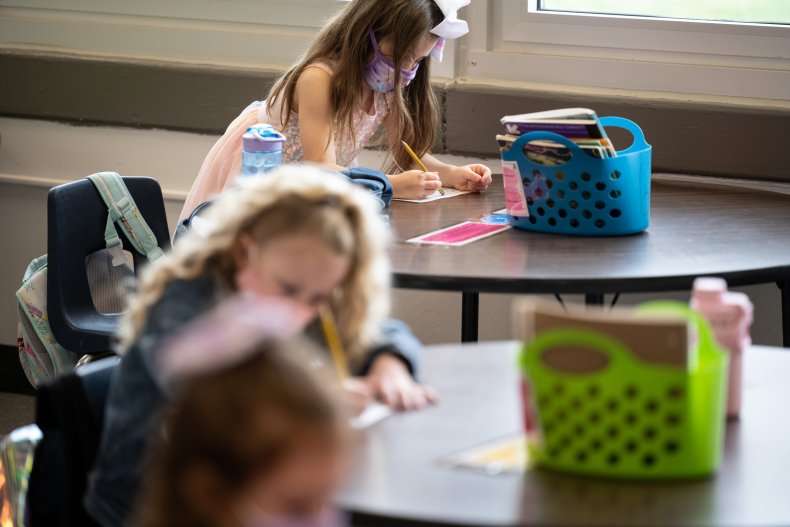 Santa Fe South Schools, a public charter district with students from pre-kindergarten through high school, was first to announce a mask mandate earlier this week, according to The Oklahoman. A message on the district's website said masks must be worn by students, staff members and visitors while at school facilities or while attending school events. The district described the mandate as "an essential part" of its efforts to manage the spread of COVID-19 within its school community.
The charter district said parents can request an exemption for their children if they have "medical, religious or personal" objections to the mandate. Parents must fill out a form for each child for whom they are requesting the exemption, which is available through the school's online parent portal.
Oklahoma City Public Schools (OKCPS) joined the charter district in issuing a mask mandate Friday morning. In a letter posted on the district's website, OKCPS Superintendent Sean McDaniel said the precautions the district had taken so far to prevent the spread of COVID-19 were "simply not enough."
The number of new COVID-19 cases reported in the district jumped from fewer than 10 to more than 100 during the first week of the fall semester, according to McDaniel.
"As the superintendent, I am ultimately responsible for the safety, health and welfare of each and every one of our students and our staff. I take that responsibility very seriously, but the truth is OKCPS can't do it alone," he wrote in his letter.
Starting August 16, McDaniel said face coverings will be required for all individuals on OKCPS property and at school events. Like Santa Fe South Schools, OKCPS will allow parents to request exemptions for their children if they say abiding by the mandate "is not possible due to medical or religious or strong personal reasons."
The three-page exemption form is available on the district's website.