Oktoberfest 2018: History, Facts and Where To Celebrate
Oktoberfest is a Bavarian beer festival that goes on for six days between September and October in Munich, Germany.
The largest beer festival, which is now celebrated worldwide, includes drinking beer, eating food and enjoying festival-like activities. In Germany, it has more significance and celebrates a royal wedding, according to the official Munich website. The two-week festival starts on Saturday, September 22 and ends Sunday, October 7.
Here are some interesting facts about the day, which starts on Saturday: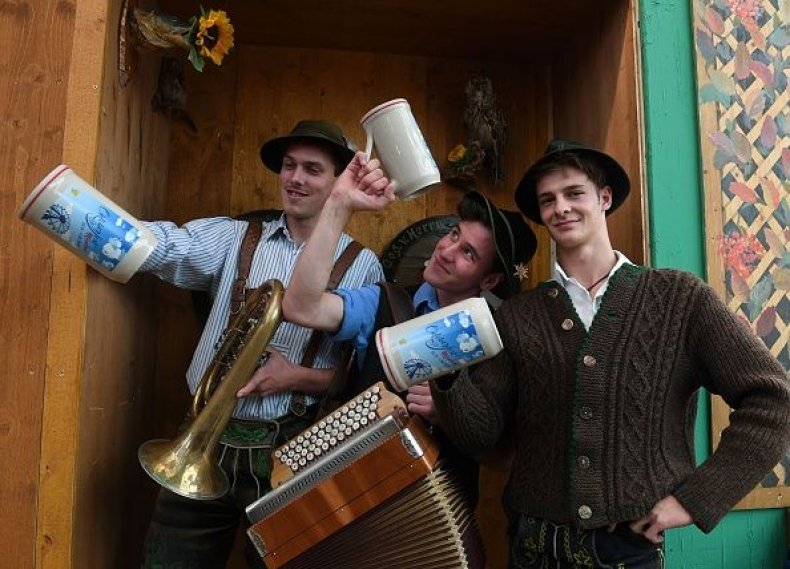 History:
The first-ever Oktoberfest celebrated the wedding of Bavarian Crown Prince Ludwig to Princess Therese of Saxony-Hildburghausen on October 12, 1810, according to the Munich website. Citizens of Munich were invited to the wedding, which took place in front of the gates of Theresienwiese or translated to Theresa's Fields. The anniversary of the celebration came about because of the closing horse race event on October 17 that became an annual tradition, which locals call "Wies'n."
Fun Facts:
Beer: The beer served at Oktoberfest comes from six of Munich's breweries: Spaten, Augustiner, Paulaner, Hacker-Pschorr, Hofbräu and Löwenbräu, according to USA Today. The beer is typically served in a 1-liter glass known as a "mass," which is German for measure, according to The Telegraph. Waiters and beer maids serve the beer and must be able to carry at least 10 of them at a time, according to the website.
Opening Ceremony: The beginning the parade of will bring out festival workers, beer-tent bands, and horse-drawn floats on the fairgrounds, according to USA Today. When noon rolls around, the mayor of Munich will say "O'zapft is!," which means "It's tapped!," and will give the first beer to Bavaria's minister-president.
Festival activities: At the festival held in Munich, the 103-acre field holds a Ferris wheel, roller coaster, water slide, a merry-go-round and other fun, carnival-like activities.
Dress: Although it is not required, some festival goers will wear traditional costumes. It's typical for those who choose to dress up for men to wear lederhosen and for women to wear Dirndl, a traditional Bavarian dress, according to The Telegraph.
Security: Over the past few years, security has been more strict at the festival due to terrorist-inspired attacks in Europe, according to The Telegraph. Large backpacks and bags are no longer allowed at the festival, according to The Telegraph.
Can't make it to Germany to celebrate? Here is a list of places by Michelin Guide for places to celebrate in the U.S.