All the Movies Parodied by Josh Gad in 'Frozen' Spinoff 'Olaf Presents' on Disney+
Frozen fans unfamiliar with Disney classics have the perfect opportunity to catch up with the new series of shorts Olaf Presents.
Josh Gad reprises his role as the snowman who's come to life as we see Olaf recreate five favorites films for Disney+ viewers. Since he's made of snow, Olaf can change reshape his body to match the character he's playing, and he can also creative with the forest props around him.
All five frantic episodes, each lasting less than two minutes in length are available to watch now. Alternatively you can watch a compilation of all episodes in one, which also opens with a clip from Frozen 2 where Olaf recaps the events of the first Frozen movie.
Here are the five movies recreated by Olaf, and how he tells the stories in the Disney+ show Olaf Presents.
The Little Mermaid
Standing on a frozen lake and wearing clam shells as a bikini top, Olaf's first story sees him play out Ariel's story in The Little Mermaid. Olaf mimics Ariel, King Triton, Ursula and Sebastian while Sven the reindeer plays the love interest Eric.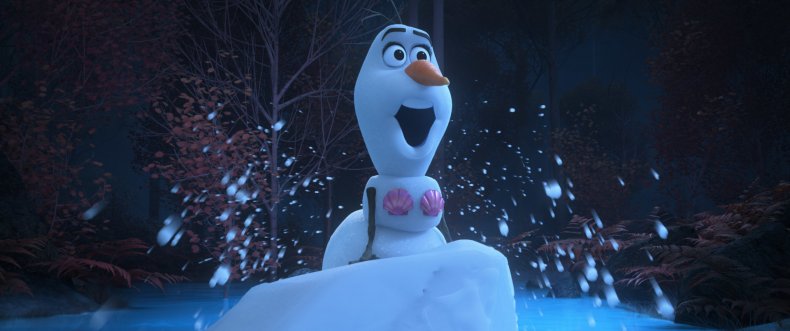 Moana
Olaf makes a pretty adorable Moana, a very muscly demigod Maui and an extremely convincing rooster.
The only person to voice a character other than Josh Gad is Paul Briggs who reprises his role as the monster Marshmallow, which makes him the perfect choice to play Te Kā.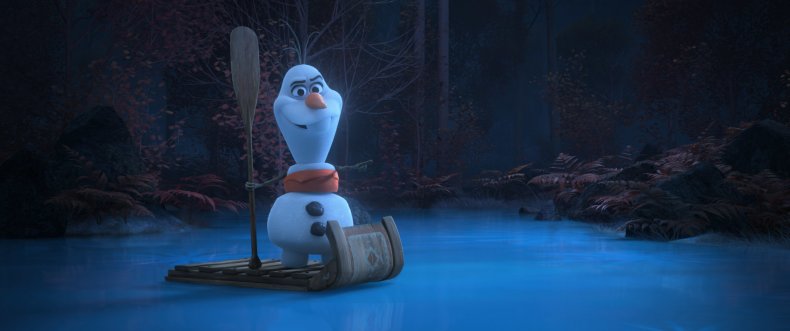 The Lion King
Olaf Presents' version of The Lion King is just as emotional as the real thing, albeit much shorter. Olaf doesn't hold back when singing the classic tunes from the movie and he once again ropes in Sven to play the evil Scar, complete with a scar over his eye. There's no Timon to be seen but Olaf does his best Pumbaa impression by using two carrots to make his tusks.
The story ends with a brief slow-motion fight and a full circle-of-life moment.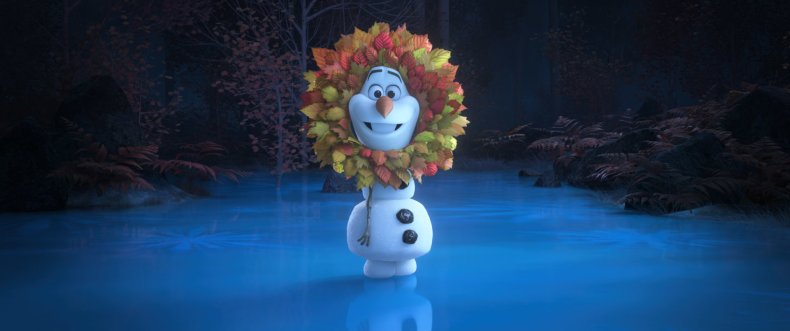 Aladdin
There's no replacing Aladdin's items with forest props, but somehow Olaf got hold of a magic lamp, purple waistcoat and a carpet. He does his best genie impression by dying himself blue and quoting Robin Williams.
As we know there's a happy ending and we see Aladdin (Olaf) and Jasmine (Sven) glide away on their flying (sliding) carpet.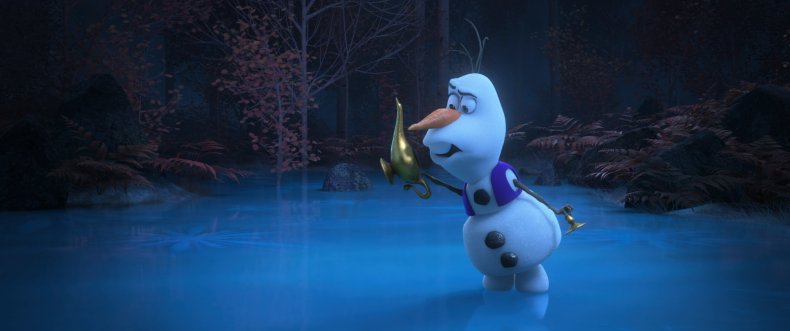 Tangled
Olaf recreates Rapunzel's famous hair with a long piece of rope, but he does live in an impressive snow castle. Olaf also scores a spot on impression of Flynn Rider by nailing his unmistakable smolder.
Everything looks lost until Olaf, as Rapunzel, cries "may my life-giving tears spew forth from my eyeballs and heal you" and pops out an ice cube tear to save Flynn's life.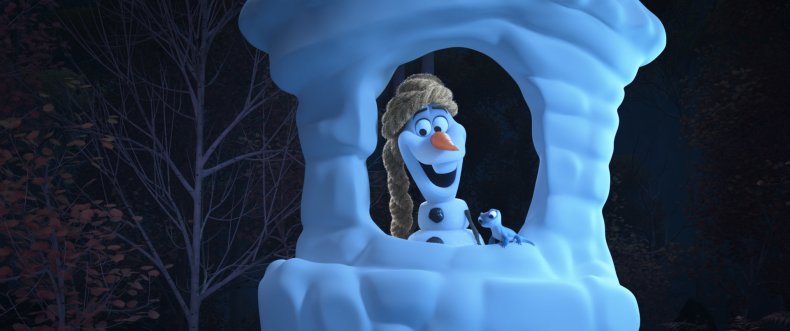 All episodes of Olaf Presents are available to watch on Disney+ now.