'The Old Guard': How to Read the Comic Book Version for Free
The Old Guard has been a hit for Netflix, with the Charlize Theron movie currently at the top of the streaming service's charts in the U.S. The popularity of the movie has led to renewed interest in the comic books that the film is based on.
Luckily for fans new to the franchise who want to explore the comics adventures of Andromache of Scythia (played by Theron) and the rest of her immortal band of warriors, issue one of the first Old Guard arc Opening Fire is available to read online for free thanks to its publisher, Image Comics.
First released in 2017, The Old Guard: Opening Fire was created by writer Greg Rucka (who also wrote the screenplay to the Netflix movie), with art by Leandro Fernandez. The Old Guard movie was based on the first five issues, the synopsis of which reads: "Old soldiers never die...and some of them don't even fade away.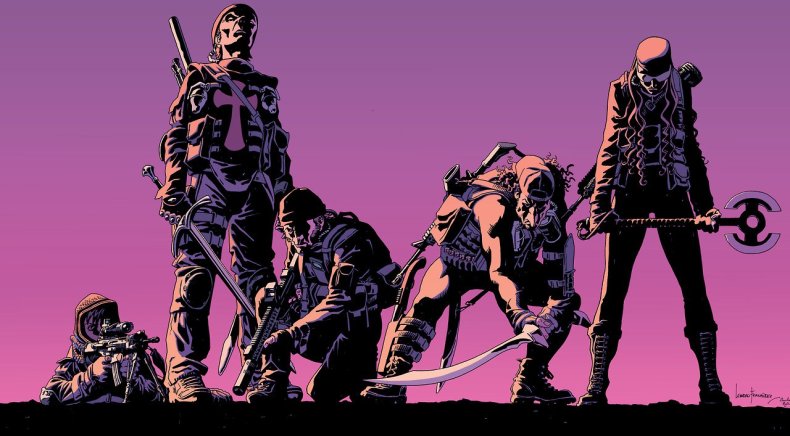 "Cursed with immortality, Andromache of Scythia and her comrades-in-arms ply their trade for those who can find—and afford—their services. But in the 21st century, being immortal is a difficult secret to keep, and when you live long enough, you learn that there are many fates far worse than death."
This five-episode arc was followed in 2019 by The Old Guard: Force Multiplied, which sees the gang's adventures continue with Nile (KiKi Layne in the movie) a fully-fledged member of the team. If the Netflix movie gets a sequel, it is likely to be based on this follow-up five-episode arc.
To read issue one of The Old Guard: Opening Fire, users can visit https://imagecomics.com/read/the-old-guard, where the first issue is available in full now.
There, users can also read the first issues of Image's other comic properties. This includes Mark Millar properties that have become acclaimed movies such as Kick-Ass and Kingsman: The Secret Service as well as Jupiter's Legacy, which is set to follow The Old Guard and get a Netflix adaptation in the coming years.
Speaking to Vulture, Rucka said of the Old Guard movie and comic book: "I keep seeing 'superhero movie,' 'superhero movie.' And I never once thought of this as a superhero movie, and I never once thought of the story as a superhero story...Leandro and I never once sat down and said, 'We're doing a superhero comic.' We say it in the comics. It is a 'fairy tale of bullets and blood.' It is a fantasy, and not meant to be taken as anything other than that, because it is built on an inherent fantasy, which is some people will never die. And then we end up deconstructing it."
The Old Guard is streaming now on Netflix.