'The Old Guard' Soundtrack: All the Songs Featured in the Netflix Movie
The Old Guard is currently the most-watched movie on Netflix, with audience reaction for the Charlize Theron movie fairly positive. However, viewers are much more split over the film's soundtrack. Some have enjoyed the songs featured in the movie from artists like Frank Ocean, Marshmello, and Elle King, but others thought that the songs didn't fit with the emotions of the movie.
A typical tweet about The Old Guard soundtrack reads: "The movie [The Old Guard] is almost completely ruined by the hella cringe music selection." While another tweet reads: "The music in The Old Guard is so awful lmao and feels so out of place."
For those who enjoyed the pop and EDM songs in the soundtrack, however, here are all the songs used in the Netflix movie: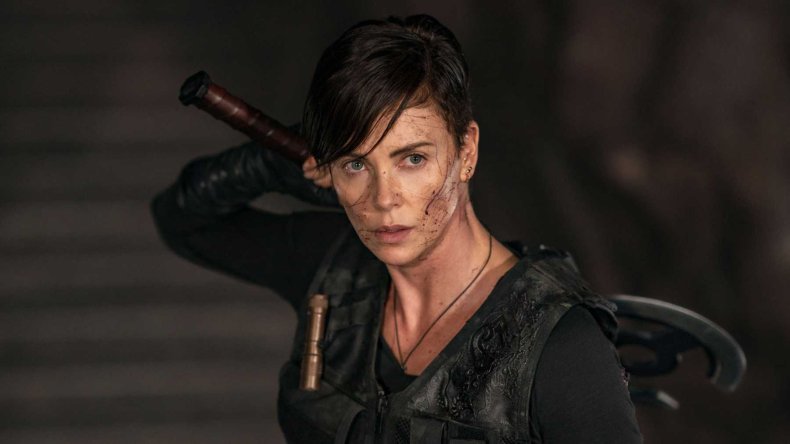 Madalen Duke - "Born Alone Die Alone"
When it plays: Movie opening titles.
Krtas Nssa - "Keep This Between Us"
When it plays: Andy (played by Charlize Theron) and Booker (Matthias Schoenaerts) head out to meet Copley (Chiwetel Ejiofor).
Frank Ocean - "Godspeed"
When it plays: "Godspeed" is the song Nile (Kiki Layne) listens to in the army camp.
Kierra Love - "Put You On"
When it plays: Andy drives away with Nile.
Blithe - "Say Your Prayers"
When it plays: Andy and Nile drive across the desert
Chaii - "Nobody Know"
When it plays: Andy and Nile's fight in the plane
Ruelle - "The World We've Made"
When it plays: In the church, when Andy fights with the soldiers who kidnapped Joe (Marwan Kenzari) and Nicky (Luca Marinelli).
Phlotilla feat. Andrea Wassa and Topher Mohr - "Going Down Fighting"
When it plays: Nile goes into an elevator and heads to rescue the team
Marshmello feat. Khalid - "Silence"
When it plays: The team heads out after their battle with Merrick
Active Child - "Cruel World"
When it plays: Andy and Booker say their goodbyes on the beach.
Elle King - "Baby Outlaw"
When it plays: End credits
As for those wondering what the song is in the trailer for The Old Guard, that is the Brevis Remix of "Borders" by "Paper Planes" hitmaker M.I.A.
Alongside these pop songs, the movie also has an original soundtrack composed by Volker Bertelmann and Dustin O'Halloran. The name of the songs in that soundtrack are:
"The Old Guard"
"Hotel"
"A New Mission"
"Rejuvenation"
"Double Bubble"
"Nile"
"Andy's Mission"
"Nile's Rejuvenation"
"The Iron Maiden"
"Caught"
"Drive To The Mine"
"Little Permissions"
"They Grow Old"
"What If We Don't Live Forever?"
"Love That's Lost"
"What We Leave Behind"
"Traitor"
"Montenegro"
"We Won't Give Up"
"The Old Guard Attacks"
"Skybridge"
"I Always Go First"
"Beach"
"You Are Going to Help Us"
The Old Guard is streaming now on Netflix.