Old MacDonald's Stolen Barn: Farm Theft Is on the Rise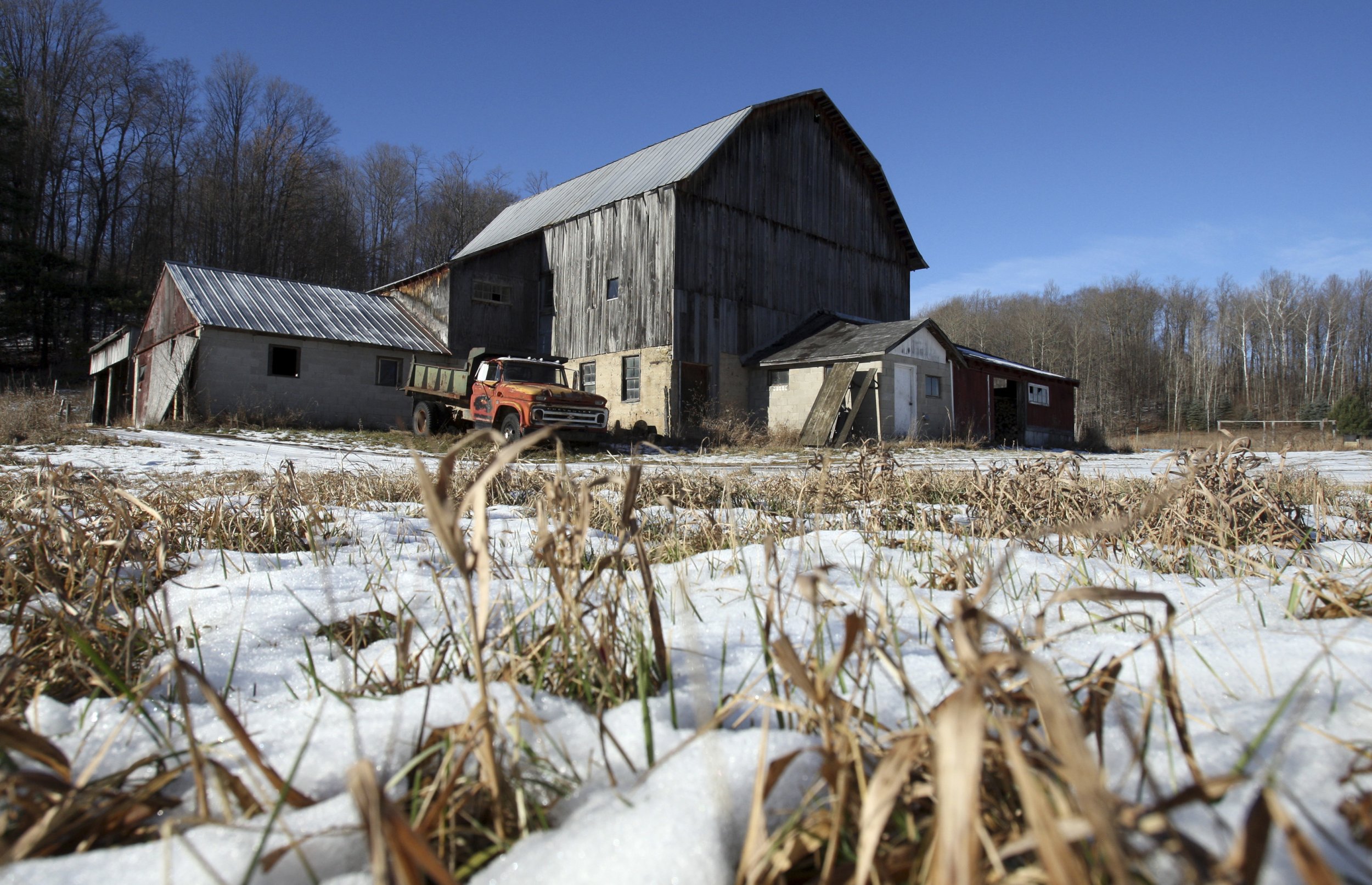 After Sally Ruggeberg convinced her elderly father to leave the Iowa farm where he was born for an assisted living facility in 2013, she decided to dismantle the family barn and salvage its materials. The barn held sentimental value—her grandfather built it around the turn of the 20th century, and it was a popular hangout spot when Ruggeberg was growing up because it housed a basketball court.
In recent years, the barn had fallen into disuse, and Ruggeberg figured she could strip away the walls and shiplap flooring and maybe get thousands of dollars for them. But one day in March, she discovered that thieves had done the job for her, having effectively stolen her barn.
"I knew that it was kind of like a race against time, once it was empty and abandoned," Ruggeberg says. "You can't trust anybody anymore. Everybody thinks they can just show up and pick crap up off of a farm." She says she has worked construction and estimates that "it either took 10 guys five hours or it took five guys 10 hours.... They were organized. It was a group of thieves."
Around the country, farmer advocates and law enforcement officials say, farm theft is on the rise. Misplacing equipment or miscounting livestock happens, but as agricultural commodity prices rise, criminals are helping themselves to animals and harvesting other people's crops. Thieves are taking machinery and fuel too.
An Iowa beef cattle farmer named Myron Ehresman had 18 cows stolen in 2013, worth about $30,000. Fortunately, he had installed security cameras about seven months earlier, and police caught the thief. But the perpetrator had to pay only a $1,000 fine and served no jail time. "If there's no punishment, people will keep doing what they're doing," says Ehresman, 67. "This fellow had been stealing [cattle] for four years, at least, from different neighbors of mine."
After hearing the plight of farmers such as Ehresman, Iowa lawmakers recently proposed a bill that would increase penalties for farm-specific crimes. Currently, criminals there face up to five years behind bars and a $750 to $7,500 fine for stealing property worth between $1,000 and $10,000. For property more than $10,000, the punishment can be 10 years and a $1,000 to $10,000 fine. The new bill would add a "surcharge" of $2,500 for thefts of crops or livestock. The money would go to the state's Department of Agriculture and Land Stewardship.
"The average farmer is a very trusting person," says Iowa state Representative Lee Hein, who is behind the bill, "but unfortunately in this day and age there are people who are more than willing to take other people's possessions." Hein, a farmer, says he suspects someone has even stolen from him.
The bill was introduced in March and passed in a subcommittee last month. Hein hopes it will move to a vote in the coming weeks, and then it would have to go through the state Senate. (Hein's office has previously cited data that show there are more farm thefts than car thefts in Iowa, though a fiscal analyst for the state tells Newsweek that information is no longer believed to be accurate.)
The Iowa Farm Bureau is also lobbying for a change. An addition to its 2015 policy book states: "Mandatory minimum sentences should be imposed for felony livestock or commodity theft."
The problem exists in other states too. Last month, a thief stole vials of bull semen worth a reported $70,000 from a Minnesota farm's storage facility. In October 2014, a farmer in Illinois reported that a thief had harvested his soybeans, worth $18,000. In 2013, orchard owners in California discovered that 140,000 pounds of walnuts had vanished, one in a series of nut thefts in the region. (Investigators reportedly linked the nutty crime spree to a gang of criminals with "Russian and Armenian ties.")
Security companies also say they have seen increases in demand for farm- and ranch-specific products. "They're being targeted because they're so rural," Vic Sauget, the general manager of BigSecurity in Colorado, says about farmers.
"The No. 1 piece of advice is to restrict access, and there's a number of ways to do that. Signage will only go so far," says David Smith, an extension program specialist at Texas A&M University. Smith suggests that farmers improve security by getting insurance, restricting access, putting up fences, gates and "no trespassing" signs and installing cameras.
Smith says trespassing often happens because people don't always know the boundaries between public and private land, and he adds that farm employees can also be cause for concern. "You have employees that will take fuel, they'll take different kinds of pesticides and feeds," he says.
Police in Iowa say they have no leads on the Ruggeberg barn theft. Deputy Tom Christoffersen, who handled the case, tells Newsweek he has seen plenty of reports for stolen farm machinery in his 18 years on the force, but never a farm theft quite as brazen as this.