Old Navy Will Pay Employees To Work At The Polls, Joining Corporate America In Encouraging Workers to Vote
Old Navy announced on Tuesday, which is also National Poll Worker Recruitment Day, that it will pay its employees to work at polling stations come Election Day. The fashion retailer will compensate associates with a day of pay, regardless if they are scheduled to work on November 3.
"We learned that America is facing a record shortage of poll workers, estimated at 250,000. We saw a unique opportunity to tap into our community-minded workforce to serve this need and make a meaningful impact," Nancy Green, Head of Old Navy, told Newsweek.
Store employees will also be offered up to three hours of paid time off on Election Day to vote, while headquarters will have a "no meetings day."
Sylvia Albert, the director of voting and elections at Common Cause, a watchdog group, said that these initiatives have the greatest impact on increasing the number of poll workers when it extends to hourly workers.
"The reality is that white collar workers are generally not the ones most affected by these limitations. In terms of having the time to leave to go vote, white collar workers who work 9-to-5 in the office, with exceptions, are able to find the time to go vote," Albert told Newsweek. "It's those hourly wage earners who will lose hourly wage or are working multiple jobs who are unable to do so."
"I'm not sure it will lead to higher voter turnout, but I'm hopeful it will lead to higher poll worker recruitment. That is a really good avenue where it could make a difference," she added.
Old Navy is only one of a growing number of companies that are incentivizing their workers to be active in civic engagement.
In 2018, Patagonia, PayPal and Levi Strauss & Co. launched Time to Vote, a nonpartisan movement created to address the fact that Election Day is not a national holiday. By calling on businesses to make a commitment to ensure that their employees had a work schedule that allowed them time to vote, the movement hopes to increase voter participation. More than 700 companies have pledged to do just that this year.
"No American should have to choose between earning a paycheck and voting," Dan Schulman, president and CEO of PayPal, said in a press statement. "Business leaders around the country must step up and do what's needed to ensure all of their employees will have the opportunity to have their voices heard this November."
This year, outdoor retailer Patagonia will once again close its headquarters, distribution center and stores nationwide on Election Day. Employees will be paid for the day off.
Twitter also announced in June that the social media giant is making Election Day A paid holiday in the U.S. and encouraged global employees to vote in their national elections by offering them paid time off. Coca-Cola and Ben & Jerry's have also made November 3 a paid day off for their workers.
Other companies like Apple and Walmart are providing workers a number of paid hours to vote during the day if their scheduled shift doesn't allow them to leave while polls are open.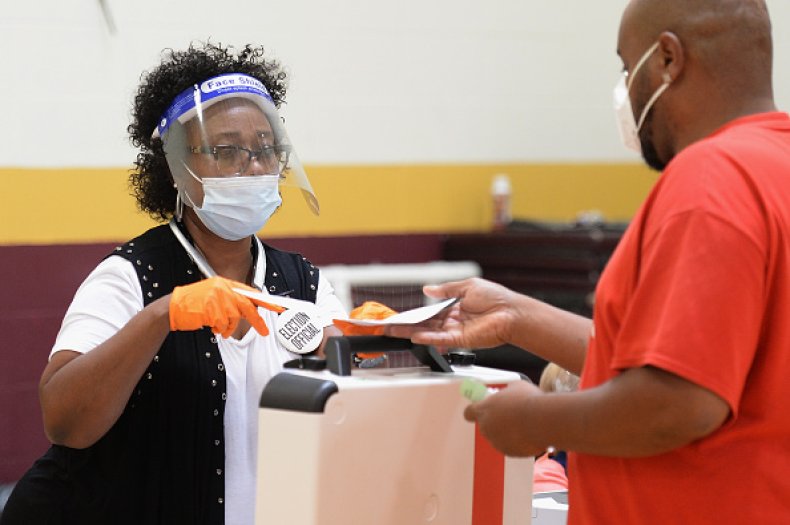 "Over the past couple of years, we have seen a civic renaissance among customers," Director of the Civic Alliance Steven Levine told Newsweek. "We're seeing that employees of the company, as well as consumers of the company, are increasingly looking to companies and asking them to take a stand on issues that are important to them."
So much so, that we want you to influence how our community and our country is governed," Levine added.
The Civic Alliance is a nonpartisan business coalition that supports safe and accessible elections and aims to inspire American to participate in the country's democracy.
However, Albert argues that these initiatives need to go beyond just allowing employees to have the option to partake in civic engagement—companies need to actively embolden their workers to participate.
"In addition to just talking the talk, I want to see these companies walk the walk," she said. "I want supervisors to be told that they need to be encouraging this and that it can't be a negative on somebody's performance review. In fact, it should be a positive on their performance review."
These company initiatives also shape brands' reputations among their consumers—another incentive for retailers to support voter rights.
"We have seen from surveys that 81 percent of consumers prefer to buy from brands that support nonpartisan civic engagement," Levine told Newsweek. "What that demonstrates is, if there's a choice, consumers will side with the brand that are taking a strong stance behind voter participation and civic engagement."
Albert says the main issue big companies need to tackle is not getting their employees to vote but to work the polls.
"The reality is that the government has been unable to really secure poll workers on a national scale," Albert said.
"People just don't think about it. They go to vote and there's the same person there that was there the last time they went to vote. But when you tell people, you being there can actually ensure that people in your community are able to vote a ballot that counts, that's an amazing gift," she added.
While there has been an increasing push to make Election Day a national holiday, Albert points out that it is not the end-all-be-all for a democracy. While it may be one step towards ending vote suppression, hourly workers would still need to clock in on holidays.
It will take a collective effort from citizens, companies and the government to encourage voters to shape the country's future and Albert thinks that companies are a crucial player.
"Corporate America has a gigantic stage and a lot of power. They could have a really positive effect if they step up," she said.