Lil Nas X's 'Old Town Road' Breaks Record Set By 'One Sweet Day,' 'Despacito'
Lil Nas X's "Old Town Road" held the No. 1 spot on the Billboard Hot 100 chart for 17 weeks, breaking the record set by songs belonging to Mariah Carey and Boyz II Men and Luis Fonsi, Daddy Yankee and Justin Bieber.
At only 20 years old, Lil Nas X, whose birth name is Montero Lamar Hill, rose to international fame with the country rap single. The song broke several records, including being the longest-running hip hop song on the top of the chart and most U.S. streams in one week.
It was also recently nominated for seven MTV Video Music Awards, including Video of the Year, Song of the Year and Best Collaboration. Lil Nas X was also nominated for Best New Artist.
When the song reached 16 weeks at the top of Billboard's charts, it tied "One Sweet Day," which was released by Carey and Boyz II Men in 1995, and Fonsi, Daddy Yankee and Bieber's "Despacito," which was released in 2017.
On Monday, Billboard announced "Old Town Road" once again appeared at number one for the 17th week straight, beating the record set by "One Sweet Day" and "Despacito."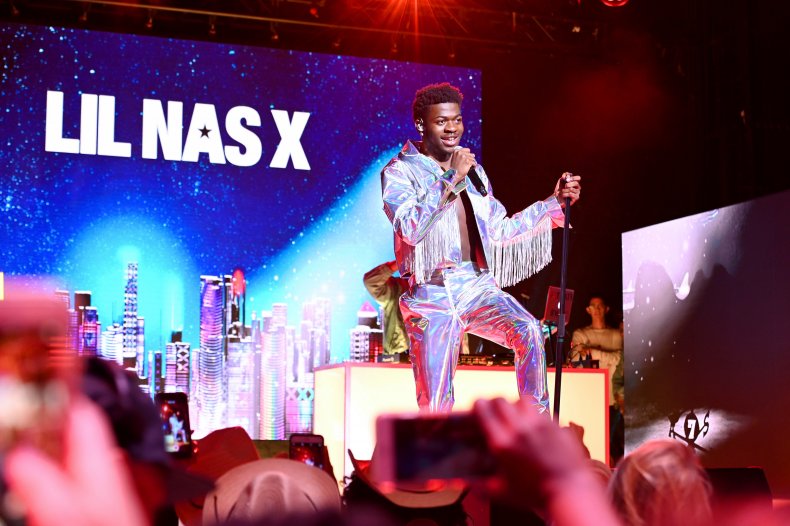 Ahead of the list's release, Lil Nas X told TMZ that if he was to break their records, he would celebrate by cutting down his "usual crying in the bathtub" from five hours to three. Carey might also find herself in possession of a new floral arrangement.
"I may buy Mariah Carey some roses and send them to her because I love her," he added.
On Monday, "Senorita" by Shawn Mendes and Camila Cabello claimed the No. 1 spot on Billboard's Australia list, knocking "Old Town Road" down to No. 2, ending a 13-week run.
In April, Lil Nas X remixed the song with Billy Ray Cyrus and in July was remixed again with Young Thug and Mason Ramsey, which Billboard credited with it lead the Streaming Songs chart. In May, the music video was released, which featured a number of famous faces, and as of July, it had almost 240 million views on YouTube.
Cyrus told the New York Post in July that spending 16 weeks at number one wasn't a thought that ever crossed his mind. For years, Cyrus thought if he ever made it back to the top, he'd retire. Now, with the success of "Old Town Road," he said he has a whole other "album of ideas," so he's not going to bow out just yet.