Old Water Fire San Bernardino Update: Mandatory Evacuations Ordered After Flames Ignite Near Waterman Canyon Road
Despite the Old Water fire's relatively small status, officials ordered evacuations for parts of the San Bernardino, California, area on Thursday morning because weather conditions could increase the threat it posed to residents.
The Old Water fire began on Thursday morning on Highway 18 near Old Waterman Canyon Road in San Bernardino. Although the fire was only about 50 to 100 acres large, officials ordered evacuations of nearby homes because the expected presence of strong Santa Ana winds meant there was potential for "large growth."
California experienced its deadliest and most destructive wildfires in its history in 2017 and 2018, according to the California Department of Forestry and Fire Protection (Cal Fire). The span of wildfire season varies year to year based on weather conditions, although it generally runs from May to November. In 2019 alone, Cal Fire reported there were more than 5,800 incidents, and the Old Water fire was just one of at least nine flames that burned on Thursday morning.
To fight the Old Water fire, the San Bernardino National Forest Services joined forces with the San Bernardino County Fire Department. In about an hour, the fire grew from 20 or 30 acres to 50 to 100 acres and residents in the area were urged to heed the police department's instructions.
An estimated 80 homes were under mandatory evacuation as of 9 a.m. EDT, according to the San Bernardino National Forest Service, including those living on Arrowhead road and in the north San Bernardino area of Mariposa Drive and David Way.
An evacuation center was established and open at the San Gorgonio High School in San Bernardino.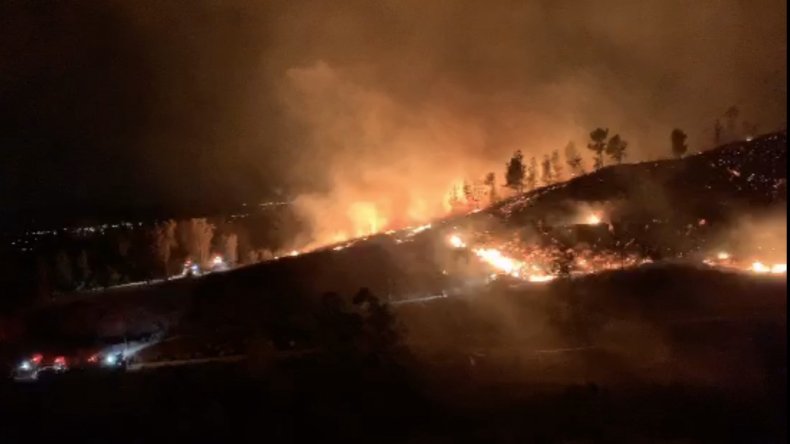 The San Bernardino County Fire Department's initial response included two dozers, multiple hand crews, four engines and two chief officers. Two type one strike teams were also requested to aid the structural defense, which was established for 20 to 30 homes. Type one strike teams are groups of at least 30 "highly trained" firefighters, according to Cal Fire. They're equipped to respond to fires anywhere in the state and carry enough supplies and food for about two days.
California State University's San Bernardino campus was located about six miles from where the fire began burning. By the time the flames erupted, the school had already announced plans to close due to high winds and the possibility that the power could be cut to try to prevent wildfires.
"If fire ignition occurs, conditions will be favorable for extreme fire behavior and rapid growth which would threaten life and property," the National Weather Service (NWS) said in its forecast.
On Thursday, Santa Ana winds could reach up to 75 mph, according to the NWS, possibly causing wildfires to spread rapidly. The agency issued red flag warning for San Bernardino County, which was set to last from Thursday morning until 5 p.m. PDT Friday.
Red flag warnings indicate that critical fire weather conditions are occurring in the area or will be soon. During a red flag warning, residents are urged to use "extreme caution" with potential fire ignition sources.
In an attempt to keep wildfires from growing, Southern California Edison announced it may cut power to thousands of residents. More than 380,000 customers, including those in San Bernardino, could be impacted by the outage.