Oldest GOP Senator, Iowa's Chuck Grassley Tests Positive for COVID-19 as State Cases Increase
Iowa Republican Senator Chuck Grassley announced Tuesday he has tested positive for COVID-19. Meanwhile, Iowa Governor Kim Reynolds has called for a statewide mask mandate because of the rise in coronavirus cases statewide.
First voted into the U.S. Senate in 1980, Grassley holds the record for the longest consecutive voting streak, having not missed a Senate vote since 1993. Currently 87 years old, Grassley is the oldest living Republican Senator. In a Tuesday tweet, Grassley said he was "feeling good."
"I've tested positive for coronavirus," Grassley tweeted. "I'll b following my doctors' orders/CDC guidelines & continue to quarantine. I'm feeling good + will keep up on my work for the ppl of Iowa from home. I appreciate everyone's well wishes + prayers &look fwd to resuming my normal schedule soon."
Grassley serves as the chairman of the Senate Finance Committee and president pro tempore of the Senate. Grassley's position places him third in line for the presidency, following the vice president and Speaker of the House.
Newsweek reached out to the Republican Party of Iowa for comment.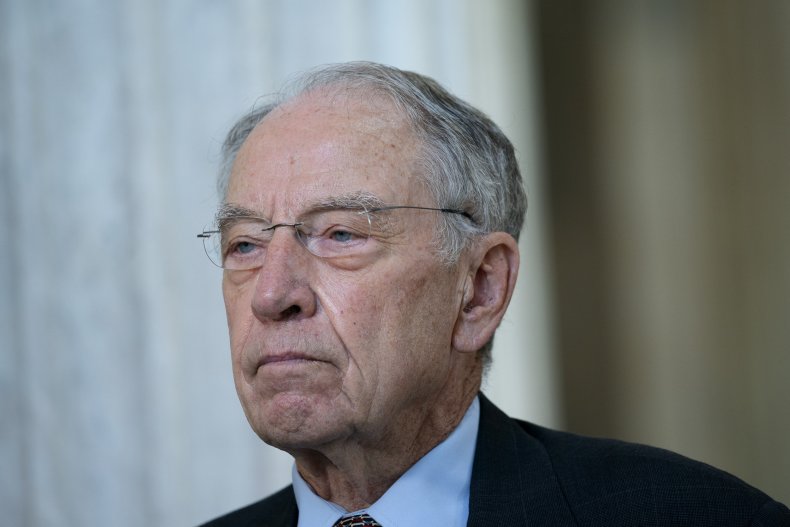 Grassley's diagnosis came as Iowa's number of positive coronavirus cases has seen a marked increase. On Tuesday, the Iowa Department of Public Health reported 3,563 new cases of COVID-19, bringing the state total to 190,583 positive cases. Fatalities attributed to the virus statewide numbered 2,024.
After weeks of refusal to undertake the action, Iowa Governor Kim Reynolds issued a statewide mask mandate on Monday. Individuals over the age of 2 are required to wear a mask in any public outdoor space and when near others who are not a member of their households for 15 minutes or longer.
"If Iowans don't buy into this," Reynolds said Monday, "we lose. Businesses will close again. More schools will be forced to go online and our health care system will fail. The cost in human life will be high."
Reynolds' proclamation placed limits on the number of people who can attend social gatherings. No more than 15 individuals can meet indoors while a limit of 30 people was placed on outdoor gatherings.
Reynolds dismissed the idea of a mask mandate during a July interview with WHO radio.
"There's no way to enforce it," Reynolds said. "Most of the states or entities that have done that, they've actually gone as far as to say we're not going to enforce it, so it's just kind of a feel-good."
Reynolds explained during a Tuesday news briefing that the severity of the situation in Iowa helped reverse her opinion.
"We are at a critical component right now and at this point, if we don't change the trend, flatten the curve and help address the number of individuals that are being hospitalized," Reynolds said, "we run the risk of stressing extending overcapacity to our hospitals."