Who Are the Oldest World Leaders? Tunisia's Beji Caid Essebsi Dies at 92, Only Three Other Heads Are in Their 90s
Tunisian President Beji Caid Essebsi has died in office at the age of 92, which made him the world's third-oldest world leader at the time of his death.
Essebsi became Tunisia's first democratically-elected president in 2014 after serving as prime minister in the wake of the 2011 revolution that paved the way not only for dramatic changes within the country, with longtime ruler Zine El Abidine Ben Ali ousted, but the Arab world as a whole. While political unrest in nations such as Syria, Yemen and neighboring Libya devolved into bloody chaos, Essebsi helped draft peace between left-wing secular forces and Islamists that allowed for democracy to rule.
Following an illness, the presidency's office announced that Essebsi died Thursday, July 25, on Tunisia's Day of the Republic.
Though his successor remains unclear at the moment, the nonagenarian had previously said he wished for someone younger to rule the country after he was set to step down in November's elections. Elsewhere in the world, his passing left only three other heads of state and government left in their 90s.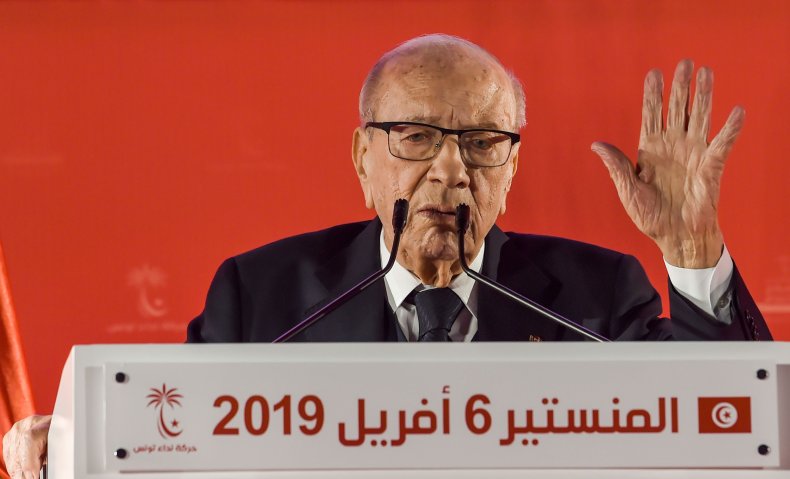 The oldest world leader currently in power is Malaysian Prime Minister Mahathir Mohamad, who is 94 years old, also potentially making him the ninth-oldest to ever lead a nation. Mahathir previously served as premier for 22 years between 1981 and 2003, before last year's elections brought him back to power in a historic opposition victory that came amid a multimillion-dollar scandal surrounding then-Prime Minister Najib Razak.
Following Mahathir, would be the United Kingdom's Queen Elizabeth II, at 93. Like in fellow monarchy Malaysia, the U.K. royal is head of state, but not head of government, a title assigned to the prime minister—Boris Johnson as of Wednesday. Queen Elizabeth is also the world's longest-serving living head of state, having assumed power some 66 years ago.
Sheikh Sabah Ahmad al-Sabah of Kuwait just turned 90 last month, putting him in the 90-somethings club as well. The emir previously served as foreign minister for four decades between 1963 and 2003 and now presided over Kuwaiti Prime Minister Jaber Mubarak al-Sabah.
Just a few months ago, a nation recently known for having the world's youngest world leaders also had one of the oldest heads of state. When North Korean supreme leader Kim Jong Un came to power in late 2011, he was believed to be just 27 years old. The young ruler has made major international waves since then, but he's also made some changes at home, one being replacing the country's nominal head of state, 91-year-old Kim Yong Nam president of the Presidium of the Supreme People's Assembly, who had a two-decade reign.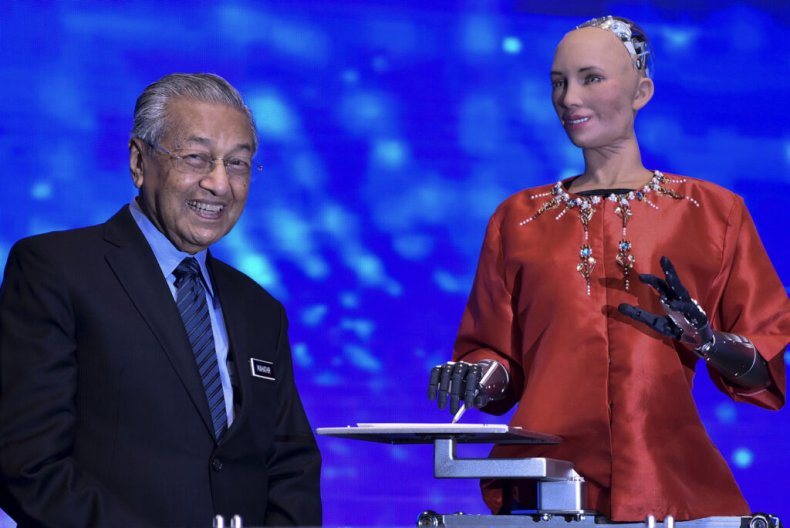 His successor, Choe Ryong Hae, would not receive the formalities of head of state, however, as the same April session of the ruling party that deliberated on this shuffle also saw a constitutional amendment that for the first time recognized the supreme leader as representing the government abroad.
While no U.S. leader has quite made it to 90 in office, President Donald Trump was the oldest to be elected to his position at 70 years old. Even now at 73, one of his potential competitors in next year's presidential election, prospective Democratic candidate Senator Bernie Sanders of Vermont, is currently 77.
By law, the U.S. president has to be at least 35 years old, but there is no upper age limit to the job, only a consecutive two-term restriction.