Ole Miss Brings on 250-Pound Punter Found at a 'Keg Party' on Campus
It's pretty rare for a major college football team ranked in the preseason Top 25 to send out a search party on campus to find a pivotal player for a season that's about to start. That's what the Ole Miss Rebels did, though, when all of a sudden realizing they needed a punter.
Ole Miss coach Lane Kiffin revealed last weekend that the newest punter on the roster, Charlie Pollock, was discovered somewhere probably near fraternity row.
Pollock is listed at 6-foot-1, 250 pounds, and Kiffin joked about how they found him.
"I don't know a whole lot about him. I think he was down at the frat house, like at a keg party or something, where they got him from," Kiffin said. "So, we have condition work to do with my guy. But we just said, 'Hey, someone go find a punter around campus,' so we found one that actually used to punt in Division I. So, you never know."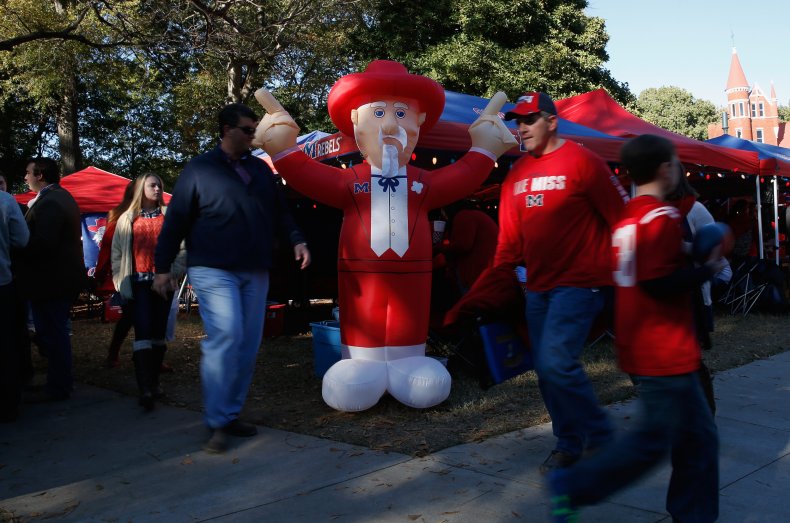 Pollock was a punter on scholarship for the University of Nevada during the 2020 season but later entered the NCAA transfer portal after losing the starting job to a transfer player. Pollock was ranked as the No. 13 punter in the nation for the 2020 recruiting class. His announcement into the transfer portal indicated he wanted to take advantage of the five years of eligibility he had remaining.
"First, I would like to thank Coach (Jay) Norvell, Coach (Matt) Mumme and Coach (Thomas) Sheffield for the opportunity to play football at the highest level here at The University of Nevada," Pollock tweeted as he left Nevada. "I am also thankful for my teammates that I can now call family. With that being said, after talking with my family and friends, it is in my best interest to enter the transfer portal with five years of eligibility left. Thank you Wolf Pack nation!"
Pollock is from Marietta, Georgia, deep in the heart of SEC country. It's a long way from Nevada. Then again, Nevada is a long way from the SEC.
Ole Miss has landed in the preseason Top 25 for both the Associated Press and coaches polls this year. The Rebels are ranked No. 21 in the AP poll and No. 24 in the coaches poll. The Rebels play in the vaunted SEC West division with Alabama, Arkansas, Auburn, LSU, Mississippi State and Texas A&M.
The Rebels are coming off a 10-3 season in which they went 6-2 in conference and a berth in the Sugar Bowl, where they lost to Baylor.