Ole Miss Quarterback Accused of Partying with Pals After Warning Students Off in Campus Video
A woman accused Ole Miss star quarterback John Rhys Plumlee of breaking social distancing guidelines after he appeared in a campus video promoting coronavirus safety measures.
Shared on the university's Twitter page on Friday, Plumlee encourages students to do their part in battling the ongoing coronavirus pandemic by practicing social distancing and by following Governor Tate Reeves' orders regarding social gatherings.
"Just like football, fighting this virus is going to be a team sport. I keep hearing about parties that are going on around town and the square—all those things. And I just want to let you know that the governor has banned all parties or social gatherings that are 10 or more people and 20 or more people outside," Plumlee said. "If you get caught having these parties, you can be fined. If you get caught a second time, you can go to jail. So just the right thing to do right now is just to avoid the parties so we can get back to our regular college experience just like everybody wants it to be."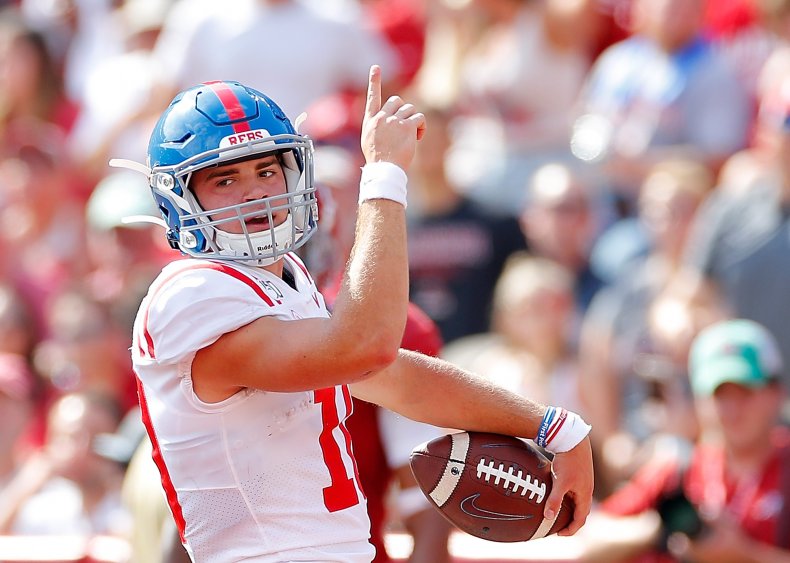 A woman called Plumlee out for not following his own advise shortly after the video was shared. "Sir I drove past you and 10 other kids playing beer pong two days ago," a tweet, posted by @frankirdy on Saturday, read.
A number of other students commented on the tweet, pointing out Plumlee's alleged hypocrisy while others questioned the motives behind a public call-out, noting that in order for the woman to have spotted the athlete while driving, he must of been outside, in which case he was still following the governor's guidelines of limiting outdoor social gatherings to less than 20 people.
Newsweek has reached out to @frankirdy and Ole Miss athletics department for comment.
Reeves updates the state's social distancing regulations in May, allowing restaurants to provide dine-in service, reopening state parks and announcing groups of no more than 20 people to interact together outside, which the governor said would give kids a chance to play recreational sports outside.
"That should be a large enough group to let kids get out and swing a bat or kick a ball or shoot a basket in the sun with their team," Reeves said at the time.
As for campus life, Reeves halted many of the regular functions college students are used to attending including parties, pep-rallies and tailgating at sports events. Although the stadiums are still accessible, Reeves mandated arenas only seat at 25 percent capacity and said that all visitors must wear face coverings while entering, exiting and walking around the building.
"Masks will be required whenever you're walking around, entering or exiting...basically at all times unless you're sitting in your seat away from everyone else," Tate said in a tweet on Thursday. "I know this will not be popular, but there will be no game day social gatherings around stadiums: rallies, parties, tailgates. It's no fun, but it's what allows the athletes to play. I'd still rather be in the SEC with no tailgates, than the PAC-12 or Big 10 with no football."
As of Saturday, Mississippi State Department of Health reported 626 new cases of positive coronavirus cases.
Ole Miss Quarterback Accused of Partying with Pals After Warning Students Off in Campus Video | Culture