Olga Kurylenko Describes Her First Horror Movie Role, Fighting A Sleep Demon in 'Mara'
It's late. Something has woken you up. Blood is pounding in your ears. The dark contours of your bedroom are dimly visible when you realize you can't move. And then an unmistakable sensation washes over you: you're being watched. Something is there, maybe in the corner, just beyond your peripheral. Panic rises, but as if there's a weight pressing down on your chest, you can't gasp.
Don't worry, it's sleep paralysis: a common malfunction associated with the REM sleep state, like a gear slipping in the mind as we shift into wakefulness. For you, this tale ends with an early breakfast. In Mara, it ends with a demon on your chest, long fingers wrapping around your throat before it snaps your neck.
Mara, a new horror movie, stars Olga Kurylenko (The Death of Stalin, Oblivion, Quantum of Solace) as Kate Fuller, a criminal psychologist who has a woman committed for killing her husband, whose neck was twisted around in bed. Kate doesn't take her description of "sleep demon" seriously, at least at first.
"Sleep paralysis is universal. And people describe it in a very similar way, all over the world. It's not just some horror film that is totally fiction," Kurylenko told Newsweek. "Except the killing part."
Mara is Kurylenko's first horror movie ("I think it's the first, unless I haven't noticed one," she quipped). Rather than counterbalancing Daniel Craig or Tom Cruise with cool sophistication, Kurylenko's Kate is a character in a state of mounting panic, as Mara invades her sleep and begins killing everyone around her.
"It's completely different doing the scary stuff," she said, explaining that she'd only watch a horror movie in daylight. "It's not scary at all. It's rather fun. It also maybe will help me watch other horror films, because I know how it's done now. You really have fun with all the scary stuff."
Since some of the scariest parts in Mara take place in that strange, liminal state between sleeping and waking, many of Kurylenko's scenes have her pinned and unable to move (for these, Kate is acting across Spanish monster master Javier Botet, seen under heavy make-up in horror movies like It, Slender Man, The Conjuring 2, Mama and Crimson Peak). But there's an intense physicality to them anyway, as Kate strains to move her frozen limbs and confront the demon.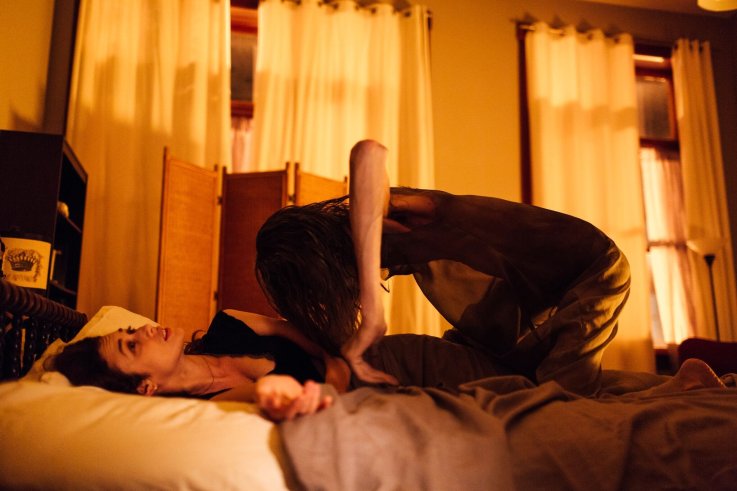 Making it even more challenging: Kurylenko has never experienced sleep paralysis before. Anyone who has is aware of how strange, subjective and indescribable it can feel. She polled friends and family and found almost everybody she knew had experienced sleep paralysis. "Some have it regularly. But I haven't experienced it," Kurylenko said. "Everybody describes it as terrifying. You can't move, you feel helpless. You're acting with your eyes because that's all that can move."
Kate's visitations from Mara get worse and worse, her life sinking into a sleepless, nightmare state. The coffee comes out, like a teenager desperate to avoid Freddy Krueger, and Mara becomes a race against time, as Kate must learn why the demon is stalking her before it's too late. But Kurylenko hasn't let Mara get to her. "I love to sleep, just let me sleep and I'll be very happy," she says. "As long as Mara doesn't come."
Mara is out now in theaters, on demand and digital.
Olga Kurylenko Describes Her First Horror Movie Role, Fighting A Sleep Demon in 'Mara' | Gaming