Olga Simonova, Who Quit Russia To Fight for Ukraine, Killed on Front: Report
A woman who gave up her Russian citizenship to fight for Ukraine has been killed on the front line, according to local media reports.
Olga Simonova, a 34-year-old military servicewoman who fought for Ukraine with the 24th Mechanized Brigade, died Tuesday in the southern Kherson region, local news outlet TSN reported.
Nicknamed "Simba," Simonova, who is from the Chelyabinsk region, left Russia and bought a one-way ticket to Ukraine, outraged by Russian President Vladimir Putin's move to annex Crimea in 2014.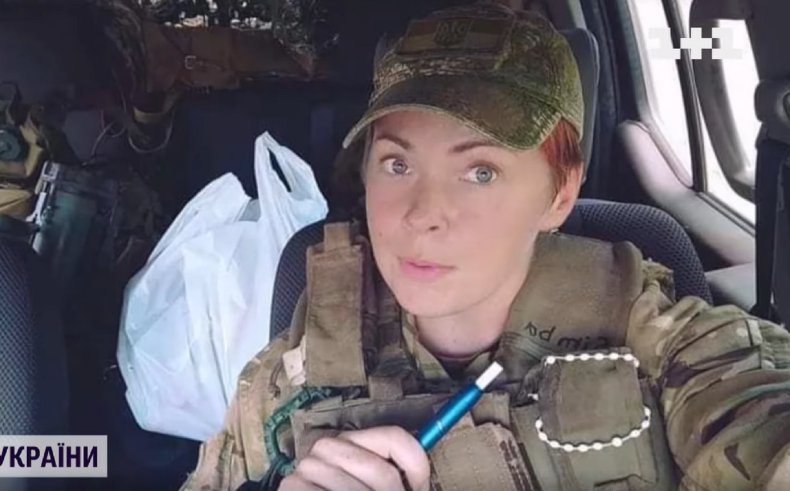 Simonova relocated to Kyiv. Shortly afterward, she began working as a paramedic in a volunteer unit with the Ukraine Armed Forces.
According to TSN, she became the first foreign contractor in the Armed Forces to receive Ukrainian citizenship while serving in the army.
Simonova later rose to the rank of sergeant and led an infantry fighting vehicle in the 24th Mechanized Brigade.
When Putin declared what he calls a "special military operation" in Ukraine, Simonova spent time defending Ukraine's eastern Donbas region. Her unit was later transferred to the south, where a fierce Ukrainian counteroffensive is currently underway.
Her death was first reported by TSN correspondent Natalia Nagornaya, who said Simonova was "adored by journalists."
"Today, even those who usually restrain themselves are crying," she wrote in a post on Facebook. "She came and fought for freedom. I wouldn't dare to call her Russian."
It isn't clear how Simonova died. Newsweek has contacted the 24th Mechanized Brigade and Ukraine's foreign ministry for comment.
In an interview with local news outlet Novynarnia in 2018, Simonova said she came to Ukraine in 2014 for the first time without knowing anybody. When she left Russia, she told her family that she would never return.
The annexation of Crimea "became a shame for Russia," and Russians were greatly influenced by propaganda on the topic, she said.
"Children are brought up in a military-patriotic way from an early age. This has always been the case in Russia. Then these people are very easy to manipulate: you just need to show where the enemy is, and they will be indifferent to evidence of common sense," she said.
Reflecting on why she ultimately moved to Ukraine, Simonova said fighting to defend the country "gives me the meaning of life."
"I won't admit it to myself, but I'm probably from the category of people who like to fight," she said. "We all fight for peace, we all want peace. But there will be no peace without victory."
Simonova's reported death comes amid a Ukrainian counteroffensive in the southern part of the country—an effort that has seen Kyiv recapture swathes of territory since early September.
Ukrainian President Volodymyr Zelensky has said his troops have so far liberated over 8,000 square kilometers (3,088 square miles) of territory in the Kharkiv region.