Oli London Before Surgery Pictures as Instagram Star Identifies as Korean
British-born influencer Oli London has caused a stir on social media, after revealing they now identify as Korean—following a series of plastic surgery procedures.
London, who identifies as non-binary, shared a video on YouTube over the weekend, in which they said that they feel more connected to Korean culture than the U.K.'s, after "transitioning" to resemble their K-Pop idol, Jimin of BTS.
"I am gonna come out today and say that I've been transitioning," said London while relaxing in bed. "I've been very unhappy with who I am deep down for the last eight years and I've had, like, 18 plastic surgeries now...
"I've just had a facelift, a brow lift, a temple lift, an eye surgery—a canthoplasty—and my teeth done as well. These are just part of my transition. I'm feeling really good—for the first time in my life I feel beautiful. I'm looking in the mirror and I love the way I look and feel happy, and I hope people can respect my decision.
"It's a very tough decision to come out this way, but I am coming out as non-binary," YouTuber and Instagram star London continued. "I don't feel I identify as male or female. I just feel like I'm just in the middle and my pronouns are they/them, Korean/Jimin...
"I know a lot of people don't understand me, but I do identify as Korean, and I do look Korean now. I do feel Korean. I don't identify as British, so please don't... refer to me as British, because I identify as Korean.
"That's just my culture, that's my home country. That's exactly how I look now, and I also identify as Jimin—that's my Korean name... I know it's a little bit confusing for some people. Nobody's ever come out as Jimin or Korean, but this is something that you guys know if you've followed my journey for the last eight years.
"I've really struggled with identity issues, with who I am... It's a very tough one, So I've finally had the courage. I've undergone my racial—I can't think of the word—transitional surgery. I've transitioned to a non-binary person—they/them, Korean/Jimin and I finally have the Korean look, so I'm actually really happy."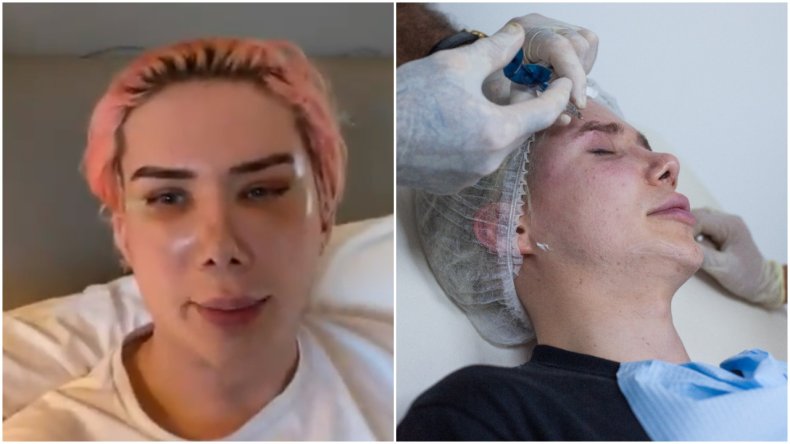 London first hit headlines in 2018, when it was revealed that they had spent more than $100,000 on cosmetic surgery to resemble musician Jimin. That amount is now estimated to have exceeded $200,000 in the years since.
In June, London shared a revised image of the South Korean flag with rainbow stripes on Twitter, adding the caption: "This is my new official flag for being a non-binary person who identifies as Korean. Thank you for the overwhelming support it was so hard for me to come out as Them/they/kor/ean."
They also stated that the full name they were now identifying as is "Park Jimin HueningKai Taeyong Imnida."
Since sharing their journey online, London has faced a considerable amount of backlash on social media, which they have deemed "sad" to have occurred during Pride Month.
London told the Daily Mail: "It is sad during Pride Month, a month that celebrates diversity, equality and love that WOKE people would use my coming out and sharing my non-binary Korean identity— something that took me many years to understand and accept and took me enormous courage to share with the world—and use it as a platform to bully, degrade and dehumanise me and the LGBT community."
They continued: "While I recognise that a lot of people don't understand how I identify, and may find it unusual—being Korean and feeling Korean is part of who I am and how I feel. And I will never allow a single woke person, bully or troll to take that away from me.
"I have gone through extreme lifestyle changes to become who I am today and have lived in Korea, I eat Korean food everyday, use Korean skincare, have plastic surgery to look Korean and I speak the Korean language—all of this shapes me as a person and my identify as a non-binary Korean person."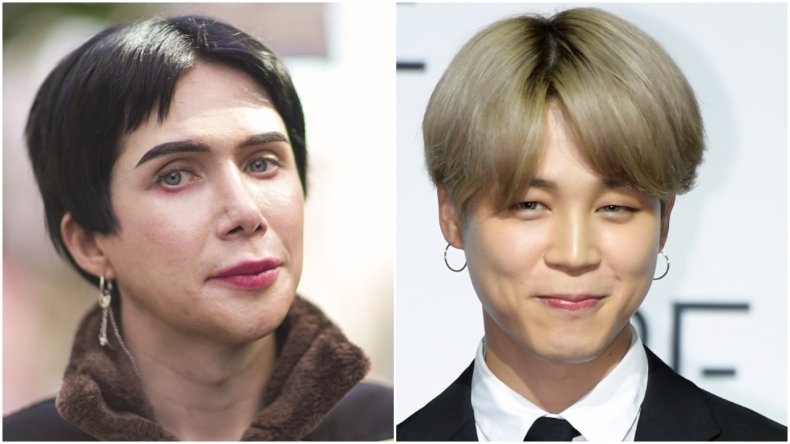 London also told the Daily Mail in 2020: "I've been having surgery since 2013, when I decided I wanted to look like Park Ji-min from the Korean boyband BTS, travelling all over the world to Korea, to Poland, to China to get it done."
Such is London's admiration of Jimin that they married a cardboard cut-out of the star in a ceremony officiated by an Elvis Presley impersonator in Las Vegas.
"It was such an emotional ceremony. I felt very emotional," London told the Daily Mail after the January 2020 event. "Jimin is my idol. I've spent a lot of money on surgery to look like him, and now I've actually married him."
Newsweek has contacted a representative for Jimin for comment.