Olive Garden Host Shocks Viewers by Sharing 91 People Walked in for Service
A hostess posted a viral TikTok that has amassed nearly 11 million views and shocked viewers after she said the Olive Garden she works at had 91 people in a single party show up for service.
TikTok user @booyouwh0relmao shared the video to her account, which showed the screen of the restaurant's seating system.
"We just got a table for 91...," read the text over the video.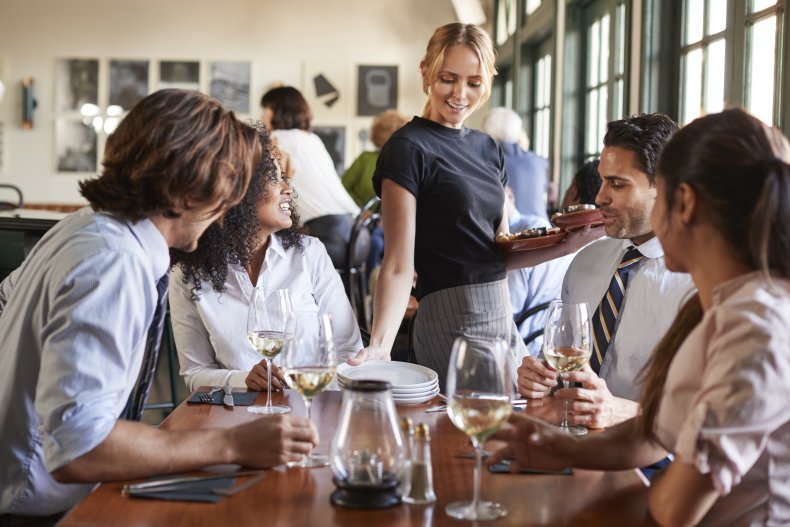 Taking to the comments section, many viewers wrote that they hoped the servers were tipped well, while others questioned why such a large group would choose to eat at a restaurant.
According to Taste of Home, a large group of people planning to dine out is encouraged to plan ahead of time.
The publication recommended that everyone arrive at the same time, exercise patience and, if necessary, request separate checks before the end of the meal.
"It's best to ask right away—it will save your server from scrambling later," the article stated. "It'll also give you a chance to sort the payment out with friends if splitting the bill isn't possible."
Viewers were shocked by the number of people in the party and wondered how they were allowed to dine at the restaurant.
"I would have been so annoyed," a TikTok user wrote. "That's something that needs to be planned. They could call in. You need the extra staff and ingredients."
"I can't believe this is allowed, anything over 12 requires a manager approved reservation at my job," a viewer shared.
"The biggest table I had was around 30 people and they did not tip," another wrote. "91 is insane! I could not imagine."
Some asked why the group went to a restaurant rather than schedule catering.
TikToker @booyouwh0relmao noted that the group of people came from a sports tournament in the comments section.
She shared a second video where she explained the diners began arriving at the restaurant at about 6 p.m. and left by about 9 that night. And, although it was a large group, she said the restaurant did not take reservations.
"I was the one that greeted them, and they were like, 'Hey we have a party of 51 people,' and I thought 51 people was a lot," @booyouwh0relmao said. "But it was followed by, 'And there's 40 more on the way.'"
The group required about two sections of seating in the restaurant, and the servers were also tending to other patrons. The TikToker said she did not know how much money the servers made in tips, but she personally received a box of chocolate-covered macadamia nuts as gratuity.
In a third video, @booyouwh0relmao said she did not know how much the bill came out to be, but believed everyone got separate checks.
Newsweek reached out to @booyouwh0relmao for comment.
Other TikTok videos about restaurant service have previously gone viral.
A woman said that she cooked her own food at a Waffle House restaurant when two employees walked out. An employee at PF Chang's shared a video complaining about a table that stayed well past closing time and left a poor tip.
Another server took to TikTok to express her frustration with a customer who left a scripture card instead of a tip.