Oliver Stone Insults Megyn Kelly, Fawns Over Putin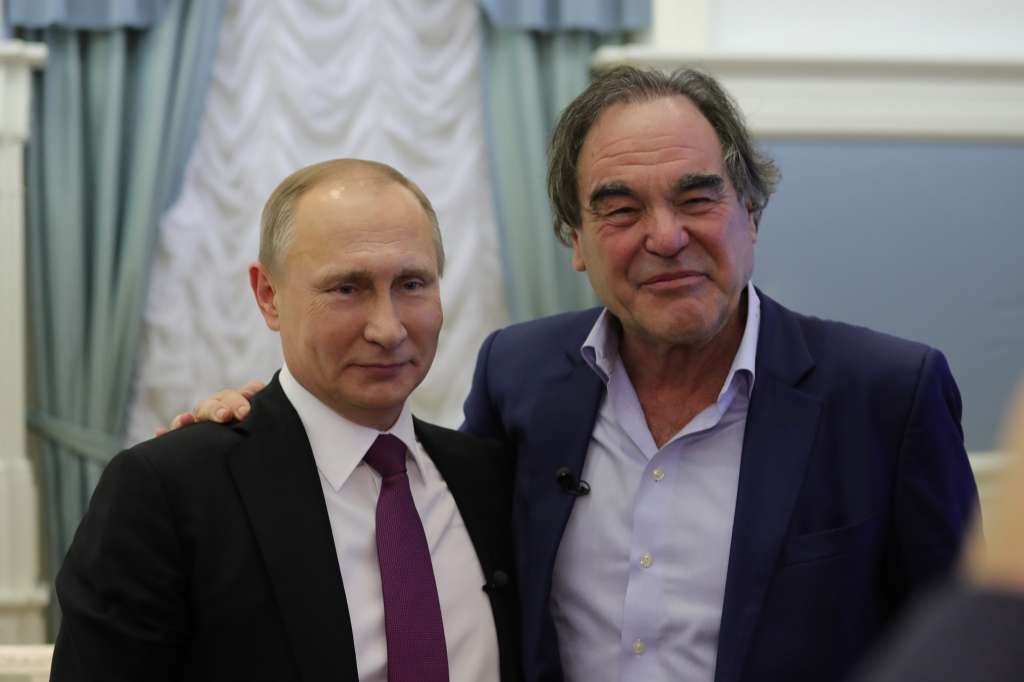 Defending despots isn't easy, but director Oliver Stone is up to the task. He has fawned over Hugo Chavez and has called Adolf Hitler a "scapegoat." Now, the once-respected filmmaker is valiantly defending the Russian strongman Vladimir Putin against NBC host Megyn Kelly.
At issue is the interview Kelly conducted with Putin on Sunday, an introduction of sorts of the former Fox News star into the NBC family, which lured her away with an $18 million per year contract.
For the most part, the interview was not well received, perhaps because while Putin was a great get, he was not necessarily a great subject. Los Angeles Times television critic Lorraine Ali, for example, declared that Kelly is "still not a great interviewer." Like most critics, Ali wanted Kelly to be tougher with Putin while at the same time recognizing that the Russian leader is, in Ali's words, "one of the most deceptive interview subjects around." One of the benefits of abrogating freedom of the press, after all, is not having to bother with tough questions or uncomfortable subjects.
Stone's complaint was of a somewhat different, more mean-spirited nature. "I think she was attractive and she asked hardball questions, but she wasn't in position to debate or counter him, because she didn't know a lot of things," he said, according to an Associated Press report.
The AP reports that Stone in particular took issue with Kelly's assertion that U.S. intelligence agencies uniformly concluded that Russia had maliciously interfered with last November's presidential election:
As an example of where he believed Kelly was mistaken, Stone said the claim that 17 U.S. intelligence agencies had concluded the Russians were behind election year hacking and used as a preface for a question had been "walked back." It was a reference to testimony from James Clapper, former director of national intelligence, about a hacking report by three specific agencies. The independent organization Politifact has produced a report that backs Kelly, however, because Clapper had earlier said that all 17 intelligence agencies he had supervised agreed about Russia's involvement.
It is not clear why the 70-year-old Stone felt the need to opine on Kelly's attractiveness. Response from NBC was as quick and brutal as a Kremlin crackdown on democracy.
"No one here is interested in Oliver Stone's unsolicited thoughts on Megyn Kelly's appearance or his ill-informed opinion of her journalism," said NBC News chief Noah Oppenheim. "But so long as we're offering each other professional feedback, please let him know I don't think he's made a decent movie since the early '90s." One could go further and argue that Stone has not made a film of artistic significance since 1989's Born on the Fourth of July.
Stone's own extended interview with Putin is forthcoming next week on Showtime, to be broadcast in four segments. The early reviews have not been good, as has been the norm with Stone's work for at least the last decade, if not longer.
"Stone is less invested in investigating Putin than he is in re-narrativizing the history of American dominance in the post-Vietnam era," Variety declared. "Putin is eager to assist him on this journey."
The Hollywood Reporter called Stone "periodically obsequious," while The Daily Beast savaged the Showtime affair as a "wildly irresponsible love letter" to the former KGB operative who has presided over Russia's decline into a graying kleptocracy.
Showtime declined an earlier request I'd made for screeners of the Putin interviews. However, the AP described several examples of Stone playing the fawning fanboy to a man whose obvious role model is Josef Stalin.
"You have a lot of discipline, sir," he says at one point. "You are an excellent CEO. Russia is your company," he says at another.
Stone is a virulently anti-American leftist. That's fine. He is also immune to fact if it doesn't suit his sophomoric, incoherent political vision. That's vastly more troubling. His 2012 book, The Untold History of the United States (also a Showtime documentary, in 12 episodes that are by turn cruel and unusual), was savaged by Michael Moynihan of The Daily Beast as "junk history," full of embarrassing errors and troubling elisions.
In 2014, after he planted a posthumous kiss on the cheek of Chavez with Mi Amigo Hugo, Foreign Policy tore deliciously into that effort, deeming it "beyond redemption, a work of cinematic malpractice that marks him as a 'useful idiot.'"
In 2016, Stone made Ukraine on Fire, in which he argued that Russia was justified in its invasion of Crimea. The less said about that orgy of alternative facts, the better.
Stone has also mystifyingly suggested that history has been too harsh in its assessment of Hitler. He may want to brace himself, for history will also be quite harsh in its assessment of Oliver Stone.