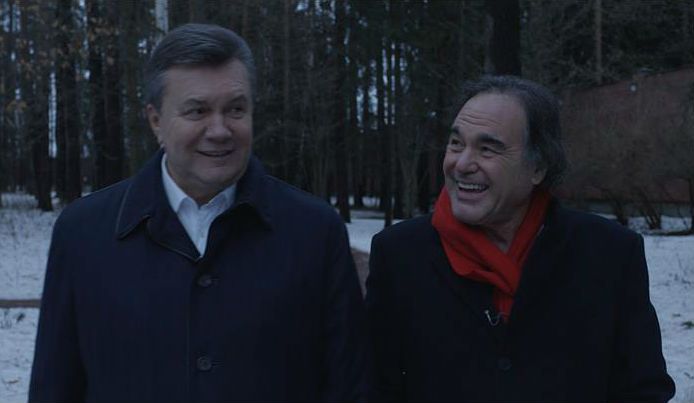 American film director and Pentagon critic Oliver Stone has announced he is shooting a documentary on Ukraine's revolution arguing the CIA instigated the coup that toppled pro-Russian president Viktor Yanukovych.
"It's America's soft power technique called 'Regime Change 101," Stone said of the deposition of Yanukovych in February following months of protests, calling the former Ukrainian leader the "legitimate President of Ukraine".
"Details to follow in the documentary, but it seems clear that the so-called 'shooters' who killed 14 policemen, wounded some 85, and killed 45 protesting civilians, were outside third party agitators," Stone wrote on his Facebook page, posting photos of him laughing side-by-side with Yanukovych in Moscow.
"Many witnesses, including Yanukovych and police officials, believe these foreign elements were introduced by pro-Western factions - with CIA fingerprints on it," the W director added.
In his lengthy post the director took a swipe at "Western media" for presenting the Yanukovych government as the aggressor in Ukraine's Maidan revolution and said "the truth is not being aired in the West".
"It's a surreal perversion of history that's going on once again, as in Bush pre-Iraq 'WMD' campaign. But I believe the truth will finally come out in the West, I hope, in time to stop further insanity," Stone added.
The director echoed Russian President Vladimir Putin's words throughout the Ukrainian crisis, describing the pro-EU opposition in Ukraine which ousted Yanukovych as "neo-Nazi radicals".
"The West has maintained the dominant narrative of 'Russia in Crimea' whereas the true narrative is 'USA in Ukraine'."
Oliver Stone has long been a critic of American foreign policy, having worked with figures such as former Venezuelan president Hugo Chavez and Palestinian leader Yasser Arafat.
Seemingly inspired by his latest four-hour interview with Viktor Yanukovych, the director has been attracted to Ukraine in what he perceives as "a dirty story through and through," in the latest chapter of his career-long series of anti-Pentagon documentaries.
"Remember the Chavez 'regime change'/coup of 2002 when he was temporarily ousted after pro and anti-Chavez demonstrators were fired upon by mysterious shooters in office buildings? [The coup in Ukraine] also resembles similar technique early this year in Venezuela when Maduro's legally elected Government was almost toppled by violence aimed at anti-Maduro protesters.
"Create enough chaos, as the CIA did in Iran '53, Chile '73, and countless other coups, and the legitimate Government can be toppled," Stone argued.
Stone's claims have largely been laughed off by Ukrainians, with the popular online community, Ukraine's Ministry of Magic which frequently mocks current affairs, posting picture of a monster claiming to be a still of Yanukovych from Stone's documentary.
Poking fun at the former president's sudden disappearance from the limelight since his deposition the image is captioned as Oliver Stone's video evidence that "Yanukovich is still alive at all".
Stone is renowned for a streak of political commentary in his films, for which UK's Guardian newspaper hailed him as "one of the few committed men of the left working in mainstream American cinema".
Stone is also currently directing a film about NSA whistleblower Edward Snowden, who, like Yanukovych has found refuge in Russia after being wanted abroad.