Olivia Colman Pays Tribute to Queen, Says Charles Will Do 'Good Job'
Olivia Colman, who portrayed Queen Elizabeth II in the Netflix hit The Crown, has paid tribute to the late monarch, while also giving her seal of approval to successor King Charles III.
The Queen passed away aged 96 at Balmoral Castle in Scotland on September 8, more than 70 years after ascending to the throne. With Britain immediately entering a period of national mourning, tributes have poured in for the late sovereign.
Colman, who won a Gold Globe Award and Emmy Award for her two-season portrayal of the Queen, paid tribute to the monarch as she promoted her movie, Empire of Light, at the Toronto International Film Festival.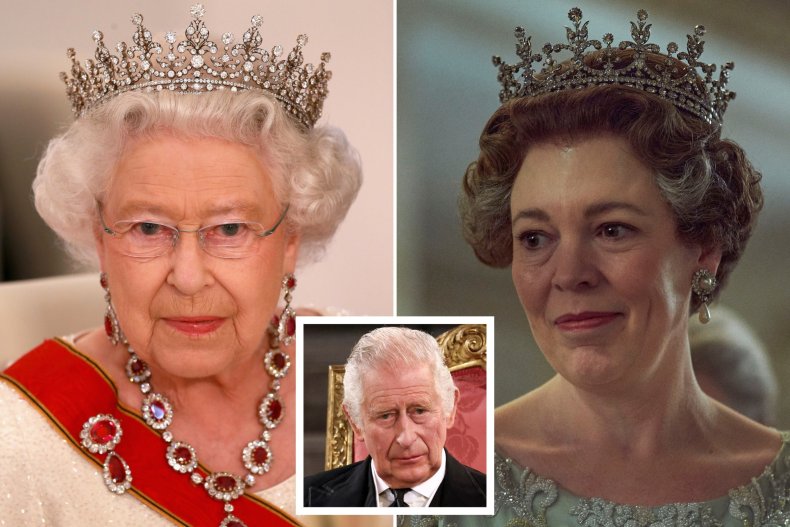 During an interview with Variety, Colman was asked what the Queen's legacy meant to her, prompting her to respond: "I wouldn't know where to begin with that."
She later noted the Queen's dedication to service, adding: "She made a promise as a young woman and she absolutely kept it with such dignity. And I think we're all incredibly impressed by what she did."
In accordance with the tradition of the British throne never being vacant, Charles became king the instant his mother passed away. He made his first public address to the nation as sovereign on Friday.
During his emotional speech, Charles dedicated the remainder of his life to serving the British people and also announced that he had made Prince William and Kate Middleton the Prince and Princess of Wales.
"To my darling Mama, as you begin your last great journey to join my dear late Papa," he said solemnly, "I want simply to say this: thank you.
"Thank you for your love and devotion to our family and to the family of nations you have served so diligently all these years. May 'flights of Angels sing thee to thy rest.'"
Reflecting on Charles' speech, Colman said: "From a British point of view, he did it so beautifully. It was about about love, tolerance and gentleness, and that is what she always wanted and she's done."
She went on: "From the outside world looking at Great Britain, at the moment, we've got some comedy going on at one side—you know, politics—and something so dignified and beautiful. I felt very proud to be British. I think he's going to do a good job."
In the wake of the Queen's death, it was last week reported by Deadline that filming on The Crown, which is a dramatization of the royal family's life, will be temporarily suspended.
As with Claire Foy before her, Colman portrayed the Queen for two seasons. Imelda Staunton will be taking on the role for the upcoming seasons 5 and 6.
Asked by Variety if she had any advice for Staunton, Colman said with a laugh: "No! Who gives Imelda Staunton advice on acting? She will be incredible. I can't wait to watch her."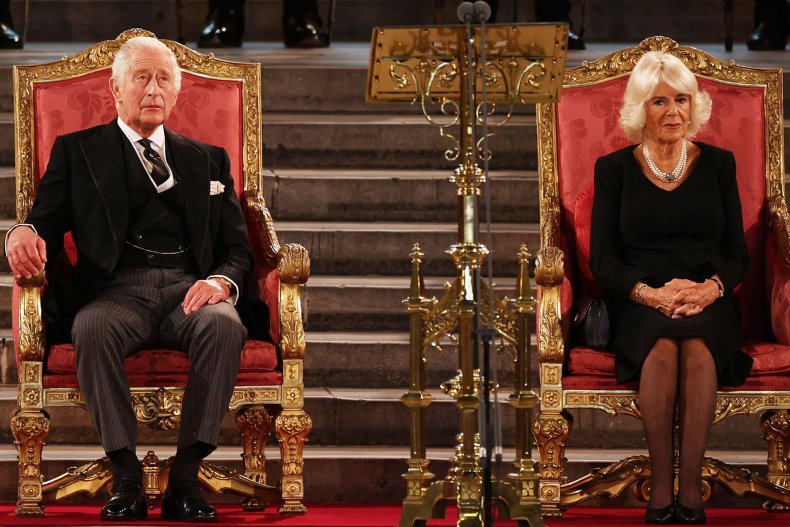 The upcoming season of The Crown will see Lesley Manville portray Princess Margaret, taking the reins from Helena Bonham Carter, who herself had followed on from Vanessa Kirby.
Moving into the role of Diana, Princess of Wales, is Elizabeth Debicki. Emma Corrin won acclaim for her portrayal of the late mother of princes William and Harry.
Dominic West (Prince Charles), Olivia Williams (Queen Camilla), Jonathan Pryce (Prince Philip), and Jonny Lee Miller (John Major) are also among those joining the cast.
The series is expected to conclude after the airing of its sixth season.