Olivia Rodrigo has released her debut album "Sour" this morning and it's prompting feelings of teenage angst in listeners.
The 18-year-old skyrocketed to fame earlier this year with her hit single "Drivers License"—a teenage heartbreak anthem that had real-life subjects, adding an element of gravity to the poignant lyrics.
For context, Rodrigo starred in High School Musical: The Musical: The Series with actor Joshua Basset and the two were rumored to be dating and the scathing lyrics to "Drivers License" detail a devastating break-up, with Rodrigo seemingly dumped for a "blonde girl" who is widely reported to be fellow Disney star, Sabrina Carpenter.
Strikingly honest, the album is a brash lament to a first heartbreak.
For instance, in the song "traitor" Rodrigo sings the lyrics: "You betrayed me/And I know that you'll never feel sorry/For the way I hurt, yeah/You talked to her when we were together/Loved you at your worst but that didn't matter/It took you two weeks to go off and date her/Guess you didn't cheat, but you're still a traitor."
Oof.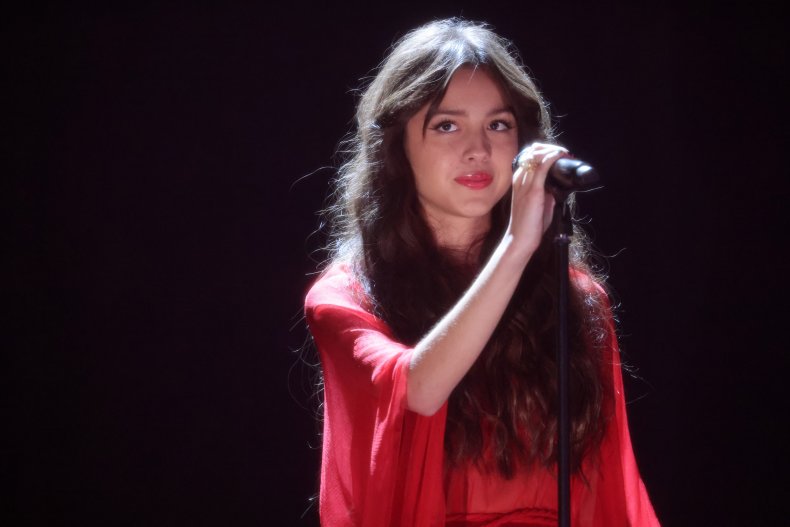 The release has seen the singer along with her ex and songwriting inspiration Basset trend on Twitter on Friday morning.
"olivia rodrigo's album makes me wanna teleport back to high school because every word is EXACTLY how i felt as a teenager... i'm just gonna listen and pretend i am 16 and a boy just broke my heart," tweeted singer songwriter Oliva O'Brien.
While another added: "olivia rodrigo's whole album sour is your friendly reminder to never hurt a pisces' feelings."
Another person tweeted: "listening to sour by olivia rodrigo and wishing i had a high school romance that ripped my heart out #SOUROlivia."
"Mom. Come get me. Olivia Rodrigo wrecked me with sour," said another.
While another person added: "brutal by olivia rodrigo is the definition of teenage angst."
Another posted: "SOUR is perfect in a sense that it doesn't only showcase much of Olivia's versatility & talent, but it also conveys profound emotions of teen angst and heartbreak."
Another tweet compared Bassett to singer John Mayor—the subject of a few Taylor Swift heartbreak songs, joking: "joshua bassett texting john mayer rn asking what he's supposed to do in this situation."
Another tweeted: "joshua bassett may need to go into the witness protection program i fear."
So far, "Sour" is being well-received by fans and critics with Pitchfork scored the album a 7 and described it as a "lightly chaotic collection of breakup tunes filled with melancholy and mischief."
While The Guardian gave four stars for a "cathartic rage at teenage heartbreak."