Olivia Wilde Responds to 'Life Itself' Criticism and What It Was Like to Direct Fiancé Jason Sudeikis
Critics are struggling to connect to newly-released tear-jerker Life Itself, but star Olivia Wilde isn't too concerned. She has a theory why the film isn't hitting the mark for some.
"It's not en vogue to be sentimental right now. I think people are experiencing a tremendous amount of anger and pain," Wilde, 34, explained to Newsweek. "That has created a kind of societal cynicism that's totally understandable. I think that is what was reflected in the reviews—a resistance to sentimentality."
Directed by Dan Fogelman of This Is Us fame, Life Itself tells the multigenerational story of a New York couple going through the various stages a life. Abby (Wilde) and Will's (Oscar Issac) journey starts as a college romance, which later follows their eventual marriage and birth of their child, Dylan (Olivia Cooke). The pair's relationship encounters several abrupt twists and turns, which affect people's lives in different regions of the world.
Wilde admired Fogelman's bravery for making the unique film, even though it might not translate for many onto the screen.
"I think making a film is so hard, and making a film that is really personal is a really brave thing to do," Wilde added. "I give Dan Fogelman a lot of credit for making a really vulnerable film."
Added Wilde, "It's very brave to open yourself up like that and present a raw nerve in the shape of a personal film. I have a lot of respect for him and I think what has been extraordinary is the audience response to the film."
Aside from Life Itself, Wilde has been preoccupied with multiple projects outside of acting, including her assisting Dunkin' Donuts at Home in creating an environmentally-conscious home called Home That Runs on Dunkin'. The home, which opens in New York's Madison Square Park from Thursday to Saturday, runs on biofuel comprised of spent coffee grounds. Wilde shared she was attracted to the opportunity due to the company's use of "alternative technology" that promotes "sustainability," but she was able to help design the home—which features a staircase that doubles as a table—as well.
"I really wanted to bring in unique accents that brought in personality to the home," Wild told Newsweek. "I think bringing in the classic colors of Dunkin', the pink and the orange, in a way that was organic...show's that it's a home, and not just a trailer or a truck. It's cozy in here because of the little accents, the fresh flowers [and] plants."
Added Wilde, "There's a lot of really intelligent design in this home that brings in a lot of light...They didn't have to make it as innovative and beautiful as they did. It could've just been a trailer running on coffee grinds. Instead, it really does feel like a home."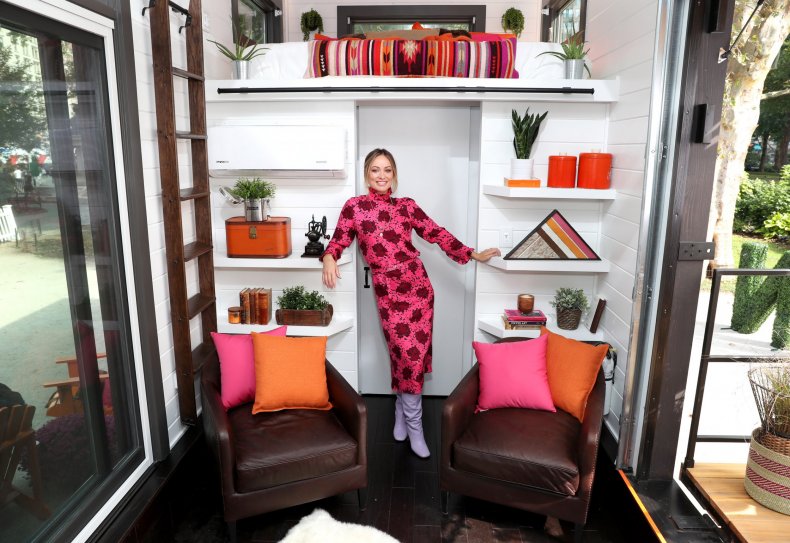 Wilde, who also co-founded Conscious Commerce with creative director Barbara Burchfield, is set to make her directorial debut with Booksmart in 2019.
Wilde's previously directed video shorts and music videos, but her first-ever feature film will also feature fiancé Jason Sudeikis. She explained how "directing a great actor" like Sudeikis is like "driving a really well-made car, like...a Ferrari," but she also shared what she enjoyed most about taking the director's seat—a role she said she's been "preparing for" her entire life.
"The power of hiring people is incredible," Wilde added. "You can hire women, you can hire people of color [and] you can hire people who typically don't get leadership positions. And suddenly, you're not only complaining that those people aren't represented. You get to give them the job. I was so energized by that."