Olympic Medalist Monica Aksamit Turns to GoFundMe to Send Her to 2020 Games in Tokyo
An Olympic athlete has started a GoFundMe page to raise money to send her to the 2020 Olympic Games in Tokyo.
Monica Aksamit, 29, of New Jersey, told news outlets that she turned to online crowdfunding because the costs of travel and training are too much for her to finance while also supporting herself and paying off previous debt.
Despite being an accomplished Olympian who won a bronze medal in fencing during the 2016 Games in Rio de Janeiro among other awards, Aksamit has struggled to pay for her competitions.
This is not the first time she has had to turn to the internet for help — before the 2016 Olympic Games, she had also been compelled to crowdfund.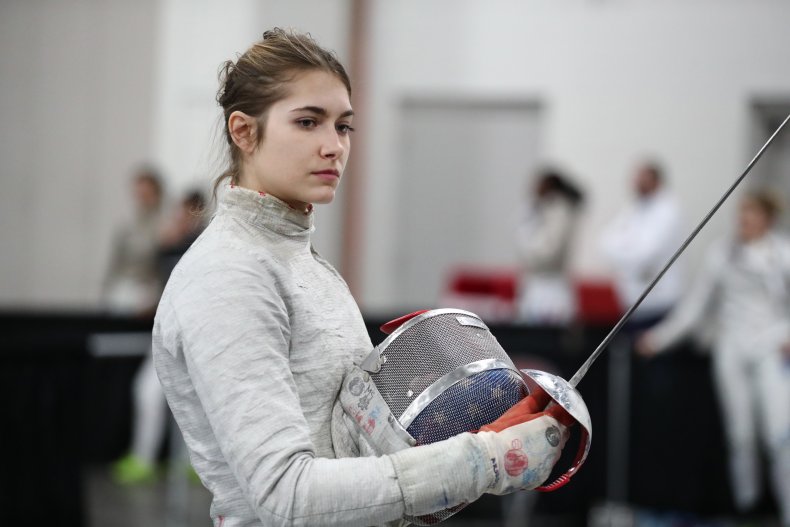 "As you may or may not expect, it's not easy to reach out and ask for help like this," Aksamit wrote on the GoFundMe page. "Unfortunately, with fencing being such a niche sport, even a Olympic bronze medal doesn't guarantee you a sponsor. The money that I have earned through small social media campaigns has been going to the debt that I have from trying to qualify for the 2016 Olympics."
She further wrote that the funds would help her pay for her regular commutes from New York City to New Jersey, as well as for room and board when she travels abroad and to different states to compete in national and international competitions.
"Last year I spent around $12,600 for World Cup travel and about $2500 for National tournaments," the GoFundMe page reads. "Visas cost me $500."
The United States is the only country in the world that sends athletes to the Olympic Games but does not give them monetary compensation for competing in them, according to Patch. Thus, the situation of athletes having to go into debt or crowdfund to raise cash in order to compete is not uncommon.
Aksamit told the New York Post that it is especially common among athletes who compete in lesser known sports like fencing. Inc. magazine reported in 2016 that more than 100 Olympic hopefuls used GoFundMe to raise money ahead of the Games in Brazil.
"There are athletes struggling in niche sports like fencing, taekwondo and judo," she said to the Post. "No one hears about them, but I am definitely not the only one."
Aksamit, the daughter of immigrants from Poland, said she has been fencing since the age of nine. She took classes at the Polish American Fencing School in Linden, New Jersey.
"In many cases they would just let me train for free, and tell my mom to pay her when she could," she told Patch.
Years later, she began to train under fencing coach Yury Gelman before she began attending Pennsylvania State University, where she majored in kinesiology.
After competing in the 2016 Olympics, Aksamit did try to raise money herself. She tried to use her Olympics history as leverage to gain some sponsorship and ad revenue but was unsuccessful. She did some part-time modeling and also taught two fencing classes at two separate schools.
In order to qualify for the Tokyo Games, Aksamit will have to compete in four competitions this year within the U.S. — in Kansas City, Salt Lake City and Charlotte. She must pay a $150 to compete in each, plus flights and hotels.
Then, she must also compete in six European tournaments, which have entrance fees that cost between 80 to 100 Euro (about 90 to 100 U.S. dollars).
As of October 20, Aksamit's campaign has raised over $24,000, about $300 more than her original goal.