Olympian Shelby Houlihan Blames Positive Steroid Test on 'Mexican Food Truck'
Shelby Houlihan is a former Olympic runner who trots the middle distance races, but she revealed Monday evening some backtracking she had to jog in order to find a source for a recent positive test for an anabolic steroid.
She said her positive test ultimately resulted from a pork burrito she ate from a "Mexican food truck" in Oregon just a few hours before an out-of-competition test in December. She explained the burrito proposal during an appeal, which was denied. Now, she faces a four-year suspension.
Houlihan described her ordeal in an Instagram post on Monday evening.
"On January 14th, 2021, I received an email from the Athletics Integrity Unit (AIU), informing me a drug testing sample that I provided on December 15th, 2020 has returned as an Adverse Analytical Finding for an anabolic steroid called Nandrolone and that I am therefore subject to an immediate Provisional Suspension," Houlihan wrote.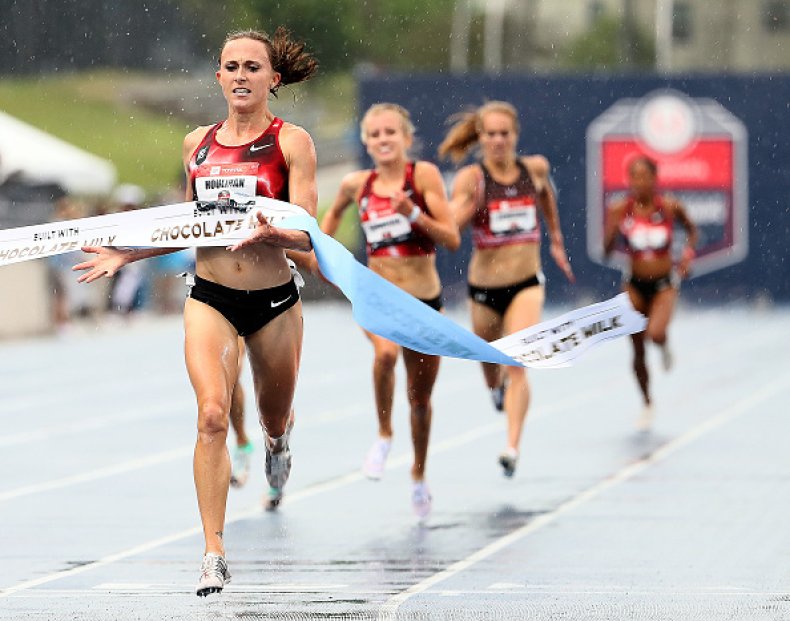 The runner who finished 11th in the 1,500-meter race at the 2016 Rio de Janeiro Summer Olympics said she had to read the email at least 10 times, then she had to "google what it was that I had just tested positive for."
Houlihan said she traced her steps in a food diary and pinpointed it to a food truck where she got a burrito on the day of her testing.
"In the following 5 days after being notified, I put together a food log of everything that I consumed the week of that December 15th test. We concluded that the most likely explanation was a burrito purchased and consumed approximately 10 hours before that drug test from an authentic Mexican food truck that serves pig offal near my house in Beaverton, Oregon. I notified the AIU that I believed this was the source," she wrote.
The U.S. Track & Field Olympic Team Trials for the Tokyo Olympics begin next week in Eugene, Oregon, and Houlihan is the American record holder in both the 1,500- and 5,000-meter races. A four-year ban could also keep her out of the 2024 Paris Olympics, which means, if the suspensions are upheld, will not allow her to qualify for an Olympics again until the 2028 Summer Games in Los Angeles.
Houlihan was devastated by the news.
"I feel completely devastated, lost, broken, angry, confused and betrayed by the very sport that I loved and poured myself into just to see how good I was," Houlihan said. "I want to be very clear: I've never taken any performance-enhancing substances and that includes the one of which I have been accused.
"I do this sport because I love it, I have so much fun doing it and it's always the best part of my day," Houlihan wrote. "This sport means everything to me. I believe doping and cheating is weak. ... I would never disrespect the sport, my competitors, my teammates, my coaches, my family and my fans this way. I love the sport too much.
What is nandrolone? It's an anabolic steroid-like substance that can originate from eating pork substances, according to the World Anti-Doping Agency.