Olympic Athletes Reveal What 'Anti-Sex' Beds Are Made From
A pair of Olympic athletes have given fans a closer look at the so-called "anti-sex" beds provided for competitors at the Tokyo games.
New Zealand swimmer Lewis Clareburt posted a video to Tiktok revealing the inner workings of the beds, which have been a topic of much discussion on social media.
In the clip, he and fellow swimmer Ali Galyer deconstruct a mattress to reveal a surprise beneath.
Rather than one complete mattress, the bed is shown to consist of three separate panels made out of expanded polystyrene foam.
"We have a bed update," a voiceover declares.
"Our beds are made out of plastic."
On closer inspection, Galyer discovers the three panels offer varying degrees of comfort.
While the panel found around the headboard is by far the most soft and spongy, the other two are considerably harder.
In fact, the panel found at the foot of the bed is shown on camera to be the most rigid of the three.
When Galyer says she wants all of her panels to be super-soft, Clareburt jokes: "You can't have that. We can't have nice things."
Clareburt's video has been viewed more than 1.8 million times on Tiktok.
But while the athletes themselves are seeing the funny side in their new disposable digs, their sleeping arrangements have divided fans.
Writing in the comments section accompanying the clip, some criticized the use of the recyclable mattresses at the Olympics.
One user, belindalynette, wrote: "It's a great idea but if the athletes can't sleep then it's not fit for purpose."
Another, g0os3, asked "Why not make good quality beds and give them away to those who need them after the Olympics?"
A third, basket.kase, commented: "I understand the purpose but shouldn't athletes be sleeping on good comfortable mattresses? Unless this is comfortable then I'm all for it."
Another, iarebear, concurred: "I am glad that they are recyclable but if they mess up your back and make you sore when you're at the Olympics what's the point."
That sentiment was shared by stannormani, who wrote: "I get the reasoning but like...they really gonna give athletes these beds when sleep is really important to perform well...um make it make sense."
The strongest statement, however, came from Skittlez951 who declared: "These beds go to show that the games should have just been cancelled."
Despite criticism from some, the use of the recyclable mattresses was supported by many others—including Clareburt himself.
When one follower, vandendad, explained "they're made to be recycled into new plastic things after the Olympics," the New Zealand swimmer replied "such a cool idea."
Another, cat.showed.up, agreed, writing: "Honestly I think they're cool; maybe not the most comfy but it can't be any worse than a dorm bed."
Hoja.de.laurel added: "I am Mexican and our athletes say on their Tiktok accounts that this is really the best way to sleep, is smart and they track their sleep."
Jacktommas agreed, writing: "The Japanese know what they are doing. We shouldn't question it."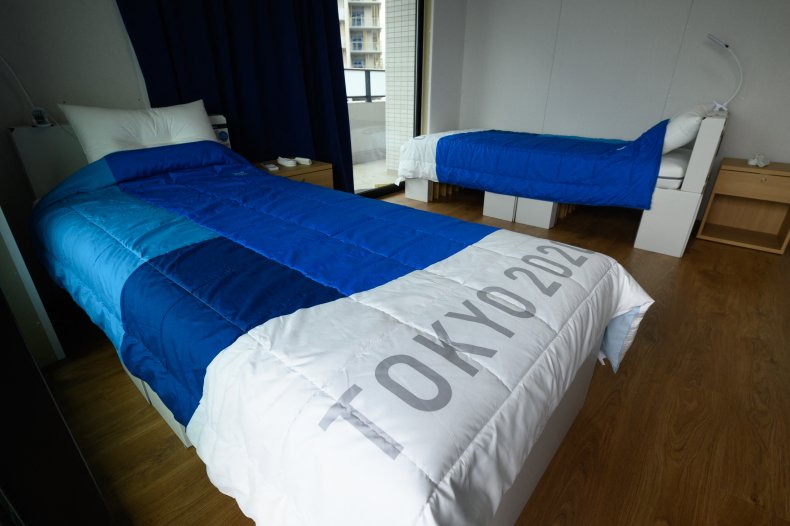 Elsewhere, adorable_abomination said "these aren't new."
"I don't remember the specific name for this kind of bedding but it's used for travel, camping, things like that."
Ayjay1992, meanwhile, dismissed the issue as little more than "1st world problems."
"It's embarrassing seeing people act like this," he wrote.
"There are Olympic athletes that came from nothing and [were] not spoonfed like ms daisy."
Made entirely out of recyclable cardboard, the modular bed frames being used at the Olympics have been designed by Japanese manufacturer Airweave.
Approximately 11,000 competitors have been provided with beds of this kind.
The eco-friendly beds were previously the source of much discussion on social media after rumors began to circle claiming they were designed to collapse under the weight of any more than one occupant.
American distance runner and Olympic medalist Paul Chelimo was among those to speculate on claims, writing on Twitter that they had been built for "avoiding intimacy."
"Beds to be installed in Tokyo Olympic Village will be made of cardboard, this is aimed at avoiding intimacy among athletes," he wrote. "Beds will be able to withstand the weight of a single person to avoid situations beyond sports."
Chelimo's tweet went viral, racking up over 10,000 shares and over 26,000 likes.
However, his claims were subsequently debunked by Irish gymnast Rhys McClenaghan, who filmed himself repeatedly jumping on a bed inside the Tokyo Olympic Village in an attempt to rubbish claims they were sleeping on anti-sex beds.
The general manager of the Athletes Village, Takashi Kitajama, previously told The Associated Press back in January 2020 that the beds were designed to carry up to 440 pounds of weight.
Newsweek has reached out to Clareburt for comment.