16 for '16: The Olympic Athletes You Need to Know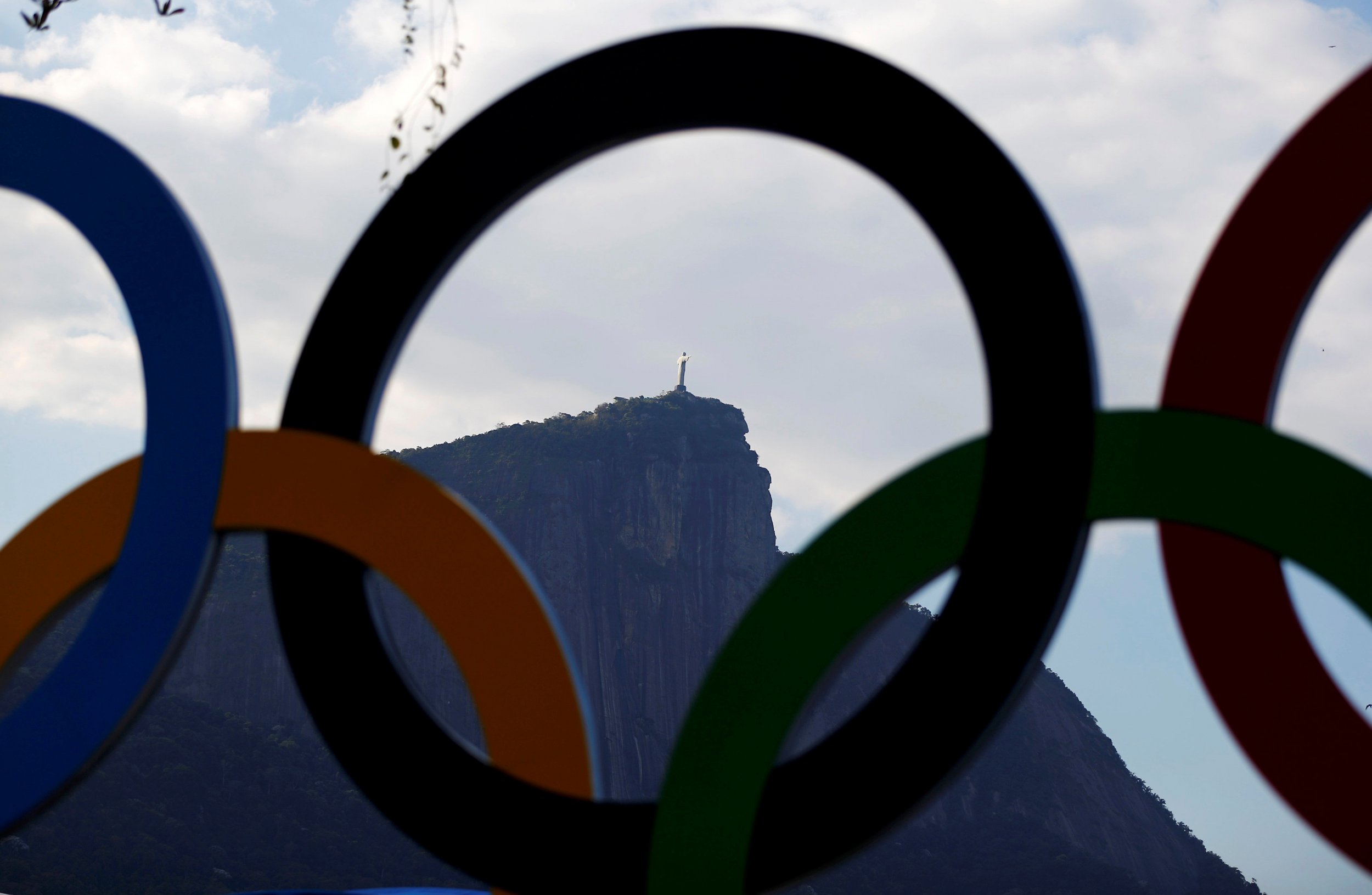 The opening ceremony for the first Olympics in South America is just days away. More than 10,500 athletes representing a record 206 national Olympic committees will take part, most of whom we will never even see compete. Here are 16 of the most compelling athletes who will take part in the Rio Games, some of whom you are already familiar with and others whom you soon will be.
16. Leila, Liina and Lily Luik (Marathon; Estonia)
The "Trio to Rio" are believed to be the first triplets ever to compete in an Olympics (by comparison, approximately 200 sets of twins have done so). The Luik sisters, 30, will compete in the women's marathon on August 14. While none of them are expected to vie for a medal, all have run comfortably below the qualifying standard of 2 hours, 45 minutes. To assist your memory, the sisters' birth order is the same as the alphabetical order of their names, which is also the ranking order of their personal bests: 2:37:11 (Leila), 2:39:42 (Liina) and 2:40:30 (Lily).
15. Nasser Al-Attiyah (Skeet Shooting; Qatar)
The 45-year-old Al-Attiyah will be competing in his sixth consecutive Olympics in skeet shooting, which is not even his best sport. Al-Attiyah, who won bronze in skeet at the 2012 London Olympics, is a two-time champion in the car division at the famed Dakar Rally. Al-Attiyah won the 5,800-mile race, which has been staged in South America since 2009 due to security concerns in northern Africa, in 2011 and 2015. In Rio, he will be attempting to win Qatar's first gold medal.
14. Gwen Jorgensen (Triathlon; USA)
In 2009 Jorgensen, a former swimmer and middle-distance runner at the University of Wisconsin (she was Big Ten champ in the 3,000- and 5,000-meter runs), was toiling as an accountant at Ernst & Young in Milwaukee. That's when officials at USA Triathlon entreated her to take up the sport. Between 2014 and 2015, she won an unprecedented 12 consecutive World Triathlon Series races while winning the world championship both years. No American male or female has ever finished better than bronze in triathlon, which made its debut at the 2000 Sydney Games and encompasses a 1.5-kilometer swim, 40-kilometer bike and 10-kilometer run.
13. Nate Ebner (Rugby; USA)
What's more remarkable: that a member of the New England Patriots will be competing in the Olympics or that Ebner, who never played high school football growing up in Ohio, made the Patriot roster in the first place? A former sixth-round pick out of Ohio State (this makes Ebner, 27, the Patriots' second-most famous sixth-round pick from a Big Ten school after Tom Brady), Ebner has played four years with New England as a special teams player and safety and owns one Super Bowl ring. Rugby is his natural contact sport, though. When he was 17, he became the youngest person ever to play on the U.S. national rugby sevens team.
12. Oksana Chusovitina (Gymnastics; Uzbekistan)
In 1992, Chusovitina, then a 17-year-old gymnast competing for the Unified Team, won a gold medal in the team all-around competition in Barcelona. The U.S. team featuring a then 14-year-old Kerri Strug took bronze. Strug has long since retired but Chusovitina, now 41, is about to make history as the oldest gymnast to ever compete at an Olympics. The Rio Games will also be her seventh straight, another first in gymnastics.
11. Tom Daley (Diving; England)
Only Christ the Redeemer will occupy a higher perch in Rio than those brave souls who leap from the 10-meter platform at the Maria Lenk Aquatics Center. Daley, 22, scored a bronze medal competing in his native land four summers ago and reserves his greatest splashes for outside the pool. A popular television personality in Great Britain, Daley was recently the subject of a documentary (Tom Daley: Diving for Gold) on ITV, and he is engaged to American screenwriter Dustin Lance Black, who won an Oscar in 2009 for best original screenplay for Milk.
10. Nino Salukvadze (Pistol; Georgia)
The 47-year-old who has previously won a gold, silver and bronze in pistol competitions will match one record and set another in Rio no matter how she fares on the range. By competing in her eighth Olympics, Salukvadze will tie retired German canoeist Josefa Idem for the most Olympic appearances by any female. Salukvadze's 18-year-old son, Tsotne Machavariani, also qualified for Rio in the 10-meter air pistol, making them the first mother-son tandem to ever appear at the same Olympic Games.
9. Siddikur Rahman (Golf; Bangladesh)
The first athlete from Bangladesh ever to qualify for the Olympics without requiring the crutch of a wildcard bid, Rahman secured his position by placing 56th in the final eligibility rankings. A plethora of the world's top golfers (Jordan Spieth, Dustin Johnson, Rory McIlroy, Jason Day, etc.) have chosen not to compete in Rio, citing Zika concerns, opening the door for eager hopefuls such as Rahman, 31, who is currently the 12th-ranked player on the Asian Tour.
8. Jenny Simpson and Emma Coburn (1,500- and 3,000-meter steeplechase; USA)
Former teammates and roommates at the University of Colorado, Simpson and Coburn broke the tape in their respective events, the 1,500 meters and the 3,000-meter steeplechase, at last month's U.S. Olympic Trials. Coburn, 25, is the American record-holder in her event while her close friend Simpson, 29, will be participating in her third Olympics. U.S. women have never medaled in either the 1500, which was first staged at Munich in 1972, or in the steeplechase, which made its debut in Beijing eight years ago.
7. Galen Rupp (10,000-meter and marathon; USA)
The silver medalist in the 10,000-meter run in London, Rupp made his marathon debut at the U.S. Olympic Trials in Los Angeles last February and was the first man to cross the finish line (2:11:13). The 30-year-old Oregon native will seek to become the only man besides Czech legend Emil Zatopek to win both races at the same Olympics (1952; Zatopek also won the 5,000 that summer in Helsinki).
6. Katie Ledecky (Swimming; USA)
She's just getting started. As the youngest member of the U.S. contingent in London, the 15-year-old Ledecky won gold in the 800-meter freestyle. Now Ledecky, who deferred enrollment to Stanford to concentrate on the Olympics, will be favored to win gold in the 200-, 400- and 800-meter freestyle events as well as the 4 x 100 freestyle relay. If Michael Phelps is the most popular U.S. swimmer at the opening ceremony, Ledecky will likely hold that distinction at the closing ceremony.
5. Caster Semenya (800 meters; South Africa)
The silver medalist in the 800 meters in London, Semenya will be one of the most controversial athletes in Rio due solely to biology. The 25-year-old has a medical condition called hyperandrogenism, meaning that her body naturally produces more testosterone than a normal female. Critics argue that Semenya should not be allowed to compete as a female, but would they be so ardent in their opposition if she were not the gold-medal favorite?
4. Lin Dan (Badminton; China)
"Super Dan," as he is known to those who swat the shuttlecock, is recognized as the greatest Olympian in the history of his event. In Rio, the 32-year-old will seek an unprecedented third consecutive gold medal in men's singles.
3. Yusra Mardini (Swimming; Refugee Olympic Team)
No one who takes part in the opening ceremony at Maracana Stadium has a more compelling story than this 18-year-old Syrian refugee. Less than a year ago Mardini nearly drowned in the Aegean Sea when the boat carrying her and 17 other refugees to the island of Lesbos nearly capsized. Mardini and two others jumped in the water and tugged the dinghy for three hours until they finally reached shore. She already understands the difference between victory and defeat.
2. Michael Phelps (swimming; USA)
Is Phelps, who owns 18 gold medals and 22 medals overall (both Olympic records), the greatest Olympian of all time? It would be difficult to argue against it. Now 30 and competing in his fifth and likely final Olympics, Phelps will compete in three events in Rio: the 100- and 200-meter butterfly, and the 100-meter individual medley.
1. Usain Bolt (Sprinting; Jamaica)
"Fastest man ever" is a pretty keen title, and that the 6-foot-5-inch, aptly named Bolt makes it look so easy is even more daunting. The first man ever to pull off the double-double of winning gold in both the 100- and 200-meter sprints in consecutive Olympics, Bolt, who also holds the world record at both distances, will be favored in both events in Rio, as well. When Bolt enters the dining hall at the Olympic village, his fellow Olympians stand and cheer. That's respect.