Olympic Athletes' Testimonies Show Why Rape Victims Don't Trust Police | Opinion
If you are ever assaulted, inevitably people will ask, "But did you call the police?"
That's exactly what happened to at least 499 gymnasts, all victims of Larry Nassar, the former USA Gymnastics and Olympic Team physician convicted of child sex abuse. But as former prosecutor Senator Richard Blumenthal pointed out in Wednesday's Senate Judiciary Committee hearing, Nassar's conviction is a miracle, considering how the FBI mishandled its investigation and issued falsehoods, retraumatizing nearly every victim it interviewed along the way.
The hearing revealed the FBI to be little more than a prestigious version of every town's police department—carelessly losing rape kits and caring little for the protection of victims. Sexual assault investigations like these that revictimize survivors are commonplace, but less visible than the USA Gymnastics Team's. Similar scenarios occur every day in your town's police precinct. One study found at least 98,022 rape kits are waiting to be analyzed. The powerful testimonies of Aly Raisman, Maggie Nichols, McKayla Maroney and Simone Biles before Congress are a reminder that our legal system was built to punish, not protect.
Simone Biles held her hands tightly, close to her chest, as she testified before Congress. I know this pose well—it is the same way I sat, telling myself to remember to breathe, trying not to cry, while testifying against my rapist in court. Biles explained that the sexual trauma she endured may haunt her forever, and that the burden of these experiences followed her to the Olympics this year. And she was not alone. As Maggie Nichols testified, "My Olympic dreams ended in the summer of 2015 when my coach and I reported Larry Nassar's abuse to USAG leadership." Nichols described in detail how the FBI mishandled the investigation and helped cover up the scandal for years after she came forward.
Nassar's abuse was an open secret for decades within the organization. Biles corroborated this in Wednesday's hearing, testifying that "In May of 2015, Rhonda Faehn, the former head of USA Gymnastics Women's Program, was told by my friend and teammate, Maggie Nichols, that she suspected I too was a victim." Victims risked everything to report their torture, only to watch helplessly as younger gymnasts became new prey. Aly Raisman's testimony further explained USA Gymnastics' culture of covering up abuse, stating, "My reports of abuse were not only buried by USAG and USOPC, but they were also mishandled by federal law enforcement officers who failed to follow their most basic duties."
In July, while Simone Biles was competing in the Tokyo Olympics, I was in a courtroom, crying so hard I thought my eyes might blister over. I shook as I spoke on the stand, sitting in a COVID-era plexiglass box. My words appeared before me on the court stenographer's bright screen as she typed my testimony against my child trafficker-rapist-father. It was so stark to see all the worst things that happened to me as a child recorded so simply. I can't say that it was cathartic—it felt like being set on fire and thrown naked from an airplane without a parachute—although it was validating, in a way.
In the process of seeking help, rape victims are systematically punished for their perpetrator's actions. This is one of the reasons sexual assaults are underreported: the process of seeking justice, help or protection is retraumatizing and frequently dangerous. Initially following an assault, it is easier to run away and hide—that is, until it isn't, or until you see others preyed upon by the same person. That moment came for me when I discovered the police lost my pediatrician's rape kit; I was told that it was likely thrown out because I chose not to press charges at age 13.
At 13, I didn't know that pressing charges was my choice to begin with. At 13, I had never had a gynecological exam. At 13, I had never had a consensual sexual experience. Yet at 13 years old, I had to endure the pain of a cold metal speculum prying me apart so my doctor and a police officer could examine how exactly my dad had destroyed me.
My pediatrician stood beside me in a white coat, wringing her hands as the officer asked if I wanted to press charges. I was confused. "If I press charges, will I have to see my dad in court?" I asked. The officer shifted his weight and glanced at the exam room's door as though he wanted to leave. I wanted to leave too. "Probably," he said curtly. "Can you offer me any kind of protection?" I asked, telling him of the times that my dad had threatened to kill me, my mom and my siblings. The officer told me no, that wasn't possible.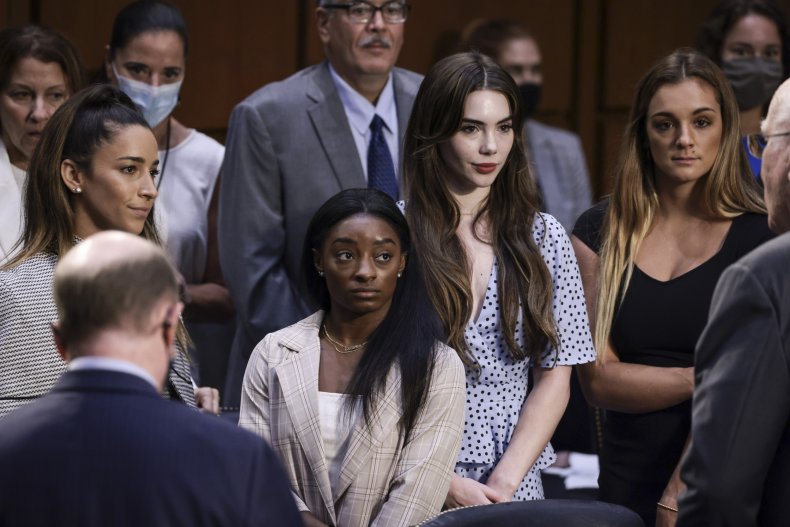 At 13, I was more focused on surviving to age 18 and going to college than I cared about seeking justice and risking my own murder. Plus, my father had already been to prison, and it only made him more violent. There didn't seem to be any incentive in pressing charges. There was only danger in kicking the hornet's nest of the justice system. The officer left. I put on my clothes. And my pediatrician's rape kit was allegedly thrown in the trash.
McKayla Maroney's voice tightened as she held back tears during her testimony. She described how traumatizing the FBI's interviews about Nassar's abuse were, and how the experience left her with PTSD for days. "I was so shocked at the agent's silence and disregard for my trauma. After that minute of silence he asked, 'Is that all?' Those words in itself were one of the worst moments of this entire process for me."
Maroney is not alone. A study published this year found that 36 percent of sexual assault survivors choose not to report due to fear of police. Researchers found that survivors' fears included "concerns of police treatment and previous/vicarious negative experiences with the police." The study concluded that there should be alternative reporting methods that are less traumatizing than police. Extensive data support that police are not a safe reporting option for assault victims—police and correctional officers are 40 percent more likely than the general public to be perpetrators of domestic violence, for example.
As a survivor of childhood sex abuse, I sometimes wish I was alone in this experience. I wish no one else had to endure similar torture. Attempting to protect others is the only reason I risked my life to testify against my rapist-dad over the summer. My lawyer asked me to make a report to the FBI for additional investigations. But after months of insomnia and my best friend dying during COVID, I knew that I didn't have the stamina to go through years of interviews, investigations and trials. I also didn't feel I could trust the FBI to care about my safety.
The congressional hearings about how the FBI mishandled the Nassar investigation is reminiscent of another similar scandal in youth sports. In 2016, Penn State was fined by the U.S. Department of Education for failing to protect children from celebrated football coach and known child sex predator, Jerry Sandusky. There is a strong through-line here of children's bodies being exploited for sports revenues, and of abuse reports being covered up so that coaches and team physicians can continue to groom and rape children with impunity because their influence is more valued than the bodies and psyches they shatter.
Biles quoted Nelson Mandela in her testimony, reminding us that "There can be no keener revelation of a society's soul than the way in which it treats its children." However obvious, it should be noted that children rarely consider calling the police on their own coach, doctor, parent, relative or teacher. The inherent vulnerability and trusting naiveté of children, compounded with the unlikely scenario of a child calling the police, allow predators to groom and target susceptible victims. Predators like Nassar and Sandusky seek out powerful professional positions that attract accolades and social capital (Sandusky was a coach, Nassar was a doctor), giving them unquestioned access to vulnerable groups.
Choosing to report abuse is choosing to seek out more trauma. In other words, there are many more incentives against reporting abuse than for it. In her testimony before Congress, Maroney described the abject apathy she encountered, asking "What is the point of reporting abuse if our own FBI agents are going to take it upon themselves to bury that report in a drawer? They had legal legitimate evidence of child abuse, and did nothing. If they're not trying to protect me, I want to know, who are they trying to protect?"
We cannot reverse what has already happened; we must build systems to make reporting abuse less dangerous for survivors of rape, no matter their age, race or socioeconomic status. To be retraumatized by speaking to police or testifying in court, to put one's career and even one's life in harm's way, are the costs of reporting sexual assault. Our legal system, seemingly unable to discern the difference between a victim and a perpetrator, has accepted this as normal. Perpetrators, at least, are protected with the dictum "innocent until proven guilty." Victims do not benefit from similar protection. Too often in sexual assault cases, whether the perpetrator or the victim is the one on trial becomes a murky legal cesspool—one in which I felt I might drown.
As Aly Raisman told Congress, "It has become painfully clear how a survivor's healing is affected by the handling of their abuse."
Sabra Boyd is a freelance writer and "retired" child actor working on a memoir about surviving child sex trafficking, teen homelessness and being born on the set of the Coen brothers movie Raising Arizona. She lives in Seattle where she writes about exploitation, health care, food and agriculture, homelessness, human trafficking, tech, and cults. Her work will be included in the anthology The Women of Jenji Kohan, coming out in March 2022.
The views expressed in this article are the writer's own.