Olympic Beach Volleyball Player April Ross Draws Incredible Courage From Mother's Death
April Ross was only a young girl when she sat on her bed crying, just wanting to figure out what sport she wanted to pursue for the rest of her life. Would it be soccer or volleyball? She was confused and afraid to pick the wrong one.
Her mother, Margie, came to April's side to give her comfort and say she'd support her no matter what road she took.
"I was crying, and my mom just kept reassuring me everything was going to be ok regardless of what I chose. She didn't try to steer me one way or the other, but was just there for me," April said.
That young April Ross chose the volleyball path, and so far it's been sparkling. Now, she wants to make it golden.
April Ross is an American beach volleyball player on her third Olympic team, and with a third different playing partner. She and Alix Klineman are the No. 2 seed heading into this year's 2020 Tokyo Summer Olympics tournament.
Ross won the silver medal at the London Games (2012) with partner Jennifer Kessy and a bronze in Rio de Janeiro (2016) with partner Kerri Walsh-Jennings. But now, she wants more. She wants gold, and she wants to do it for mom.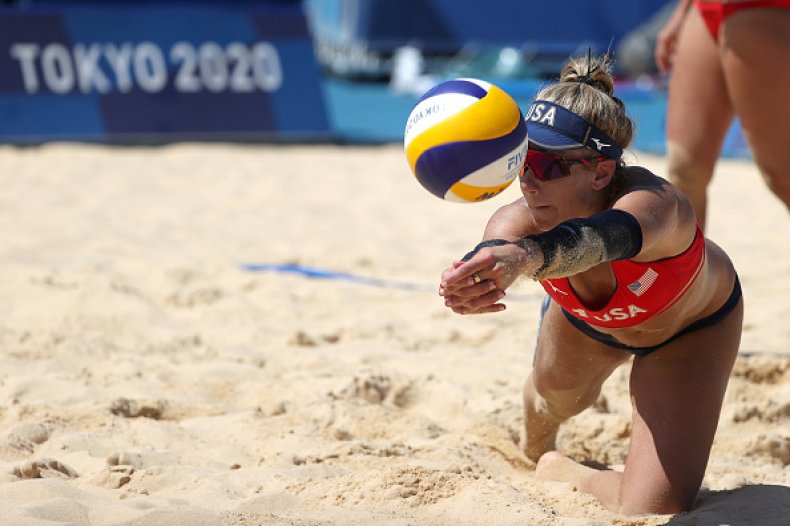 She thrives off the memory of her mother, who fiercely battled metastatic breast cancer for 10 years.
Margie, the soft-hearted emotional glue of the family who accepted all stray cats—and even nursed them until they could fend for their own—passed away in 2001, when April was a sophomore at the University of Southern California.
Now that 20 years have passed, she still uses her mother's strength and courage to push her on the court, in her health and for promoting good health to the world.
Ross carries the memory of her mother's strength, perseverance and kind heart with her still today, all while facing the toughest beach volleyball players in the world at the Olympics—one year after the world got flipped upside down by COVID and pushed the 2020 Games until the year 2021.
There's the pressure of the Olympics itself, and more pressure with being favored to medal again.
"I think you can let pressure get to you and it is there, but also part of the mental challenge is dealing with that pressure and keeping it in perspective," Ross told Newsweek before she jetted to Tokyo. "We might be favored because of our seed, but everyone is so good and the level is so high and everyone is battling back and forth."
Despite the competition, she remembers the battles her mother faced in a 10-year struggle with cancer.
"It's taken me a long time to process it and even be able to talk about her publicly," Ross said. "I still draw on the courage and bravery she showed in the face of her health challenges."
That led Ross to join the team at Eli Lilly, a 145-year-old company that promotes health and high-quality medications that were first needed during a post-Civil War era when salesmen peddled elixirs with no proven outcomes. Ross said promoting good health is a way to keep her mother's memory alive.
"Eli Lilly allows me to keep her memory alive and talk about her and talk about how she inspires me and I'm really grateful for that, and further than that, I'm really proud to be a part of team Eli Lilly because they're so dedicated to developing and discovering new medicines that can help people all around the world with the health challenges that they're facing," Ross said. "So that makes this partnership really meaningful. It makes going to the Games and having this platform even more special."
And if she wins a gold medal in Tokyo, Ross will have another memory to share with her mom who comforted her.