Olympic Figure Skaters Offered Torches as Temporary Gift Amid Doping Case
U.S. figure skaters have allegedly been offered torches from the International Olympic Committee (IOC) in place of medals as the doping accusation case against Russian skater Kamila Valieva continues.
The stance on discontinuing medal ceremonies for events attended by Valieva was reaffirmed on Wednesday, the Associated Press reported. The torches, according to two anonymous sources, were given as holdover gifts.
The U.S. placed second behind the Russian Olympic Committee squad in the team competition involving Valieva last week.
Nathan Chen won gold for the U.S. in men's singles, while Americans Madison Hubbell and Zachary Donohue took bronze in ice dancing.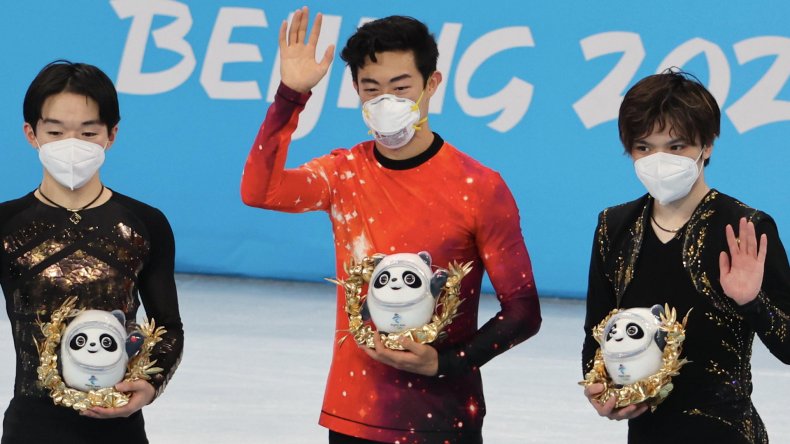 On Tuesday, American Alysa Liu finished eighth in the women's singles short program. Teammates Mariah Bell and Karen Chen were 11th and 13th, respectively.
"I am happy with what I did," Liu told U.S. Figure Skating in a news release. "All of my training has been to get to the Olympics, and my dream has come true."
Russians hold the top two positions after the short program, led by Valieva in first. Anna Shcherbakova is second place, while Kaori Sakamoto of Japan is in third entering the long program.
If a Russian wins the event, a medal ceremony will not be held, according to new rules placed by the IOC. The rules, which were reaffirmed on Wednesday according to AP, were put in place after it was revealed that Valieva, 15, tested positive for a banned heart medication in December. But the Court of Arbitration ruled that she could continue to compete.
Valieva is not the only athlete at the Olympics accused of doping. Ukrainian cross-country skier Valentyna Kaminska has been banned from the rest of competition after she tested positive for three banned substances.
According to the International Testing Agency (ITA), Kaminska tested positive for an "anabolic androgenic steroid" as well as methylhexanamine and heptaminol, two substances classified by the World Anti-Doping Agency as stimulants.
"This means that the athlete is prevented from competing, training, coaching, or participating in any activity, during the Olympic Winter Games Beijing 2022," the ITA wrote in a statement.
Newsweek reached out to the IOC for comment.
Update 2/16/22, 12:08 p.m. ET: This story has been updated with information on Valentyna Kaminska's Olympic ban.