A former U.S. Olympic swimmer has been spotted among the rioters last week at the Capitol. Two-time gold medalist Klete Keller is seen wearing a Team USA jacket and shoving police during a protest of the Electoral College's votes to name Joe Biden as the next president.
Keller was seen shoving police during a riotous protest inside the Capitol rotunda last week, according to a video posted to social media by Julio Rosas. In this tweet, Keller can be seen at the 15-second mark wearing his USA jacket, and he can be seen later in the nearly two-minute clip.
Keller, who swam at the University of Southern California, made the U.S. Olympic team in 2000, 2004 and 2008. At the 2004 Summer Games in Athens, Greece, Keller swam the anchor leg of the men's 4x200-meter freestyle relay, touching first and landing the gold for Team USA—just ahead of Australia, which hadn't lost that event in seven years. Keller's teammates in that race were Michael Phelps, Ryan Lochte and Peter Vanderkaay.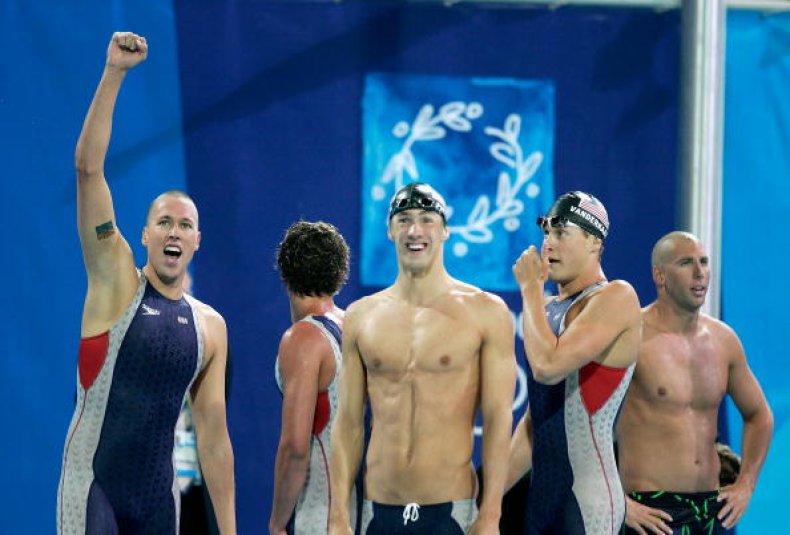 Keller also won a gold medal at the 2008 Beijing Olympics in the 4x200 relay, and won silver in the same race at the 2000 Sydney Games.
He reportedly became homeless after a divorce in 2014 and child support payments, but later found life again as a real estate agent in Colorado.
Keller, who won multiple Pac-12 and national championships as a distance and middle-distance swimmer, was spotted in the Capitol Rotunda last week—while wearing memorabilia from his Olympic team past.
While Congress met at their respective chambers inside the Capitol, thousands of pro-Trump supporters congregated outside to protest the Electoral College votes.
A mob grew restless, and they breached four lines of police defense to eventually penetrate the Capitol while Congress was in session. Members of both the House and Senate were evacuated, and Vice President Mike Pence was taken to safety inside the building.
The rioters made their ways up and down the Capitol halls, inside the offices of lawmakers and ultimately into the Senate chamber.
The rioters took selfies inside the building, took property from offices and wreaked havoc. In all, there have been 120 arrests and four people died during the incident.
Though Congress reconvened and certified the results to name Joe Biden the 46th President of the United States, things didn't end there. While the investigations churned and arrests were being made, Democrat lawmakers urged top Republicans to resign over "inciting violence" at the Capitol.
About the writer
Scott McDonald is a Newsweek deputy night editor based in Cape Coral, Florida. His focus is assigning and writing stories across all topics, from news to politics, business, weather, sports and international news. Scott joined Newsweek in 2018 after a lengthy career of print journalism in Texas, including The Dallas Morning News, where he was a sportswriter, and he's a voter for the Heisman Trophy. He has been a newspaper editor-in-chief and also a newspaper publisher. He is a graduate of The University of Texas at Austin. You can get in touch with Scott by emailing s.mcdonald@newsweek.com. Languages: English