Olympic Hopeful Dani Loeb's Skis Still Unaccounted for After Theft; Qualifying a Week Away
Although two arrests were made this week in the case of stolen custom skiing equipment, the equipment itself of Olympic skier Dani Loeb is still missing, with the qualifying events for the coming Winter Olympics just one week away.
Loeb's $1,600 custom skis, along with Team USA ski bags, a uniform, helmet and other equipment were stolen from a pickup truck belonging to her mother in an Atlanta parking deck Dec. 15, according to police.
Two men were arrested this week during a traffic stop in Atlanta based on surveillance footage of the parking deck, but police haven't told Loeb whether they have recovered the equipment yet.
"I was freaking out at first, and then I started thinking that everything is going to fall into place," she said in an interview Thursday, according to the Associated Press. "You kind of have to take a step back and learn from it, and what I learned is you don't leave things in your car."
Loeb, 20, is a former gymnast who has been on the U.S. ski team for the past two years, as an aerial freestyle skier.
She said she's waiting to hear from Atlanta police about the potential return of the equipment by the qualifiers next week, as she believes having her own equipment, especially the skis, would give her the best chance to qualify.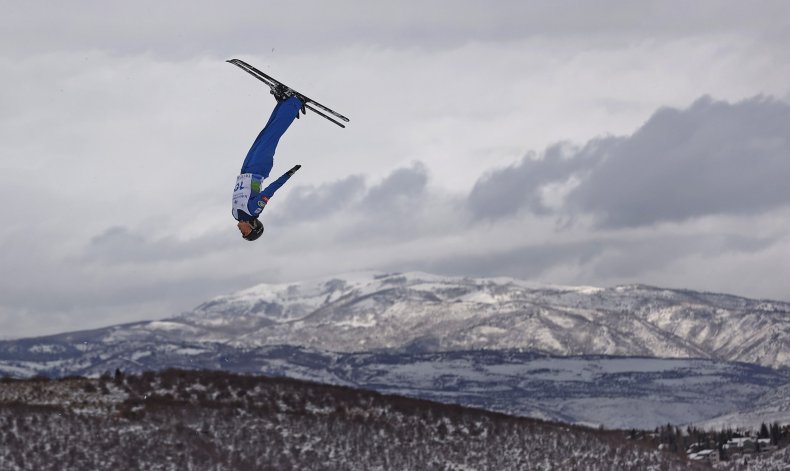 Police said they used surveillance video of the crime to match what the men wore during the break-in to what the suspects were wearing during the traffic stop. Both are facing charges of entering an auto and criminal trespass/damage to property, a police report states.
Atlanta police spokesperson Anthony Grant said the investigation is still ongoing.
Loeb is from Pintlala, Alabama, a small community near Montgomery, according to her biography on the U.S. ski team's website. She was competing with an elite gymnastics team outside Dallas when she got involved in aerial skiing through a friend.
Making the transition from gymnastics to skiing is easier than the other way around, she said.
"It's a lot easier to teach someone how to ski than teach someone how to flip," she said.
Since the theft, she got a new helmet — a friend decorated it with an airbrush, "and it's the coolest thing ever," she said. "It's blue camo with glitter and stars, and an evil eye on the back."
Loeb said Thursday that she's trying to be positive about the theft. She's also grateful for people in Atlanta and elsewhere who have tried to spread the word about her missing gear after she posted news of the crime on her Instagram account.
"The people in Atlanta have been so helpful," she said. "They've been so kind."
The Associated Press contributed to this report.