Olympic Organizers Insist Games Will Not Be Impacted as 10K Volunteers Drop Out
Tokyo 2020 Organizing Committee officials said that the Games will move forward unaffected after 10,000 of 80,000 total unpaid volunteers quit, the Associated Press reported.
Organizers said in a statement that some volunteers, most of whom won't be vaccinated since very few will have contact with athletes and officials, decided not to participate because of COVID-19 fears. While the International Olympic Committee (IOC) anticipates 80% or more of athletes and Olympic Village inhabitants to be fully vaccinated in time for the Games, just between 2% to 3% of the overall population in Japan is currently fully vaccinated.
"We have not confirmed the individual reasons," organizers said in a statement. "In addition to concerns about the coronavirus infection, some dropped out because they found it would be difficult to actually work after checking their work shift, or due to changes in their own environment."
Olympic volunteers customarily receive uniforms, meals on work days and funds to cover the daily commute, but pay for their own housing for the duration of the Games. While the organizing committee has assured that losing one-eighth of its volunteers won't affect operations, a study conducted for the IOC found that the 40,000 unpaid workforce of the 2000 Sydney Olympics was worth $60 million or more.
For more reporting from the Associated Press, see below.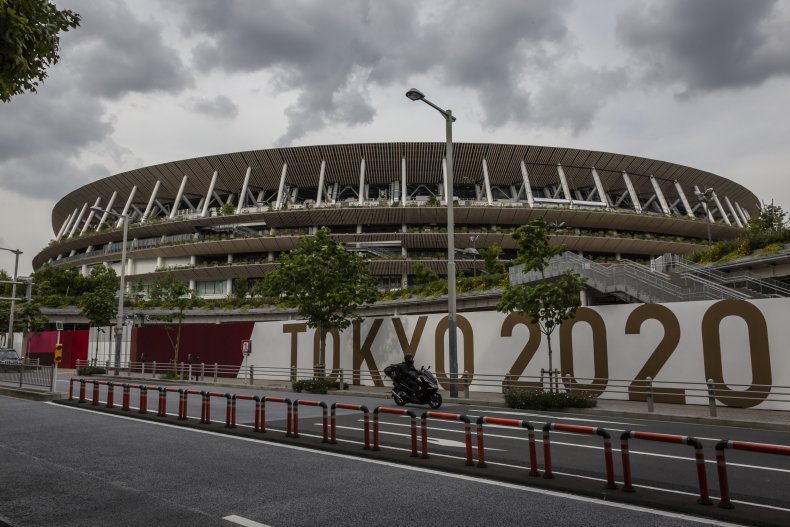 To mark 50 days until the start of the Games, organizers unveiled the podiums, costumes and music that will be used during the medal ceremonies. Organizing Committee President Seiko Hashimoto again promised the Olympics will be safe for the athletes.
"The Tokyo 2020 organizing committee will absolutely make sure to protect the health of the athletes," she said.
Support for the Olympics continues to lag in Japan with 50% to 80%—depending how the question is phrased—saying the Games should not open on July 23.
Tokyo is officially spending $15.4 billion to organize the Olympics, and several government audits say it's much more. All but $6.7 billion is public money. The IOC's contribution is about $1.5 billion.
Japan has attributed just over 13,000 deaths to COVID-19, far lower than most comparable countries, but higher than many Asian neighbors.
On Thursday, the Japanese soccer association said a member of the Ghana team tested positive upon arrival in Tokyo. The player was separated from the team and placed in quarantine.
Earlier in the week, soccer players from Jamaica were unable to go to Japan because of issues with coronavirus testing. They were to have played the Japanese national team in a friendly.
Newsweek, in partnership with NewsGuard, is dedicated to providing accurate and verifiable vaccine and health information. With NewsGuard's HealthGuard browser extension, users can verify if a website is a trustworthy source of health information. Visit the Newsweek VaxFacts website to learn more and to download the HealthGuard browser extension.