Olympic Swimmer Katinka Hosszu Appears to Walk on Water During Final Practice in Tokyo
There's good, and then there's Olympic good when it comes to swimming. Katinka Hosszu looked "walking on water" good during one of the last training sessions for the 2020 Tokyo Olympics.
A photographer captured the Hungarian jumping into the pool at the Tokyo Olympics prior to the start of the Games, and it appears the "Iron Lady" of Hungary is walking on water at the Tokyo Aquatics Center.
It was so impressive that the five-time Olympian posted the photo to both Instagram and Facebook, getting thousands of responses on both social media channels.
"I walk on water lately...new hobby," Hosszu said on both outlets.
Newsweek reached out to Hosszu. A response could depend on the 13-hour time differential between Tokyo and the U.S. Eastern Time Zone.
Hosszu is a specialist in the individual medley, which is one of the toughest races in all of swimming. It involves the butterfly, backstroke, breaststroke and freestyle. Hosszu won gold in both the 200 IM and 400 IM at the 2016 Rio de Janeiro Games.
If you add up her Olympic and World Championship medals, she's won 64 gold medals, 20 silvers and 12 bronze medals. Not bad for someone just 32-years-old and heading to her fifth Games.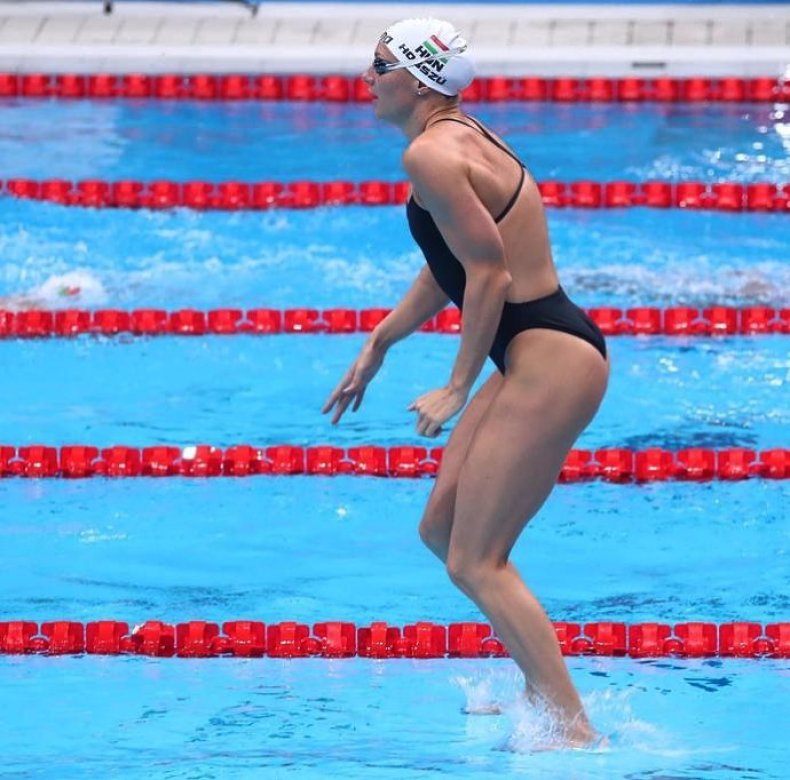 Hosszu's listed events for the Tokyo Games include the 400 IM, 200 IM, 200 Butterfly and 200 Backstroke. She could participate on any of her country's relay events as well.
She's the current world record holder in the 100 IM (short course), 200 IM (long and short course) and the 400 IM (long course). She also holds the world record in the 200-meter backstroke on a short course.
When it comes to the top women's swimmers in the world, Hosszu is on a short list with American Katie Ledecky and Sweden's Sarak Sjöström, both who are competing at the Tokyo Games.
Ledecky is the favorite to win the freestyle races in 200, 400, 800 and 1,500 meters. Sjöström is a favorite in sprint races like the 50- and 100-meter freestyle and the 100-meter butterfly.
Sjöström will get it started in the 100 butterfly on Saturday as swimming gets a fast Olympic start. Swimming for both men and women start Saturday in Tokyo (Friday night in the U.S.).
Ledecky begins her quest for a sweep of freestyle medals with the 400 freestyle on Sunday, followed by the 200 freestyle the following day.
The Tokyo Summer Games officially start Friday with the Opening Ceremony, but a handful of events like women's softball and soccer have already begun competition.