Postponing Olympic Games Will Deal Serious Blow to Japanese Economy and Plunge Country Into Recession, Analysts Warn
Postponing the Tokyo Olympics will deal a serious blow to the Japanese economy, analysts have warned.
The International Olympic Committee (IOC) took the unprecedented decision of postponing this summer Olympic Games on Tuesday due to the outbreak of coronavirus and in the face of ever-growing pressure from athletes and national Olympic committees.
The 2020 Olympics were scheduled to be held in Tokyo between July 24 and August 9, but will now be held next year.
With the exception of the two world wars, the Olympics had never been canceled or postponed since they began in their modern guise in 1896.
According to official figures, Japan has committed 1.45 trillion yen ($13.4 billion) to organizing the Olympics, with $277 million alone spent on building a new Olympic Stadium in Tokyo.
"The cancelling of the games would be a serious blow to the Japanese economy, however a suspension to next year would help cushion the blow," Michael Hewson, chief market analyst at CMC Markets, told Newsweek before the announcement was made.
"Even if the Olympic Games is deferred until next year, there is likely to be an economic impact in terms of fewer visitors due to higher global unemployment rate as a result of the economic impact of the current crisis.
"There may also be a reluctance to travel to the region due to concerns about the proximity of China, and any residual effects from the virus."
Analysts at Fitch Solutions echoed the warning, indicating the postponement will only exacerbate the ripple effect the COVID-19 outbreak is expected to have on the country's consumption, tourism and exports.
From a tourism perspective, arrivals in Japan in February slumped 60 percent from the previous month and from the corresponding period a year ago. The number of tourists from China cratered 91 percent on a monthly basis and 87 percent on a year-on-year basis.
While a recovery will be contingent on global travel bans, should the current restrictions be kept in place, analysts expect revenue from tourism in Japan to drop by 75 percent in the first six months of this year and by 50 percent in the second half of 2020.
Even before the pandemic began, the Japanese economy was already on a downward trend after growth contracted sharply in the fourth quarter of last year and Fitch expects the economy to shrink by 1.1 percent in 2020, as opposed to a previous forecast calling for a 0.2 percent decline.
Postponing the Games will almost certainly plunge Japan in a technical recession, which is defined by two consecutive quarters of economic contraction.
"We believe that the postponing of the Tokyo Olympics will be a further drag to growth in Japan," the Fitch Solutions said in a note to Newsweek.
Conrad Wiacek, head of analysis and consulting at GlobalData's sports media rights intelligence service Sportcal, suggested organizers would now face a scramble to preserve over $10bn worth of global media and sponsorship agreements.
"The IOC now has a logistical and commercial headache to contend with and additional external pressures [...] have taken the decision out of their hands," he said in a note circulated to media on Monday.
"Commercial plans four years in the making are being hastily rewritten around the world, likely diverting marketing spend if not elsewhere into other projects then certainly into the third quarter of 2021."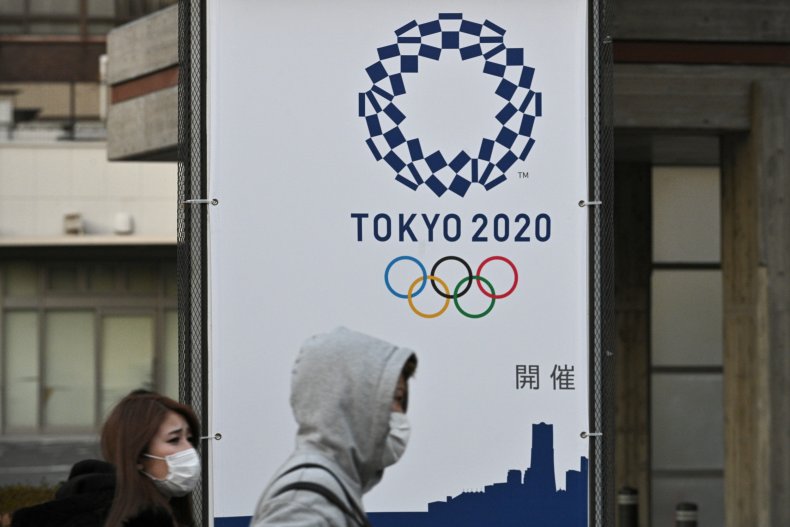 Approximately 73 percent of the IOC's $5.7 billion income in the current four-year cycle derives from TV revenue, with NBC contributing to roughly 50 percent of the amount.
The Comcast-owned network paid a total of $4.38 billion for the rights to the next four Olympics—winter and summer, in 2011—before investing a further $7.7 billion three years later to purchase the rights to another six editions of the Games.
Earlier this month, Comcast chairman and chief executive Brian Roberts admitted canceling the Olympics would cost the company the ad-driven profit, which stood at approximately $250 million for the Rio Olympics four years ago.
"We try to anticipate for big events what might happen so that we're protected there, and we also have insurance for any expenses we make," he said at the Morgan Stanley Investor Conference.
"So there should be no losses should there not be an Olympics. There wouldn't be a profit this year.
On Monday, Tokyo organizing committee chief Yoshiro Mori conceded the financial hit of postponing the Games was a major issue for both the IOC and Tokyo's organizing body.
It was a significant shift in dynamic, as publicly at least, both Tokyo 2020 organizers and the IOC had steadfastly refused to entertain the possibility of postponing or canceling the Games, despite mounting criticism from athletes and Olympic committees.
On Sunday, the IOC Executive Board gave itself a four-week deadline to make a decision, but the scenario evolved rapidly. On the same day Canada became the first country to indicate it would not send its athletes to Tokyo if the Games went ahead this summer, while Australia told its athletes to get ready for the Olympics to be held in 2021.
A day later, the U.S. Olympic Committee threw its considerable weight behind the motion, with its New Zealand counterpart following suit. The national Olympic committees of Norway, Brazil and Slovenia are also among those that publicly called for a postponement as had the World Athletics Federation and a number of high-profile athletes.
As of Tuesday morning, more than 1,120 cases of coronavirus have been reported in Japan, with 42 deaths and 285 people recovered, according to Johns Hopkins University, which has been tracking the outbreak using combined data sources.
Over 17,100 people have died since the outbreak of coronavirus began in Wuhan, a city located in China's central Hubei province, late last year. There are over 392,000 cases globally, with almost 103,000 recovered. The number of confirmed cases of COVID-19 compared to recoveries from the disease are shown in the Statista graph below.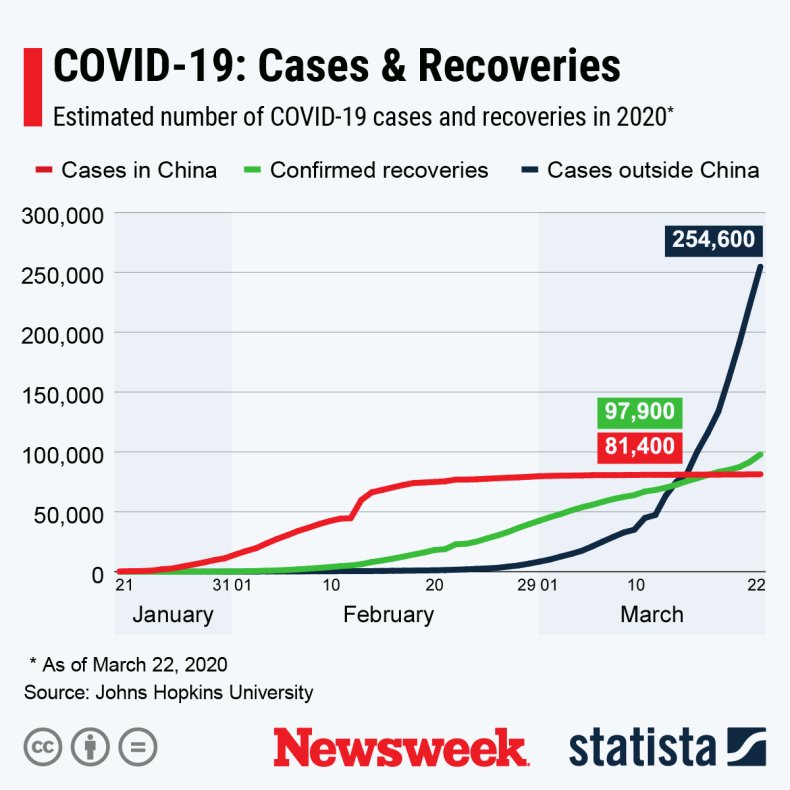 World Health Organization advice for avoiding spread of coronavirus disease (COVID-19)
Hygiene advice
Clean hands frequently with soap and water, or alcohol-based hand rub.
Wash hands after coughing or sneezing; when caring for the sick; before; during and after food preparation; before eating; after using the toilet; when hands are visibly dirty; and after handling animals or waste.
Maintain at least 1 meter (3 feet) distance from anyone who is coughing or sneezing.
Avoid touching your hands, nose and mouth. Do not spit in public.
Cover your mouth and nose with a tissue or bent elbow when coughing or sneezing. Discard the tissue immediately and clean your hands.
Medical advice
If you feel unwell (fever, cough, difficulty breathing) seek medical care early and call local health authorities in advance.
Stay up to date on COVID-19 developments issued by health authorities and follow their guidance.
Mask usage
Healthy individuals only need to wear a mask if taking care of a sick person.
Wear a mask if you are coughing or sneezing.
Masks are effective when used in combination with frequent hand cleaning.
Do not touch the mask while wearing it. Clean hands if you touch the mask.
Learn how to properly put on, remove and dispose of masks. Clean hands after disposing of mask.
Do not reuse single-use masks.