The Olympics' Shameful Cowardice About Iran | Opinion
The Olympics has an Iran problem. Or rather, it has a cowardice problem when it comes to Iran. Time and time again, the International Olympics Committee has refused to stand up to the regime, even though Iran continuously contravenes the Committee's own bylaws.
This year's Olympics are no different. This week, Iran won its first medal in Tokyo, a gold in marksmanship. The champion, Javad Foroughi, is a 41-year-old member of the Islamic Revolutionary Guard Corps. Foroughi deployed to Iraq at the behest of his government to subvert the country's fragile democracy, and then to Syria, where Iran and Russia joined Assad to participate in the slaughter of half a million Syrians. And though Foroughi was reportedly a nurse, who claims to have begun his shooting career just four years ago, Foroughi gave a military salute from the podium after his win, as Iran's national anthem played.
This was possible because nothing about Foroughi's past stopped the Olympics Committee from crowning him with the gold and celebrating his win.
It underscored the terrible truth about allowing Iran to compete: Because Iran does not separate politics from sports—which is against the Committee's bylines—the Committee is welcoming in the regime's homicidal politics to the Olympics when it elevates its pro-regime athletes.
Even worse, the International Olympics Committee is condoning the persecution and murder of pro-freedom athletes.
Last year, an Iranian Greco-Roman wrestler was killed in prison under mysterious circumstances. The wrestler, Navid Afkari, was a vocal opponent of the regime. The authorities claimed that he was executed—a terrible excuse on its own merits—but there is evidence that he might have been murdered under torture. There were visible signs of physical abuse on Afkari's body, and the execution took places during the holy month of Moharram, when, in accordance with Shi'ite Islam, there is a constitutional embargo on executions.
"We can't think of a more grievous attack on the humanitarian values of the Olympic movement than the horrific execution of an athlete through a coerced confession obtained through torture," said Brendan Schwab of the World Players Association said at the time. And yet, despite calls by international athletes, organizations, and Iranians of all creeds, the International Olympics Committee never took any action.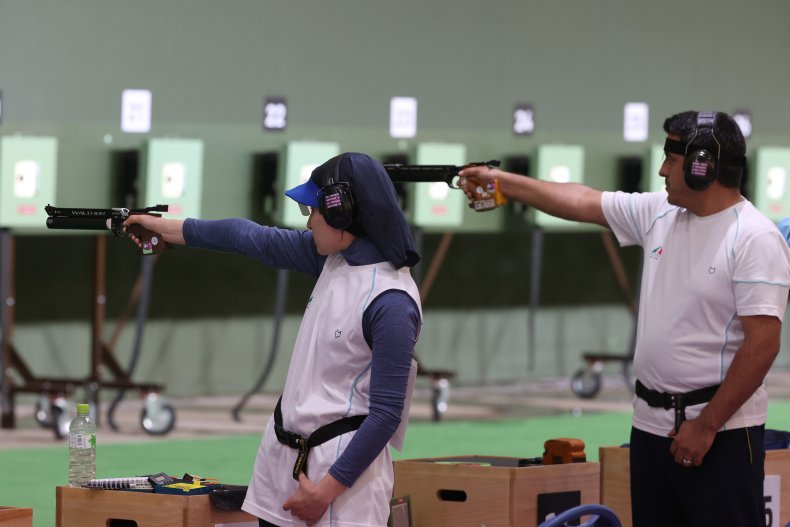 What absolute cowardice.
Sadly, the silencing of athletes is nothing new for Iran. The soccer player Ali Daei is perhaps Iran's most celebrated athlete. With 109 goals in international games, Daei is the world's top scorer. And yet, this national hero is blacklisted and not allowed to work in soccer-related activities in Iran—for the crime of setting up a public fundraiser for the victims of an earthquake and speaking out against a corrupt soccer administrator.
In another instance, teenage chess player Borna Derakhshani could not return to Iran for fear of persecution because he played against an Israeli opponent. The fear was well founded: The Islamic Republic of Iran has for 42 years refused to compete against Israeli athletes, which is also against the Committee's bylaws, not that anyone seems to care. Iranian athletes frequently fake injury to bypass the bylaws while still avoiding competing against Israeli opponents. The few times that they have refused to abide by the regime's embargo, they have immediately sought asylum to save their lives.
Thus, Derakhshani has been competing for the United Kingdom while his sister, Dorsa, also a chess player, cannot return to Iran after refusing to wear a hijab during an overseas competition; she now competes for the United States.
And all the while, the International Olympics Committee has never taken action against Iran. Their best sport seems to be selling out.
And while the IOC allows Iran to bring its politics into the realm of sports, it still prevents athletes from showing solidarity, for example with the mass protests that began in Khuzestan two weeks ago. It's difficult to justify a ban on freedom of speech by the International Olympics Committee, especially speech in solidarity with those who are risking their lives for freedom, while Iran is only rewarded for mixing politics with sports by murdering and silencing athletes, or persecuting those who compete against Israelis.
If history is any guide, the International Olympics Committee's response to Foroughi's sharpshooter victory will be silence, its routine response to human suffering and oppression. And if another Iranian athlete will this year refuse to compete against an Israeli peer, the Committee will yet again not act.
The cowardice is staggering.
Shay Khatiri is a writer for The Bulwark and assistant editor of Persuasion. He is an MA Candidate and Ambassador Andreas Baum Fellow at the Strategic Studies Department at Johns Hopkins University, School of Advanced International Studies.
The views in this article are the writer's own.