Omaha Trump Rally Attendees Stranded, Several Taken to Hospital Suffering Hypothermia
Backers of President Donald Trump were left stranded overnight, with several taken to hospital for hypothermia after an Omaha campaign rally ended in chaos.
Hundreds were bussed in to the Eppley Airfield site, leaving their cars in parking lots, but were left wandering up to four miles in the cold after coaches failed to pick them up.
"President Trump took off in Air Force One 1 hr 20 minutes ago, but thousands of his supporters remain stranded on a dark road outside the rally," CNN reporter Jeff Zeleny tweeted at 10:21 p.m. CDT.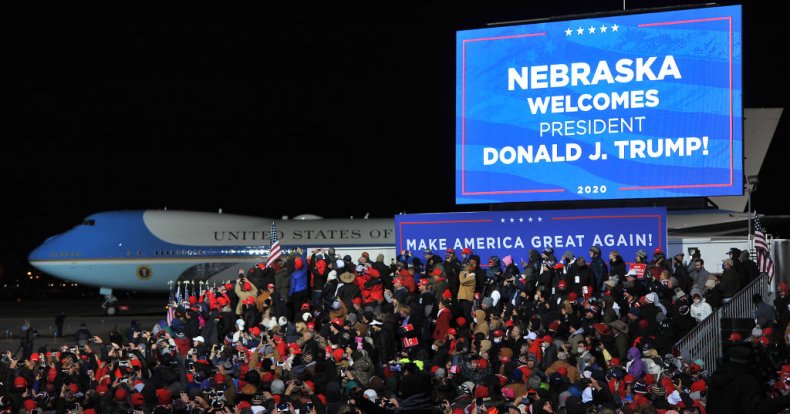 Zeleny, who was at Tuesday night's event, described the scene as a "chaotic cluster" as Omaha police officers scrambled to provide transportation for those stranded.
"It's hundreds and hundreds of people who came on buses - forced to park miles away - who were stranded," he wrote.
Thousands turned up to the Make America Great Again rally in Omaha, Nebraska, on Tuesday night.
"Parking at the Trump rally is full," Omaha Police Department tweeted just after 6 p.m.
"Shuttles will no longer be transporting people to the event. You will not be able to access the rally by foot, Uber, or any other means of transportation. Parking is not allowed in surrounding neighborhoods, roadways or businesses."
By 9 p.m. the event ended but many faced a 3.7-mile walk from TAC Air to the South Economy parking lot at Eppley.
"Officers picking up people wandering in the cold unable to locate their vehicles and are taking them to various parking lots," local news provider Omaha Scanner tweeted.
"Officers who do not have an assignment are going around to parking lots to pick up stranded people and attempt to locate their vehicles. Airport maintenance vehicles also assisting," the account said.
Medics were on hand to treat those, particularly the elderly, with visible medical issues as they walked out.
"Waterloo Medic 811 enroute to Lil' Creighton Code 2 with a 68 y/o male whose initial complaint was possible hypothermia and altered mental status. He is alert and oriented and shivering," Omaha Scanner reported.
"One officer advising 8 to 9 elderly people who are struggling. Separate officer advising they have located an elderly party who is frozen cold unable to move with an altered mental status.
"Officers requesting incident command find a warehouse or somewhere for people to stop to warm up who are walking to their cars."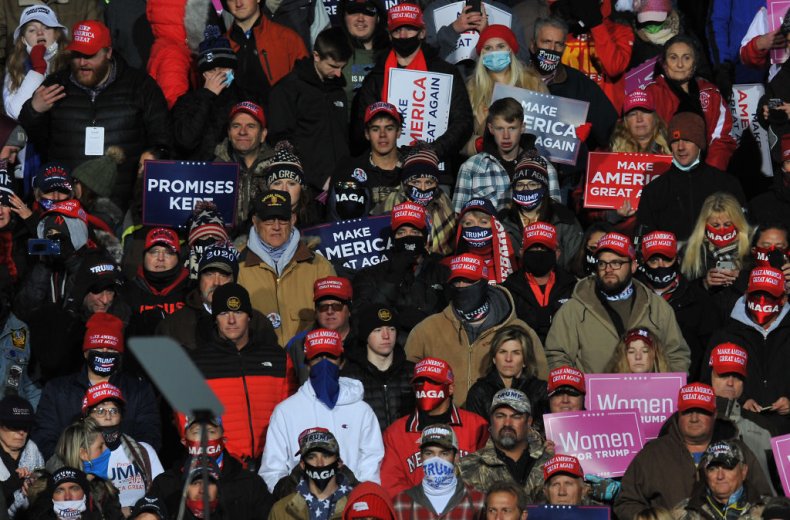 Just before 11 p.m., the outlet reported that "a couple to a few thousand still need to leave the venue" and officers were continuing to check for those suffering from walking in the cold.
Around the same time, another tweet read: "OPD taking charge of this s**t show. Numerous MAT buses have been requested and are enroute."
"If you aren't paying attention to this absolute s**show in Omaha in the wake of Trump's rally, you should be," Chicago Tribune columnist Rex Huppke tweeted.
"They bussed supporters in then effectively left them to walk several miles in the cold back to their cars. Several taken to the hospital. This is Trump in a nutshell".
By around 1 a.m. the parking lots were finally cleared
"Majority of parking lots have been cleared. Little to no pedestrian traffic. Most officers are returning to service and going home," Omaha Scanner tweeted at 12:39 a.m.
Trump's visit to Omaha came amid a busy schedule seeing him attend a campaign rally in Michigan and two events in Wisconsin.
"We have to win both Nebraskas," Trump told the crowd, presumably referring to Omaha and the state's more rural districts.
The Cornhusker State, won by Trump by 25 points in 2016, is a Republican bastion.
Nebraska apportions three of its five electoral votes by majority vote in its three congressional districts.
The Omaha-area district could be a potential pick-up opportunity for Biden while the rest of the state is expected to go for Trump.
The president is scheduled to hold 11 rallies in the final 48 hours before polls close.
Newsweek has reached out to the Omaha Police Department for comment.