Oman COVID-19 Cases Triple in 1 Month, Hospital Beds Near Capacity
Coronavirus cases in Oman have more than tripled in one month, the Associated Press reported. The latest surge has left hospitals with a bed shortage amid a slow vaccine rollout.
Muscat hospital, the main COVID-19 center, surpassed 90 percent occupancy and its intensive care ward is full.
"People are waiting to receive beds," Dr. Nabil bin Muhammed al-Lawait, the Muscat field hospital director, told state-run media. "There is great pressure on hospital beds...and a shortage of medical staff."
Health officials report 1,800 COVID-19 infections and 19 deaths as of Monday. Severe cases, when the patient's oxygen levels plummet, have increased to 400 a day, up from less than 50 daily cases in February. Doctors cite variants from India, Britain and South Africa spreading fast in Oman.
For more reporting from the Associated Press, see below.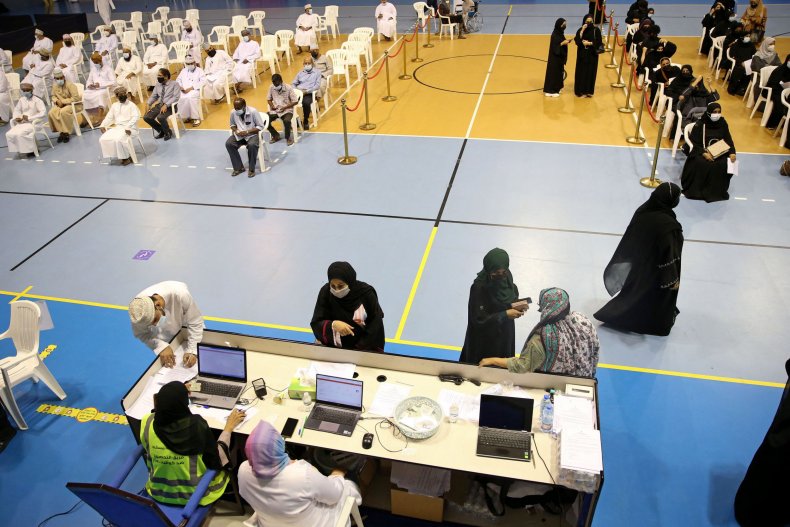 With health authorities now administering the Pfizer-Biotech vaccine in Oman, the government loosened a range of virus restrictions earlier this month, reopening land borders, mosques for under a hundred worshippers at a time, and restaurants and cafes at half capacity. Enrollment for shots, however, continues to lag as authorities wrestle with vaccine skepticism, particularly in remote provinces.
Iran, the hardest-hit country in the Mideast also grappling with a slow vaccine rollout, issued emergency use authorization of its first domestically produced coronavirus vaccine, state TV reported Monday.
Authorities offered no additional information about the efficacy or safety of the new vaccine, dubbed Coviran. Local vaccine production efforts have acquired urgency in Iran as officials struggle to import vast quantities of vaccines from abroad.
Newsweek, in partnership with NewsGuard, is dedicated to providing accurate and verifiable vaccine and health information. With NewsGuard's HealthGuard browser extension, users can verify if a website is a trustworthy source of health information. Visit the Newsweek VaxFacts website to learn more and to download the HealthGuard browser extension.