Omarosa Says There Are Tapes Proving Trump Is a 'Racist' Who Uses the 'N-Word'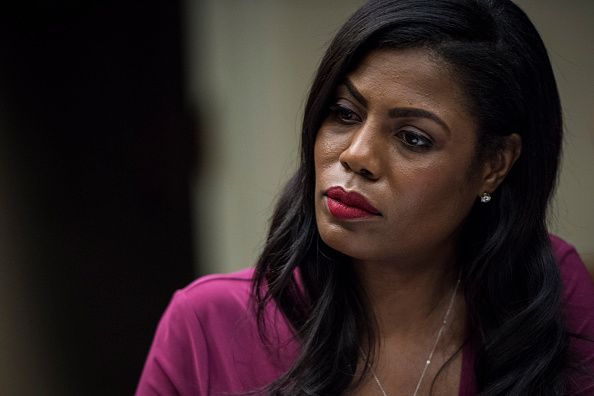 Omarosa Manigault Newman's new memoir claims that Donald Trump is a "racist" who has used the "N-word" on many occassions. She also says she has the tapes to prove it.
The ex-White House adviser and former Apprentice contestant has been making headlines ahead of the publication of her book Unhinged: An Insider's Account of the Trump White House. The memoir of the once most prominent African American woman in the White House will be on shelves starting on August 14. But a copy obtained by The Guardian says that the president was caught on microphone making racial slurs "multiple times" while taping his reality TV show The Apprentice.
According to three anonymous sources, Manigault Newman says there is a tape to prove the future president made those statements. Though, she never says whether or not she heard him say the "N-word" herself.
She apparently was told that Trump had used the term from an unnamed person, who had originally heard it from Frank Luntz. Luntz, a conservative consultant, took to Twitter on Friday to say that the allegation is completely false. He also says that he has "never heard such a thing" come from the president.
In her book, Manigault Newman also says she has personally heard Trump use other racial insults during her tenure in Washington, D.C. In the memoir, she reportedly claims that she witnessed the president call George Conway - his counselor Kellyanne Conway's husband - a "f**ing FLIP! Disloyal! Fucking Goo-goo." Conway's husband is a half Filipino and a "flip" and "goo-goo" are both ethnic slurs.
Around the time of her departure from the White House back in December, Manugault Newman says that she was experiencing a "growing realization that Donald Trump was indeed a racist, a bigot and a misogynist. My certainty about the N-word tape and his frequent uses of that word were the top of a high mountain of truly appalling things I'd experienced with him, during the last two years in particular," she writes.
Her exit from the president's inner circle was abrupt and in interviews given after her dismissal she says that the Trump administration is lacking diversity and even when there are people working at the White House with different racial backgrounds, senior advisers "had never worked with minorities, and didn't know how to interact with them," she said.
Upon her resignation, Trump had said that he "liked" Manugault Newman and thought that she was a "good person." In a tweet from years ago, when the two were on television together, Trump said that he would always like her because "she constantly defends me."
It's not the first time that Trump has been accused of using racially derogatory language while sitting in the Oval Office. In January, the president was accused of calling countries like Haiti and Nigeria "shithole countries" in a closed-door meeting with lawmakers. While Trump denied using that phrase at first, Omarosa tweeted that the president did say it after Trump met with Nigerian President Muhammad Buhari.