Omarosa Contradicts Trump: 'Always' Used Personal iPhone for Calls, Said Government Phone Was 'Buggy'
Former White House aide Omarosa Manigault Newman on Thursday contradicted President Donald Trump's denial of a report saying he uses his personal iPhone for calls and that the conversations have been bugged by Russian and Chinese intelligence.
New York Times reporters Matthew Rosenberg and Maggie Haberman on Thursday published a story stating that American intelligence reports indicate that Russian and Chinese spies often eavesdrop on his iPhone calls and get insights on how to influence him. Trump's aides repeatedly tell him his personal calls are not secure and to use the White House landline, but the president has refused to stop using his iPhones, the report states.
Trump went off on the Times on Twitter on Thursday morning.
"The so-called experts on Trump over at the New York Times wrote a long and boring article on my cellphone usage that is so incorrect I do not have time here to correct it," Trump tweeted. "I only use Government Phones, and have only one seldom used government cell phone. Story is soooo wrong!"
But the Times story was correct, at least according to Manigault Newman, who had known Trump for 15 years before being fired in December.
"Clearly #45 memory is fading fast... He ALWAYS used his personal iPhone in WH for calls even after being told over and over again about the security risk," Manigault Newman tweeted, along with a screenshot of Trump's tweet. "He disliked his secure gov issued cell- he said it was slow and 'buggy.'"
Manigault Newman made many allegations about Trump in her book Unhinged: An Insider's Account of the Trump White House, released in August. She detailed her firing by chief of staff John Kelly and claimed that Trump's memory is failing.
Trump's "mental decline could not be denied," Manigault Newman wrote. She claimed that the president could not recognize new employees in the Oval Office.
"Any time somebody new came in to brief him, he'd get angry and say, 'Who's that guy? What's he want?'" she wrote.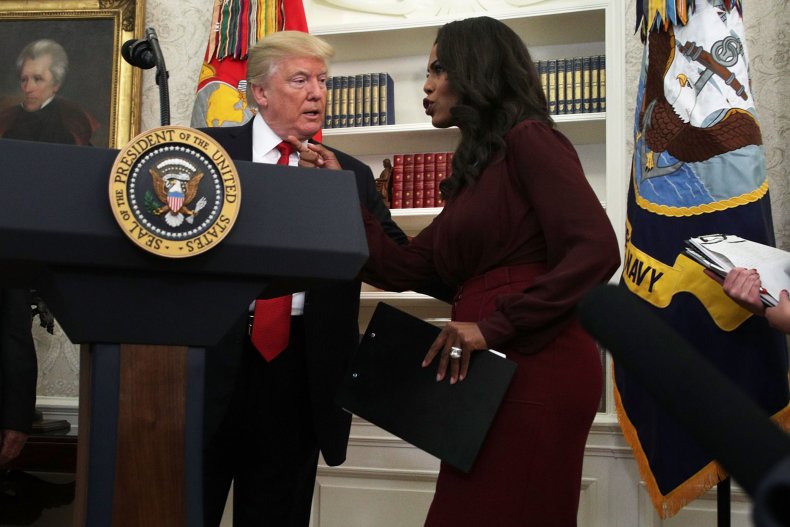 In an interview on NBC's Meet the Press shortly after her book was released, Manigault Newman said that top officials "continue to deceive this nation by how mentally declined he is, about how difficult it is for him to process complex information, how he is not engaged in some of the most important decisions that impacts our country."
The White House has denied all claims made by Manigault Newman, and Trump tweeted she is a "dog."