Omarosa Could Have As Many As 200 Secret White House Tapes: Report
Former White House aide Omarosa Manigault Newman could have hundreds of secret recordings from her time working for President Donald Trump, according to a new report.
The New York Times reported on Thursday that Manigault Newman is believed to have as many as 200 tapes that could contain sensitive information about the president and those close to him.
After releasing the fourth in a string of tapes on Thursday, Manigault Newman said she had many more, which she plans to "share when the time is right."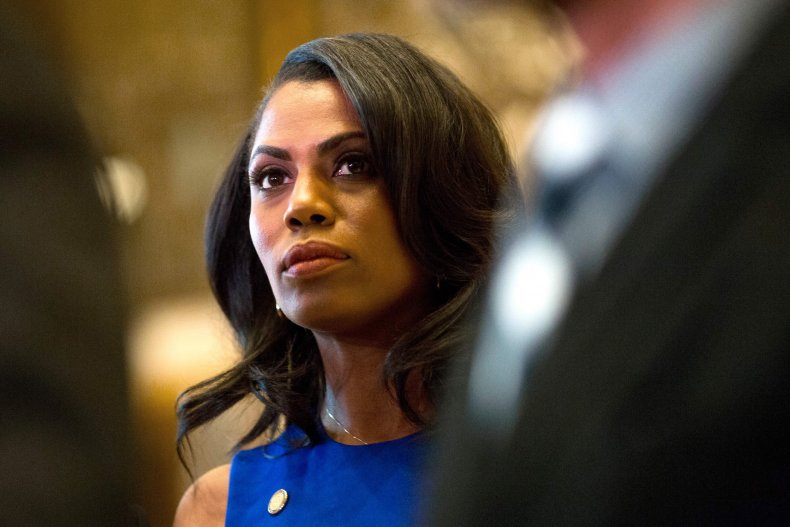 The newspaper said Trump administration aides have expressed fears that they might have been recorded during interactions with the former Trump aide.
Manigault Newman, a former reality-TV star on Trump's NBC series The Apprentice,​ has already released a number of the recordings and plans to unleash more as she promotes her new tell-all book, Unhinged: An Insider's Account of the Trump White House.
Her latest release appears to feature Lara Trump, the wife of the president's son Eric Trump, offering Manigault Newman $15,000 a month to join Trump's campaign team after she was fired.
"It sounds a little like, obviously, that there are some things you've got in the back pocket to pull out," Lara Trump can be heard saying in a conversation that Manigault Newman alleges took place on December 16, 2017.
"Clearly, if you come on board the campaign, like, we can't have—we got to...everybody positive, right?" she says.
In an interview with MSNBC on Thursday, the fired aide described the offer as an attempt "to buy my silence, to censor me and to pay me off."
Lara Trump expressed her disappointment at the release of the recording, saying that she had "formed a sisterhood bond" with Manigault Newman during a Women for Trump tour.
Related: Lara Trump tells Omarosa she 'hopes it's all worth it' after new secret recording revealed
She said her family had been "concerned" for Manigault Newman after she was fired from the White House in December. She also said she hopes the former Trump aide's decision will be "worth it," adding that there are "some things you just can't put a price on."