Omarosa Says She Worried About Donald Trump's Mental Capacity Like She Would an Old 'Uncle'
Former White House aide Omarosa Manigault Newman has further disparaged President Donald Trump, claiming in an interview Monday that during her time in the administration she worried about his mental capacity like she would an old "uncle."
Manigault Newman has been on a media blitz promoting her book, Unhinged: An Insider's Account of the Trump White House, and drawing the president's ire with a string of claims, including that he is a racist who can be heard using the "N-word" on tape.
In an interview with the Wall Street Journal she said that she worried about Trump's mental faculties declining as she would do an elderly family member. She added that Trump would call aides in to look at election maps and repeat the same stories.
Trump has continued to repeat the details of his election win, often erroneously, both in public and private since his triumph over Hillary Clinton in 2016. Multiple reporters have described Trump bringing out election maps and other graphics to discuss during interviews.
Manigault Newman made similar remarks in her book.
"I was going over his speech, but he couldn't retain any of the bullet points," she wrote. "I went over them again and again, and what he should say to the press after the event."
She added: "But he couldn't remember the key points and stumbled over the large words, which we scratched out and replaced with simpler terms."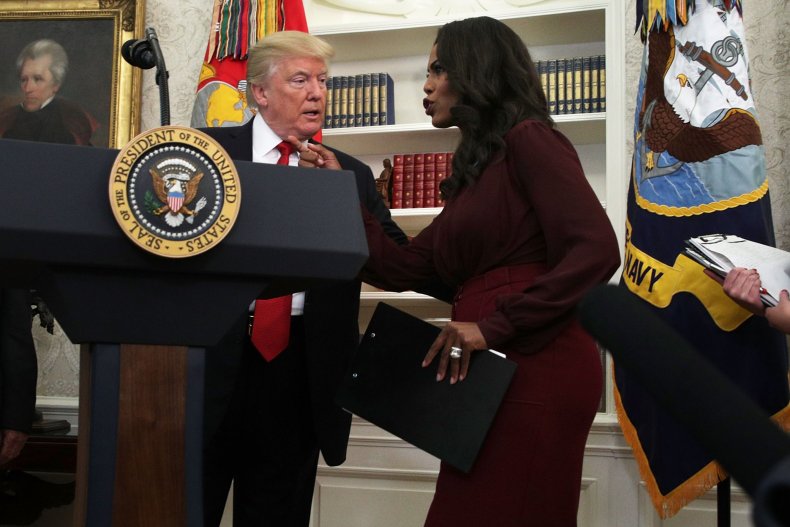 She continued to discuss her impression of Trump's mental state in interviews.
"I was complicit with this White House in deceiving this nation," she said on NBC's Meet the Press earlier this month. "They continue to deceive this nation by how mentally declined he is, about how difficult it is for him to process complex information, how he is not engaged in some of the most important decisions that impact our country."
While, according to reports, the White House had initially developed a strategy of not responding to Manigault Newman's book, Trump blew that apart when going on a Twitter tirade toward a woman he has known since their days on the reality show The Apprentice.
"When you give a crazed, crying lowlife a break, and give her a job at the White House, I guess it just didn't work out. Good work by General Kelly for quickly firing that dog!" Trump said of Manigault Newman in one notable tweet.
The Trump campaign has also sued Manigault Newman, accusing her of violating a nondisclosure agreement signed during the 2016 election.