Former Donald Trump Aide Omarosa: Hillary Clinton Would Have Been 'Exceptional' President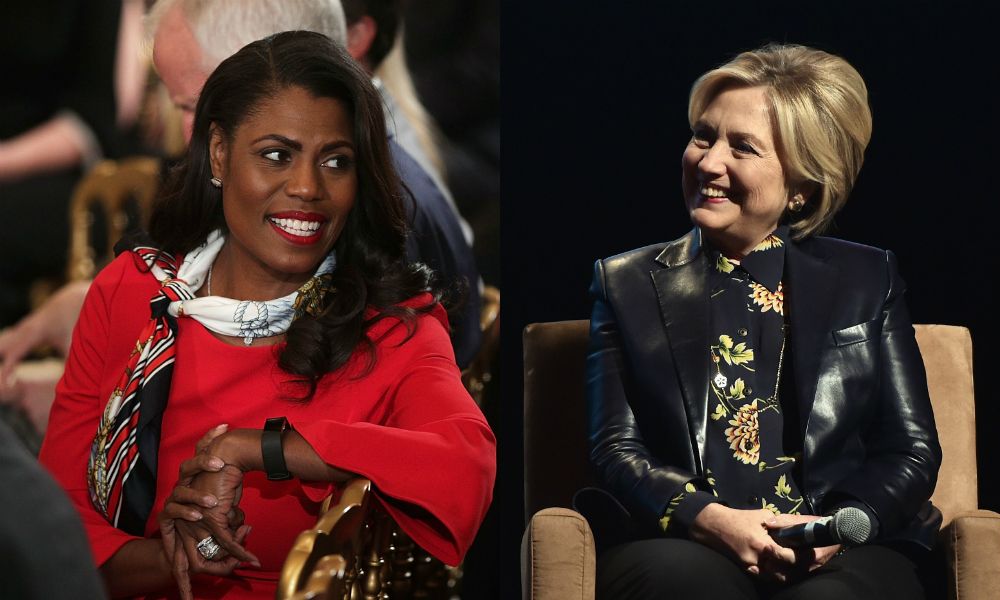 President Donald Trump's former White House aide Omarosa Manigault-Newman thinks his 2016 election rival Hillary Clinton would have been an "exceptional" president.
Speaking to her fellow Celebrity Big Brother house guests, the reality star—known mononymously as Omarosa— praised Clinton while talking about her experience working for Vice President Al Gore in the 1990s. Omarosa briefly served in Gore's office while he was VP to Clinton's husband, President Bill Clinton.
"Hillary, when we were in the White House, she was an interesting person. She was a strong woman. She defended her man. [She was] very engaged, sharp and smart," said Omarosa.
Omarosa—who appeared on Trump's former NBC reality show The Apprentice—served as an adviser on Trump's winning presidential campaign and later in his administration. She left in December amid claims she clashed with chief of staff John Kelly.
But Omarosa told Mathews that she was initially a campaigner for the Ready for Hillary super PAC, which was formed in 2013 to encourage Clinton's presidential bid. The PAC closed in 2015 when Clinton announced her intention to run for election and some of the staffers joined Clinton's official presidential campaign.
Omarosa, however, did not join Clinton and said that she felt burned by the Ready for Hillary PAC.
"It was a little bit of a scam," Omarosa told Mathews. "When it was time to roll it over into the Hillary for America campaign, they completely discarded all of the people who had done work. It soured a lot of people."
"So, it wasn't hard when he called me and said, 'Can you be on board?'" Omarosa said, referring to Trump. "Because I'd just been used and abused by the Ready for Hillary organization."
In earlier episodes of Celebrity Big Brother , Omarosa spoke about her fraught 11-month tenure in the Trump White House. She said she felt "haunted" by Trump's penchant for firing off controversial Twitter missives and said she'd never vote for him again in a "million years."