Donald Trump's Former Aide Says Melania is 'Repulsed' By President
A former Donald Trump aide has claimed that the first lady Melania Trump is "repulsed" by her husband.
Omarosa Manigault Newman was appointed Assistant to the President and Director of Communications for the Office of Public Liaison in January 2017. She first met Trump on the first series of The Apprentice in 2004.
During an appearance on the British morning show Lorraine today (October 27), Manigault Newman, 46, spoke about the president's marriage to his third wife, deeming it "strange."
"I'm very cautious to comment on the dynamics of a marriage because you never know what goes on behind closed doors," she said. "But I have known this couple since they were dating, they got married a year after The Apprentice aired. What I have observed in the last 17 years would make your head spin. Sometimes they like each other but sometimes she is repulsed by him."
Manigault Newman claimed that a recent incident where the first lady appeared to pull her hand away from her husband's after the final presidential debate proves how she feels about him.
Manigault Newman believes Melania "smacked it away" from the president.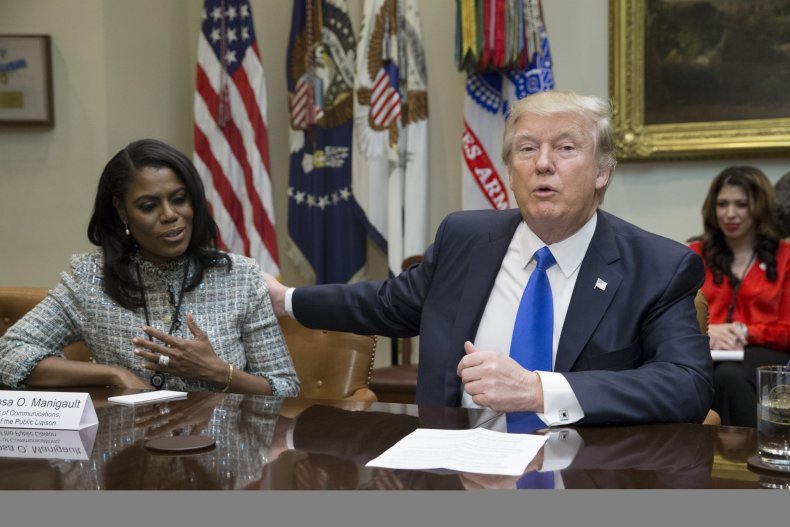 The former aide has since written a tell-all book on her time working at the White House.
She was fired from her post by White House Chief of Staff, John Kelly in November 2017
Titled "Unhinged," the book provides an insider's look at the Trump administration but Manigault Newman claims she has faced legal challenges trying to publish it.
"It was a crazy journey," she told host Lorraine Kelly about her 2018 book. "I have known Trump for 17 years and wanted to take people on a journey and let them see what Donald Trump is like behind the curtain. Unfortunately, if you speak out and speak truth to power, he will try to have an injunction. So his team of lawyers tried to stop it being published."
Manigault Newman was asked if she had any regrets working with the Trump administration but said she had to take the opportunity to serve her country.
"I think it's an important question," she said. "But any time you have an opportunity to serve your country, you have to do that."
She added: "He [Trump] is off, he is a little crazy, but there has to be an adult in the room to help guide this country. This is the second administration I'd worked for, so when I was asked to serve my country again I didn't take it lightly."