Was Omarosa Fired? Trump Aide and Former 'Apprentice' Contestant Leaves White House
Omarosa is out.
The White House confirmed Wednesday morning that Omarosa Manigault Newman, the former Apprentice contestant often known by just her first name, is leaving her job in the Trump administration. Press secretary Sarah Huckabee Sanders told reporters Omarosa resigned Tuesday "to pursue other opportunities" and will leave her position as director of communications for the Office of Public Liaison on January 20.
"We wish her the best in future endeavors and are grateful for her service," Sanders added.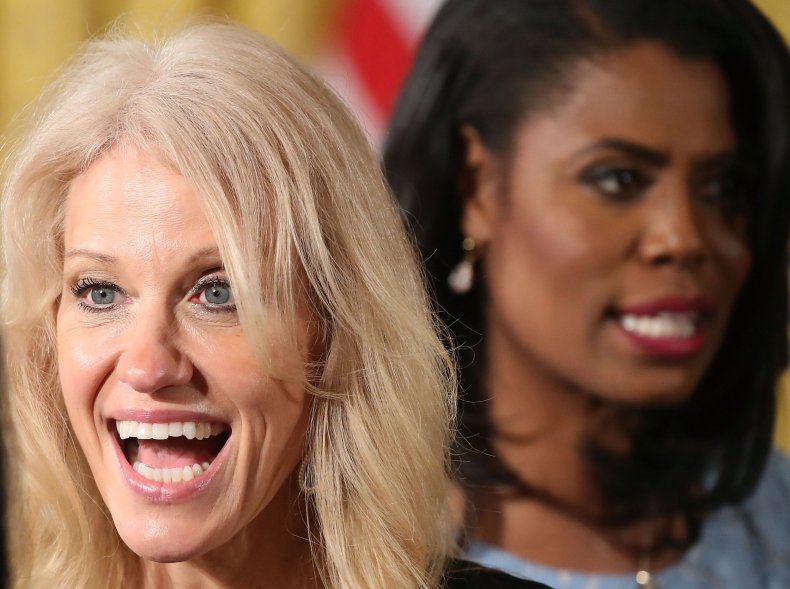 The exact reasons behind the exit weren't immediately clear. But journalist April Ryan tweeted that she'd heard there was "drama" surrounding the departure. Ryan described the alleged resignation as a "firing" and said Omarosa had been escorted off White House property.
"Sources say General Kelly did the firing and Omarosa is alleged to have acted very vulgar and cursed a lot and said she helped elect President Trump," Ryan, the White House correspondent for American Urban Radio Networks, added.
Omarosa was formerly the director of African-American outreach for Donald Trump's campaign and she has been doing similar outreach in the White House. News of her departure came one day after Tuesday's Alabama Senate election, in which Democrat Doug Jones beat Trump-backed Republican Roy Moore. The black community turned out in force for Jones, with about 96 percent of African-American voters—and 98 percent of black women—casting ballots for him, playing a major part in his upset victory. It was not clear if there was a connection between those election results and Omarosa's exit.
Her role in the White House has become disputed and contentious in the past few months. She made headlines when she appeared at a National Association of Black Journalists convention in August—and then walked off stage. In November, the Daily Beast published a lengthy profile describing Omarosa hosting a bridal luncheon, ordering grits and evading specific questions about her responsibilities. It was titled "No One Knows What Omarosa Is Doing in the White House—Even Omarosa."
Trump and Omarosa go way back. Omarosa, who also worked in the White House under former Vice President Al Gore, appeared on the Trump reality show The Apprentice and its spin-offs in 2004, 2008 and 2013. In 2004, after her first firing on the show, she told NBC News that she was axed because she was the strongest player.
She also said she didn't hold it against Trump.
"Trump, he is a very interesting character. He has great business sense, very good instincts. And he has a lot of charisma," Omarosa said at the time. "You know, the great thing is that the man respects me. In business, you want to either be respected or some people want to be liked. I would prefer to be respected. And Mr. Trump respects me. And I equally respect him."