Omarosa Calls a 'Black Woman Civil War' on Robin Roberts After 'GMA' Host Diss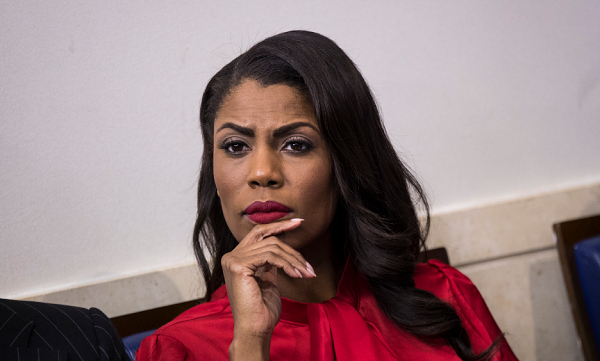 Omarosa Manigault Newman declared war on Good Morning America host Robin Roberts.
In her first interview since leaving her position in the White House, Omarosa told GMA host Michael Strahan on Thursday she had a "profound story" that she knew "the world will want to hear."
Following her interview, Strahan's fellow GMA co-host Roberts dissed the former White House senior staffer live on air, saying, "She said she has a story to tell, and I'm sure she'll be selling that story. She will. Bye Felicia."
In a text message to Inside Edition on Thursday night, Omarosa responded to Roberts's comment.
"That was petty. It's a black woman civil war," she said.
On Wednesday, it was reported that Manigault Newman was fired from her White House position. And she apparently made quite the dramatic exit from 1600 Pennsylvania Avenue, which included being escorted off the property by security.
During the daily press briefing on Thursday, White House press secretary Sarah Huckabee Sanders confirmed Manigault Newman was no longer working at the White House but would not offer any further details on the matter.
But Manigault Newman said during her GMA interview that she actually resigned from her role as an assistant to President Donald Trump following a "very candid conversation" with White House Chief of Staff John Kelly.
"I like to hear all of these interesting tales, but I have to tell you that they're 100 percent false," Manigault Newman said. "John Kelly and I had a very straightforward discussion about concerns that I had, issues that I raised. And as a result, I resigned."
Manigault Newman did not go into detail regarding the issues she had while working at the White House, but the 43-year-old did tell GMA she witnessed disturbing things during her tenure.
"As the only African-American woman in this White House, as a senior staff and assistant to the president, I have seen things that have made me uncomfortable, that have upset me, that have affected me deeply and emotionally, that have affected my community and my people," she said.
Trump does work with another African-American: Dr. Ben Carson is the secretary of housing and urban development, a Cabinet-level position.
Omarosa appeared on Trump's NBC reality series The Apprentice in 2004 and Celebrity Apprentice in 2008 and 2013. The Ohio native also collaborated with Trump in 2010 on a dating show called The Ultimate Merger, in which 12 men competed for the businesswoman's heart.