Omarosa Left The White House Two Weeks Ago, Why Is She Still Being Paid?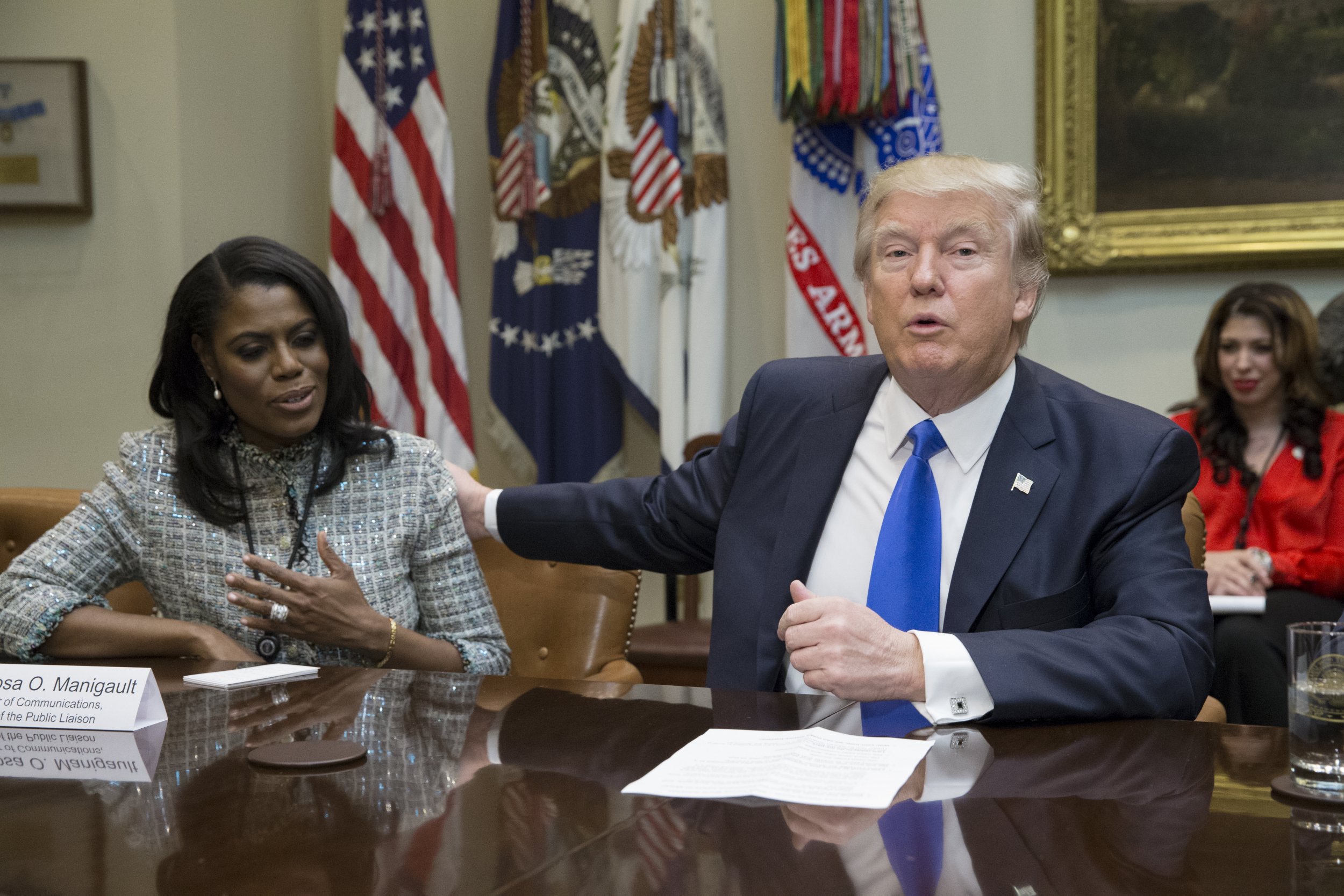 Omarosa Manigault Newman, who rode a villain persona all the way from Donald Trump's reality-TV show The Apprentice to a plum job inside his White House, is still on the public payroll despite resigning from her position in mid-December.
The White House announced on December 13 that Omarosa, who is known by her first name only, had resigned "to pursue other opportunities" but that her departure would "not be effective until January 20, 2018." Still, the Secret Service said it had deactivated her pass to the White House, which means she is no longer working there.
White House employees often stay on to help their replacements—as press secretary Sean Spicer did for Sarah Huckabee Sanders—but that is not the case with Omarosa, who continues to be paid her full, $179,700 annual salary despite not showing up for work.
The White House has not provided details about Omarosa's departure or her ongoing paychecks.
"I'm not going to weigh in any further, as we often do," said Sanders when asked on December 14 about the inconsistency. "The president likes Omarosa, thanked her for her service.... So she's resigned from her position, but there's really nothing else to add on that front."
When pressed on the matter, Sanders told reporters to take up the issue with the human resources department.
"Look, there is a lot of different protocols that take place in the government. That's part of the process. If you want to reach out to HR, they might be able to walk you through that in a more detailed way," Sanders said. "Thankfully, I haven't been through the process myself, so I can't speak to it from firsthand knowledge."
A call to "HR," also known as the Office of Personnel Management, was not immediately returned.
Mystery has surrounded Omarosa's departure, which was reportedly a dramatic affair befitting one of TV Guide's 60 nastiest TV villains of all time.
The White House characterized it as a resignation, but Omarosa was pushed out of her job by White House chief of staff John Kelly and escorted off the premises, American Urban Radio Networks reported.
"Omarosa is alleged to have acted very vulgar and cursed a lot and said she helped elect President Trump," reporter April Ryan wrote.
CBS Newslater reported that after Omarosa was let go, she attempted to enter the White House residence and set off the alarms.
Kelly was reportedly fed up with behavior by Omarosa, who was the Office of Public Liaison spokeswoman, that he deemed inappropriate for the White House. He did not like her Oval Office "walk-in" privileges and complained that she brought her 39-person bridal party to the White House in early April for a photo shoot and tour.
In an exit interview with ABC News, Omarosa denied that she was fired or left in a huff but also indicated she had a lot more to say about her time in the White House.
"I have to be very careful about how I answer this, but there were a lot of things that I observed during the last year that I was very unhappy with, that I was very uncomfortable with. Things that I observed, that I heard, that I listened to," she said.
"But when I have a chance to tell my story—quite a story—as the only African-American woman in this White House, as a senior staff and assistant to the president, I have seen things that have made me uncomfortable, that have upset me, that have affected me deeply and emotionally, that has affected my community and my people, and when I can tell my story, it is a profound story that I know the world will want to hear."
Many have speculated that her resignation was orchestrated as part of a bid to land a book deal to, as she put it, tell her story. "Quite a story," that is.