Omarosa: 25th Amendment Has its Own Hashtag Among White House Staff
Former White House aide Omarosa Manigault Newman has said using the 25th Amendment to remove President Donald Trump from office was such a prominent idea in the White House that aides even coined their own hashtag: #TFA.
Manigault Newman, who joined Trump's White House staff in January 2017 and left in December, made the claim on Sunday on MSNBC. She said whenever Trump acted erratically, staffers would often refer to the 25th Amendment among themselves.
The amendment is a constitutional mechanism which allows for a president who is "unable to discharge the powers and duties of his office" to be replaced.
"Whenever he did something that was just so insane and so crazy and unhinged, when he would flip positions from one hour to the next, we'd just hashtag it 'TFA' and keep moving," Manigault Newman said. "I hate to admit, but that was the kind of hashtag that went around a lot in the White House."
"And I have those text chains," she added. "At the time, it was kind of a way that we coped. But now it's not funny, you know, the fact that was something that was discussed."
Manigault Newman's latest claim corresponds to one of the key revelations of the now-infamous New York Times op-ed, which described a "resistance" movement against Trump from within the White House.
The anonymous author of the article, identified only as a "senior official" in the administration, recalled "early whispers" about using the 25th amendment to remove the president. They decided against it because, the official wrote, "no one wanted to precipitate a constitutional crisis."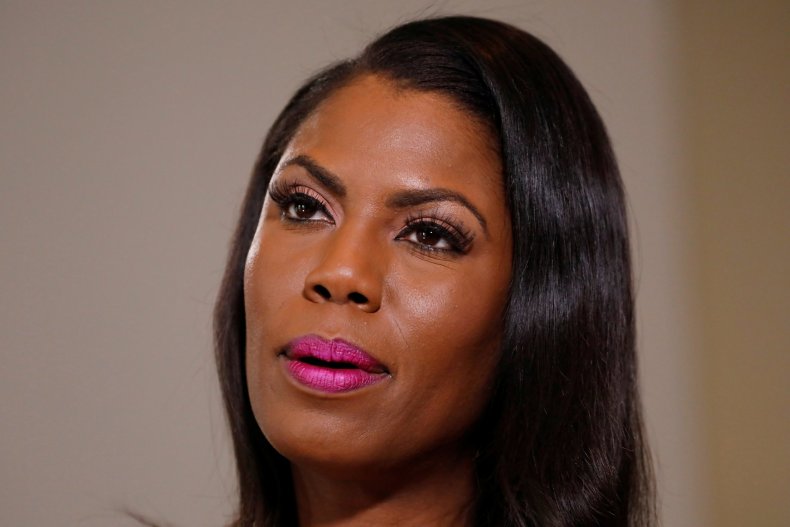 In August, Manigault Newman published Unhinged, a blistering account of her time inside the White House. Trump has tried to discredit her and the book, calling her a "dog," but she insists that the recent Times op-ed vindicates her account.
"In my book, I write about the 'silent army' that's working within the administration to make sure that Donald Trump does not undermine our democracy," she said on MSNBC. "I was specific when I said that some of them were in the administration and some of them may even be in his family. I wrote that on page 330 of Unhinged."
White House Press Secretary Sarah Huckabee Sanders responded with characteristic dismissiveness to Manigault Newman's latest claims.
"Everyone, even the media, knows she has no credibility," Sanders said in a statement to USA today. "The idea this ever happened is completely ridiculous and just further shows the she will say and do anything to try and be relevant. It's embarrassing for the press to keep giving her a platform," she added.
The White House has responded to all critical insider accounts of the White House in the same vein—a burgeoning genre that shows no signs of slowing down.