The Legend of Mr. First: The Untold Story of the Unmade Movie About Omero Catan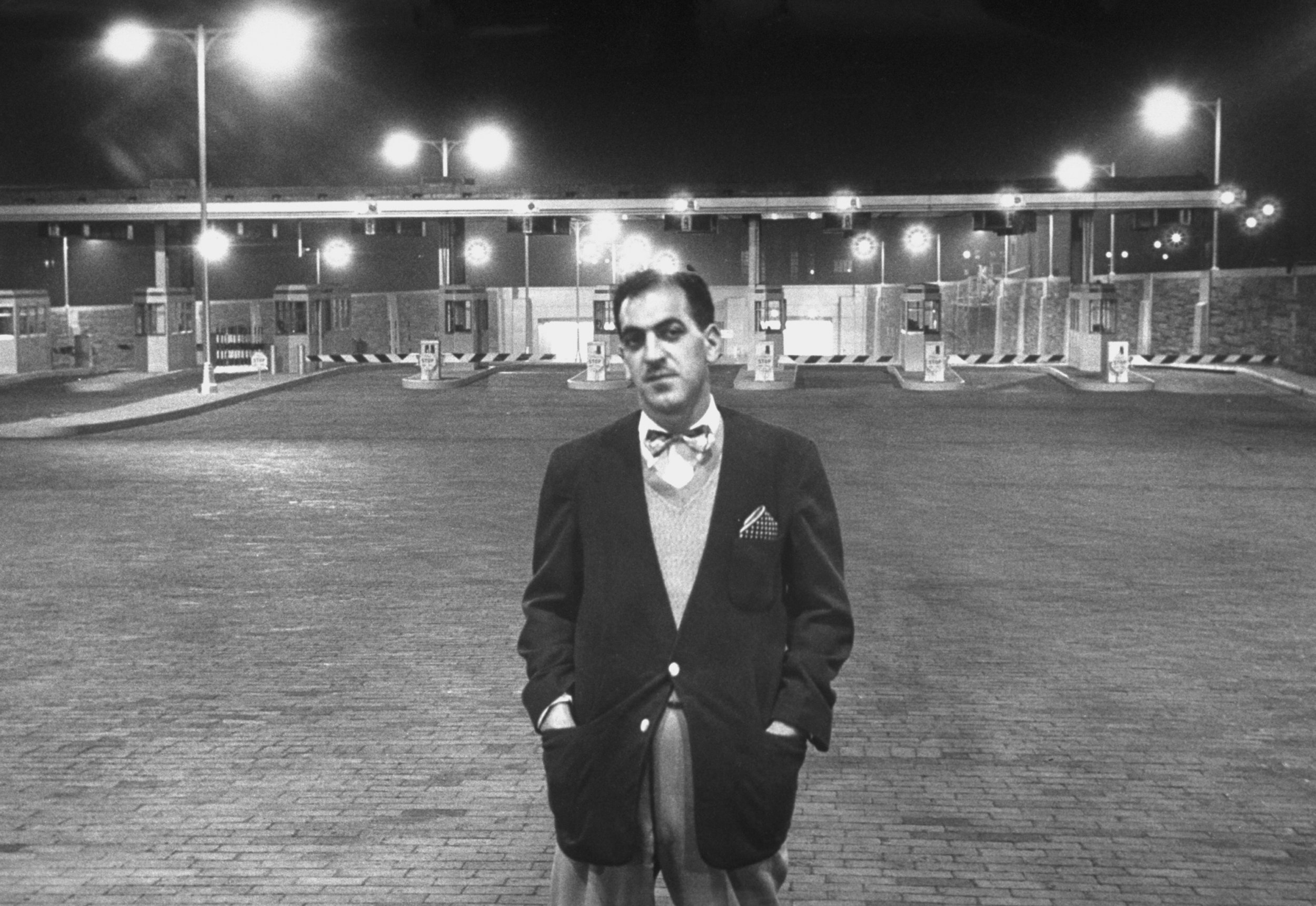 Over the past century a man named Omero Catan was "Mr. First" and hailed as a kind of everyman's superman.
But his story slipped through the cracks.
I only lucked on it by reading a movie script and befriending his older brother, Michael.
There have been hundreds of articles published about Omero. Yet one of the most interesting came long after he retired, while he was in his early-80s (by then a champion shuffleboard player) and living in a Fort Lauderdale mobile home park.
This article had a new slant on Mr. Catan in that it chronicled the attempts made to turn his life story into a feature film. Also detailed were the roadblocks which had been encountered in these efforts.
The 1995 account, published in The Miami New Times, described the overtures being made to Omero by a top-tier film company called ZM Productions.
ZM, which was headquartered on the Universal lot and had a lucrative development deal with Disney, had recently come off the box-office winners Encino Man and Hearts of Darkness. They were in serious pursuit of Omero, offering a lucrative payday and the opportunity to give his past exploits maximum exposure.
But the retiree turned them away, as he'd done with others before. All Omero would tell the Hollywood producers was that his story simply was not for sale. The reason being ... he'd already sold it. For $10, no less.
For ten bucks? To who?
Omero disclosed little more than that the rights were sold to a writer from Wisconsin named "Bob." He spared the details of this arrangement, revealing only that Bob was someone who drove down "in a beat-up car" to visit him the year before. Holding up the contract he signed, Omero refused to supply any further information.
Unfatigued, the Disney-linked company attempted to locate Bob. They contacted the Wisconsin State Film Board and a number of established Midwest filmmakers. None of them had the slightest notion of who this Bob-guy was.
The article surmised that "Hollywood was stunned" by Omero's decision to shun them out.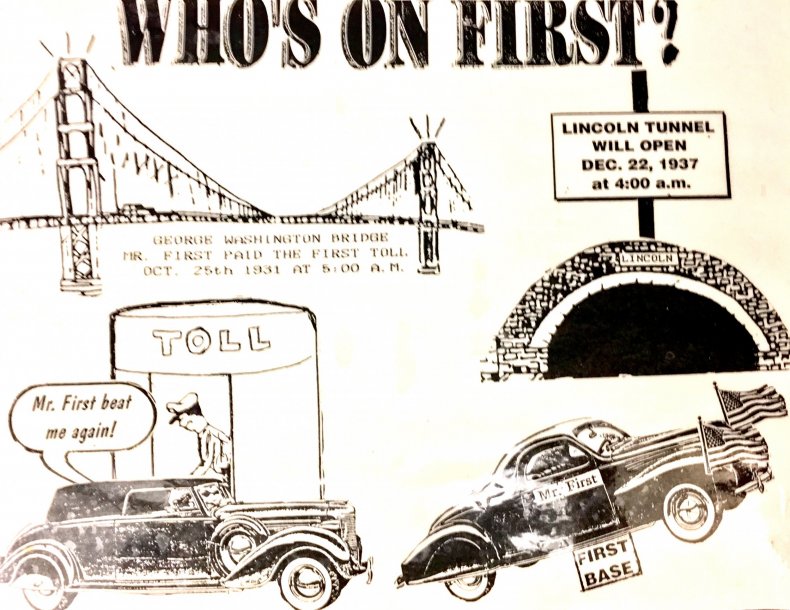 What makes Omero Catan's life so cinema-worthy?
It's quite understandable as to why there's been such an interest in turning the life and times of Omero C. Catan into a big-budget movie.
On the surface, Omero's existence was uneventful. He spent much of his adulthood as a Teaneck, New Jersey family man working a day job as a bank clerk, eventually becoming the office manager of a concessionaire firm, which provided refreshments for venues such as Yankee Stadium and Belmont Park.
It was Omero's off-the-clock time which revealed an extraordinary streak of individualism. By the time he was in his early 30s, Omero was a famous figure, in New York and throughout the country; reaching a legendary status by achieving a series of highly newsworthy "firsts."
Omero was the first person to use many major public facilities on the East Coast; innovations like highways, tunnels and bridges.
He was the first to board five different subway lines, first to dive into New York City's first public swimming pool (Hamilton Fish Park, June 1936), first ticket-holder to enter two World's Fairs.
When Rockefeller Center unveiled its iconic Ice Rink on Christmas Day 1936, Omero was the first to get out there and skate around beneath the site's signature golden statue of Prometheus. Omero later remembered the moment, "It didn't turn violent, but I hadda dig in hard."
The press swooned because many of these firsts were for entirely new-fangled developments such as airports, car washes and underground auto tunnels ... things that had simply not existed before.
The Brooklyn-Battery Tunnel was one of Omero's most widely-acclaimed firsts. Much of this had to do with the project's late-1940s construction cost, which came in at a then-unheard-of $80 million. It was also the longest vehicular tunnel in the U. S. Nearly 70 years after opening, the Brooklyn-Battery, commissioned by "Master Builder" Robert Moses, still receives over 50,000 vehicles daily.
A dozen years prior, Omero also "opened" the Lincoln Tunnel, which is also still going strong, with over 100,000 cars a day passing through it.
To date, by conservative estimates, vehicles have passed through the Lincoln Tunnel well over two billion times. But at 4 a.m. on December 22, 1937, Omero, driving a well-polished Dodge Coupe, was the very first one to make it through the Weehawken-to-Midtown tube beneath the Hudson River.
Without Omero's participation, the press coverage would still have been heavy for most of these landmark openings. These were major technological advancements that often upgraded peoples' daily lives.
Even his smaller firsts, such as feeding a dime into the city's first parking meter, were newsworthy because of their modernity.
The openings were commenced by major dedications and ribbon-cutting ceremonies, with throngs of onlookers, bands and dignitaries. Omero, often in a fedora and bow-tie, wove himself into the fabric of these events.
For the opening of the Tappan Zee Bridge in 1955, he appeared live on The Today Show with its founding host Dave Garroway.
Omero went to great lengths to obtain his firsts, combating extreme weather and often waiting up to four days to gain a position. He chartered planes to be the first to land at both Idlewild (now JFK) and LaGuardia.
"Nobody paid me. I'd take off work, if I could get off work," he said, ceding that some of the prep involved charm and currency. "I had to shell out money, always greasing somebody's palm."
While the list of Omero's firsts is too lengthy to detail, they run on over decades. In total, he ended up achieving 537 major firsting events.
Who is this Wisconsinite named Bob and why was he next-to-impossible to find?
For the past decade, I've been a chaser of hard news for the likes of the three major New York tabloids, The Daily Beast and most recently here at Newsweek. But shortly after first moving to New York, back in 2000, I worked in the film world as a critic for BoxOffice Magazine, and I also served as development head for a small Chelsea-based production company called Fountainhead Films.
During this time, my wife's cousin Greg moved into New York. While visiting him, I was asked how my job was going. I described my lament of reading scripts all day, and not being able to find any stand-outs. Greg then told me about a friend he had in Wisconsin, a guy called Bob who wrote this "really interesting screenplay" set in the 1940s. He said it was about a New Yorker who'd been known as "Mr. First."
Something about his description of the little he knew of the story caught my imagination. I asked him if he could get ahold of the script -- Greg came through and before long I had a copy in my hands. Upon reading the script, aptly titled Mr. First, I instantly knew it was special. Not only was the story set in the 1940s, it was also written in a style that reflected the films of that era.
A true throwback.
I loved it. So did Fountainhead owner Fredric King.
"I felt like we had an opportunity to help shine a light on a story which seemed to be fading in the current digital age," King recalled of the project. "They lived in the Golden Age of New York when anything was possible, all you needed was the will to achieve it."
I was soon able to contact "Bob" (who I came to know as Robert Lyman) without any of the difficulties which had hindered past-attempts by others.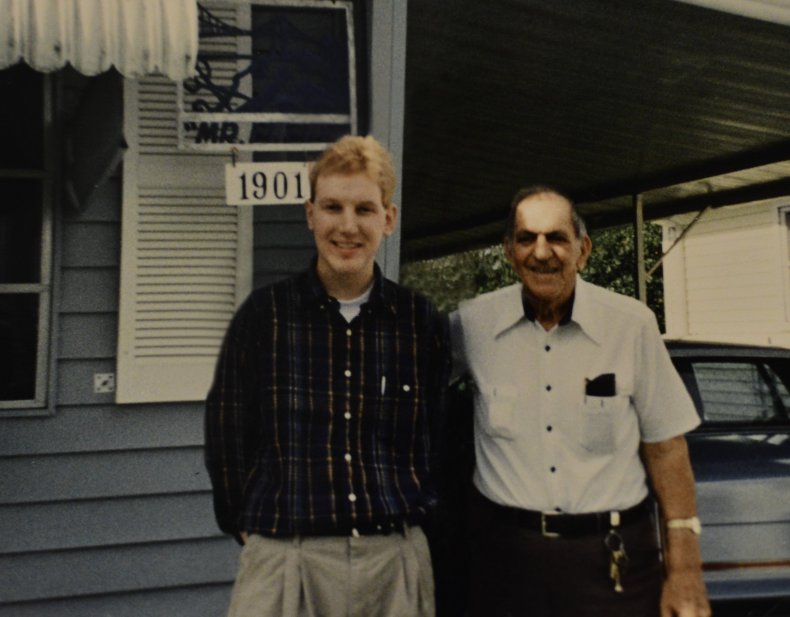 I quickly came to understand why Lyman wasn't easy to locate. He had nothing whatsoever to do with the film industry and lived in an old log cabin along a trickling river in a very rural area of Wisconsin.
And I also learned that the story behind the script was nearly as interesting as the screenplay itself. Mr. First, it turned out, was the first script Lyman had ever written, and he'd done so while still in his late-teens. In addition, I learned that Lyman discovered Omero's story while tagging along with his father to a farm auction near the tiny Wisconsin village of Kellnersville.
A Stack of Vintage Life Magazines opens King Tut's Tomb
Recently I again spoke with Lyman, now in his 40s, about the auction he attended back in the early 1990s. "While my dad was snooping around for parts for his John Deere, I checked out what was being sold in the abandoned farmhouse," he said.
Inside, Lyman found a crate of musty Life magazines that he purchased for $5. "The box had around 50 issues in it. I bought it for my interest in all World War II articles, which were written in real-time in the 1940s."
However, it was while flipping through a June 1950 issue, with Hopalong Cassidy on the cover, that Lyman found the real treasure. The issue had a photo-heavy article on a Brooklyn-born man named Omero C. Catan.
"I was interested in writing a movie, and here was a ready-made," Lyman recalled. "What Omero had done was really compelling, he willed himself into becoming a part of history. Plus there was some built-in conflict to his story."
According to the Life article, shortly after Omero began gaining press recognition, a challenger named George Horn started showing up to contest him. Their rivalry was heated and long-lasting. George Horn, who was a menacing six-foot-seven, challenged Omero more times than not, although Horn's firsts paled in comparison, numbering around 60 in total.
"The Life piece didn't have much background information. So I started researching Omero, mainly at the Green Bay Public Library," described Lyman. "Back then it was pre-internet and most of what I was able to dig up was on microfilm from old newspapers. What I found was pretty amazing. I felt like I had pried open King Tut's tomb. The articles were endless."
Lyman relayed that the process of searching for and documenting all the long-ago articles on microfilm was fairly laborious. He returned to the Green Bay Library at least 10 times.
"The articles were enormously helpful, but the one thing I couldn't find out was, Where is he now? I didn't even know if Omero was still alive or not."
The newspaper stories on Omero fizzled out by the early 1980s. Eventually, after months of digging, Lyman learned that Omero was retired and living in Florida.
Lyman soon began a correspondence with Omero, which included Omero sending several packets of vintage photos and other press clippings. Following this first volley of letters, the two began exchanging a series of phone calls.
After their acquaintance turned more familiar, Lyman drove to Omero's home. During his two-day visit, Lyman extensively interviewed Omero and also obtained his life story rights, which he still holds today.
Lyman had many questions for Omero, mostly regarding the details of his firsts. "The main thing I wanted to know about was motivation. Why had he started out on this quest?" But Omero would just shrug and say, "It was a hobby."
Omero told Lyman that he'd known a man who claimed to have walked across the Brooklyn Bridge on the day it opened in 1883, and this left a lasting impression on him.
Lyman said his intent was to create "a complete entertainment," a story which employed equal doses of action, romance and comedy. "I wanted a present-day film that had the same feel and style of a movie from the '40s, like something Frank Capra or Preston Sturges would make, with a fairly rapid pace and lots of character development."
When interviewing Omero, Lyman was looking for compelling story elements, especially as to why he had gone to such extreme lengths in order to gain all his firsts.
"But he really didn't have much to reveal in that department," explained Lyman. "By necessity, I enhanced and tweaked the parts that were there in order to create a classic Hollywood feel. I'd say the most important component is how one guy went on this dogged pursuit of self-actualization."
Lyman further states that he concentrated the story over a couple-year period, during World War II, because this was the most intense time of Omero's rivalry with George Horn. These early firsts easily garnered the greatest amount of press attention.
"In my talks with Omero, he downplayed his rivalry with George Horn, saying it was something that was hyped, particularly by Life, to sell magazines. It was apparent that even after all those years, Omero was bugged by Horn's attempt to steal his thunder. So I portrayed George as Omero described him, as a 'publicity-seeking copyist'."
Horn's nephew, Glenn MacDonald disagrees.
"He was much more of a historian than someone who wanted publicity," the 71-year-old internist said, adding the Queens-born man was always documenting with a camera. At his 2006 memorial, Horn was remembered for being the first and often last fare on various NYC subway lines and a hardworking motorman who was regarded as a "Mr. Firster."
Another major figure in Omero's life was his younger brother Michael, who helped secure victories for many of the firsts. After Omero retired from chasing historic openings, Michael kept obtaining firsts well into the new millennium, and well beyond Gotham.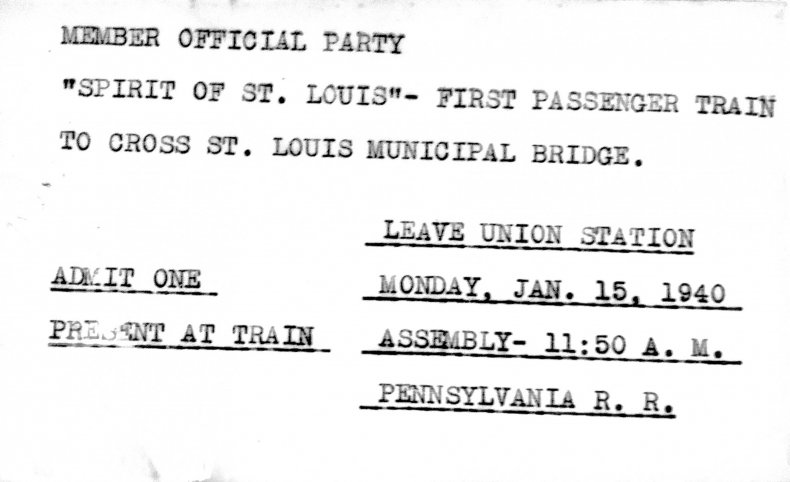 When we put the script into active development at Fountainhead, I sought out Michael myself, much the same way Robert had done with Omero. And I too formed a relationship with one of the firsting-obsessed brothers.
In addition to interviewing Michael, I was fortunate enough to accompany him on two of his latter-day exploits. The first of these took place on the obscenely hot July 16, 2005 opening of the 1,546-foot cable-stayed Arthur Ravenal Jr. Bridge in Charleston, South Carolina. I headed down from New York to meet Michael in his Dodge Neon, with its custom "MR FIRST" license plates.
After I miked him and had my camera rolling (for the documentary we figured would be part of the DVD extras), Michael and I sweated it out at a gas station the entire day.
However, a local news station found out who Michael was and drove over the bridge ahead of us! I let them use some of the footage, seeing that it had Michael giving a shorthand commentary as we made it over.
Months later, in May 2006, Michael and I were in Pennsylvania to do it all over again. This time the event was the 50th anniversary of the Delaware Memorial Bridge.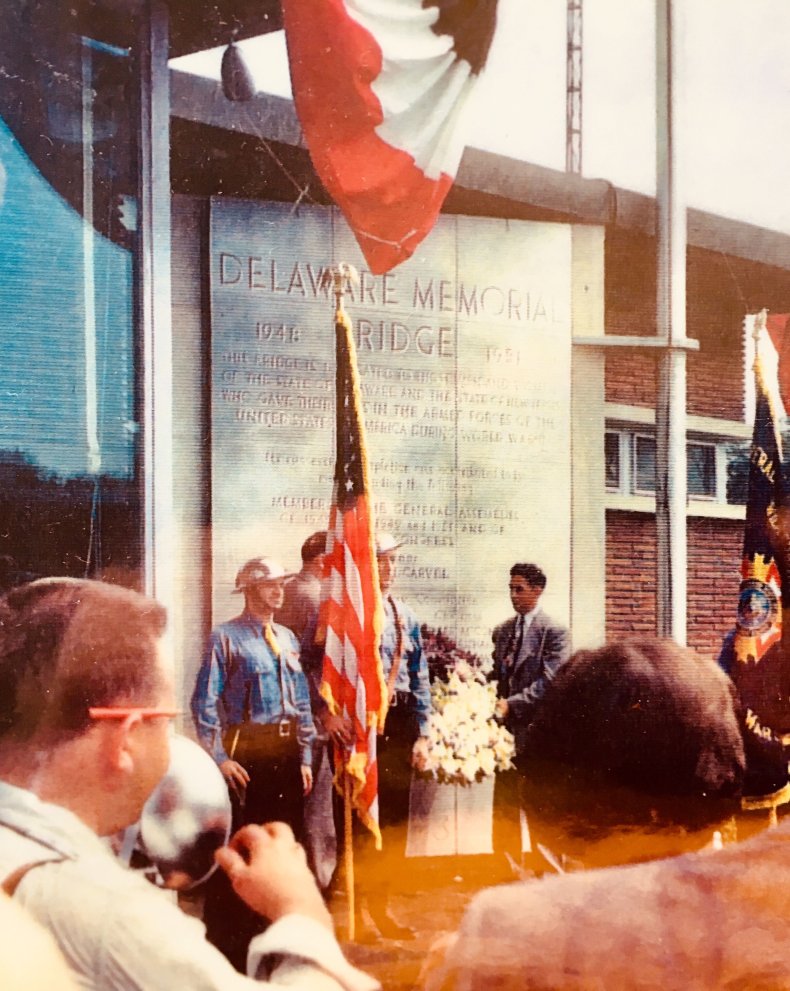 Weeks ahead, I worked with highway officials to let Michael take the honors at the commemorative ceremony and pay his toll first, just as he had done with Omero an exact half-century before.
The department heads were moved by Michael's story and provided a police escort. Together we were able to rack up another of his notable anniversary firsts.
Upon our arrival at the toll booth, the supervisor offered to let Michael, wearing the same suit he wore on the original day, pass through free-of-charge. But Michael, who was a spry 93 at the time, insisted, "Nope, I'm supposed to pay the toll." And he did.
The First Family
Along with meeting Michael, I also got to know his two daughters, Karen Mollet and Ethel Colon. I've maintained contact with them to this day.
"Dad loved telling people about his first events, especially about his meeting politicians, corporate executives and celebrities," said Karen. "He loved feeling part of progress and history. He was a great storyteller."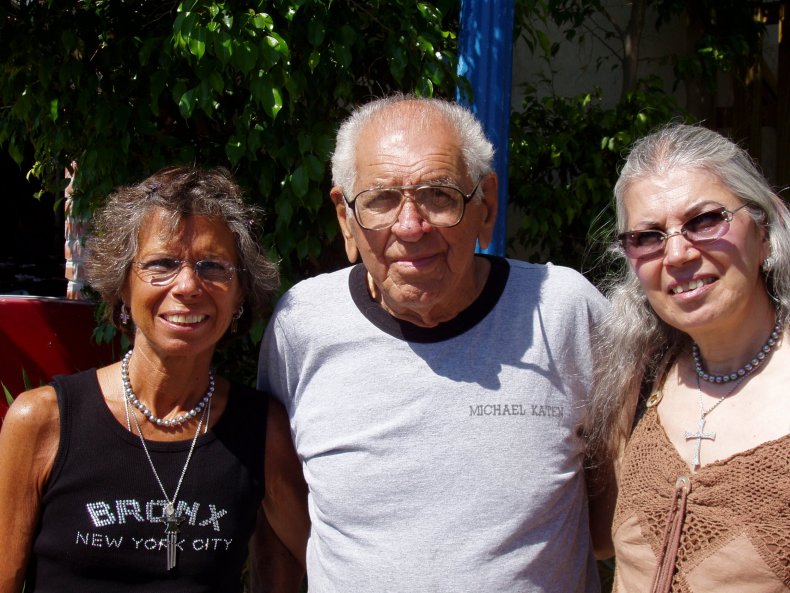 Ethel remembered the time Michael, along with his brother, rented a plane and timed the landing so that they would be the first to arrive at the official opening of Idlewild Airport. "Apparently, President Harry Truman was landing at the same time with B29s in the air."
Karen added, "Needless to say his landing stirred up lots of turmoil with the FBI and air traffic controllers as his rented plane pulled along President Truman's plane."
The brothers were also on the first incoming flight at LaGuardia on Dec. 2 1939. At the "rainy midnight" landing, Michael recalled seeing the airport's namesake, Mayor Fiorello La Guardia, standing "hatless" on the tarmac while opera star Lily Pons sang the National Anthem.
Firsting was definitely a family affair. Karen and Ethel sometimes got into the act, as well. "When our dad was positioned in his vehicle, waiting several days in his car prior to the George Washington Bridge lower-level opening, we brought him some hot food," the sisters wrote by email. "We lowered the food to him on a rope ... we were not allowed to go down there where he was."
Because Michael continued gaining firsts long after Omero had decided to no longer pursue those of his own, it's been reported that there was a rift between the two brothers, with Michael sometimes being referred to as "Mr. First by Proxy" or even as "Mr. Second."
I had asked Michael about his relationship with Omero. He was emphatic that he'd made peace with his brother and that part of his firsting pursuits were as an homage to Omero.
I also asked Robert Lyman about this sibling rivalry. He said he was aware of it but that his script focused on a time when Omero and Michael were more helpful toward one another.
"I recently read The Miami New Times article and there were a couple inaccuracies there," said Lyman. "One was that Omero only gave me the film rights on the condition that the story would be solely about him and not his brother. The reverse is true. Michael is a major character in the script and never once did Omero and I discuss how Michael was to be portrayed."
Lyman said that something else the New Times article got wrong was the amount Omero was to receive if the film were ever made.
"It's absolutely true that I only paid $10 for the story rights. In fact, when I handed Omero the money order, he said it was $9 too much -- that we only had to exchange a buck to make it official. He thought I'd wasted nine dollars!" said Lyman. "But the article stated that he'd only get a thousand dollars if the film were made. In actuality, he would've received an absolute bare minimum of $50,000."
Money was never a motivator for either brother. "Monetarily I had nothing to offer Omero," Lyman emphasized. "At the time I probably had less than a couple hundred bucks to my name."
Making Mr. First
Before I had ever heard of the Mr. First story, the project had attracted some other interested parties.
Even prior to the screenplay's completion, Lyman had talked to an A-list producer, who showed a great deal of keenness for the project.
"I was down in Madison and saw that Mark Johnson was speaking to a film class at the university. I wasn't a student, but I walked over to the building he was at and spoke to him for a while after his talk," remembered Lyman.
Johnson was, and still is, very much a top-tier producer behind such hits as Good Morning Vietnam, Rain Man (for which he won a Best Picture Oscar) and more recently the critically-praised shows Breaking Bad and Better Call Saul.
"I told him about Omero and he said as soon as I'm done with the script, I should send it to him. I figured he was shrugging me off, but he made good and read it and gave it serious consideration," Lyman said. "We had a little bit of a back and forth, but ultimately he decided it'd be just too expensive to film Mr. First the way it was."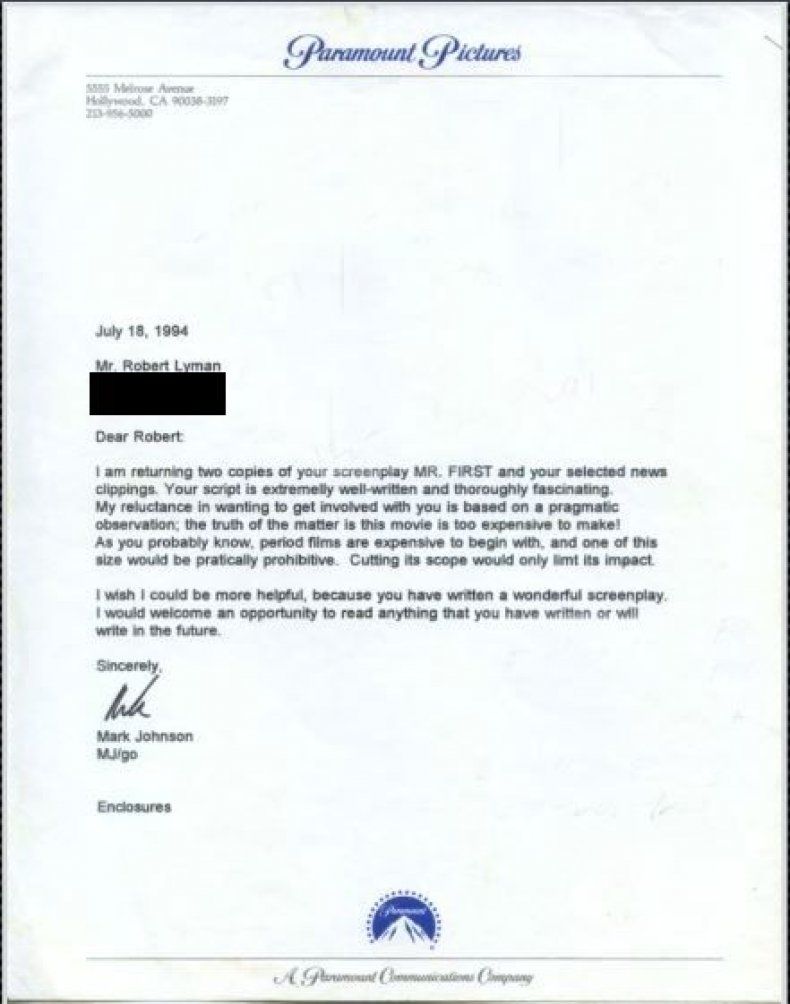 Surprisingly, another early enthusiast of Mr. First was Jon Stewart, who not only had an interest in producing the script, but also in playing the title role. This was in the pre-Daily Show days when Stewart was trying to develop an acting career alongside his comedy and TV ventures.
"When my agent called me saying Jon Stewart was interested in playing Mr. First, I barely knew who he was," recalled Lyman.
The agent who briefly repped Lyman was Rogers Hartmann. She is now an activist raising awareness for a debilitating neurological syndrome she acquired called dystonia. She's given TED Talks on her condition and also appeared on Oprah along with Michael J. Fox.
Lyman now speculates whether Stewart realized the story was based on actual individuals.
"I remember Rogers calling back saying that Stewart had wondered if I could set it in the present day in order to minimize production costs, which really didn't make much sense. It later made me wonder if he'd just read the script as-is without ever knowing the context of it being based on real-life events."
Today, Hartmann says, "I knew Jon Stewart was a very smart guy."
She also agrees that modernizing the script would not have worked. "It was about a special time in American history. I felt strongly that modernizing this true story would compromise its authenticity." (Newsweek made attempts, but was unable to reach Stewart for comment.)
Continually, the main impediment to the project seemed to be budgetary. This was a period film set in mid-Century New York which featured two men involved in a cat-mouse chase all across the five boroughs. Many large set pieces would be required, including those for Gothic skyscrapers, tunnels, an airport, The Stork Club, a World's Fair.
L.A.-based film critic/indie-producer Wade Major also took a shine to the script and had wanted to try his hand at seeing it produced.
"What drew me to the project was that it hit the holy trinity of being a remarkable true-life story I'd never heard before that was also highly original and incredibly well-written," Major said. He also stated that Omero's story inherently delivers a refreshingly unconventional movie hero in that it combines the character traits of an All-American everyman with that of a downtrodden idealist.
While I was at Fountainhead Films, a number of different ideas for Mr. First were floated; most having to do with ways a feature could be done without a mega $60-million budget. Could it be reimagined as an animated feature? We discussed the possibility of first turning the story into a Broadway musical in order to gain attention and backing for the film project.
Also talked about at Fountainhead was a version told from the perspective of Robert finding Mr. First's story at a farm auction and then forming a friendship with Omero after he'd been largely forgotten about for many years.
The idea for these interludes was to go back-and-forth between present day and the 1940s, moving from color to black-and-white, kind of like a reverse Wizard of Oz.
In addition, Lyman had begun a second draft, which was much more reality-based and spanned a 60-year timeframe that encompassed much of Omero's later life.
Aside from the numerous plans for a feature, a documentary had also started filming, though it was never completed. This project was shot by prolific filmmaker Nelson Hume, cinematographer of such high-profile docs as Long Strange Trip and Whitney. Hume captured interviews with both Omero and Michael at their respective homes, and managed a sit-down with their arch-rival George Horn during a visit to California.
"The way I saw it was that it would be a short film with fantastic archival footage of these moments of New York City going up and then there's this guy in a car," Hume said of his vision.
Seizing these historical moments was what drew Hume in. "What they were doing became significant because it captured history," he said. "It celebrated history in a way that I don't think people are so conscious of anymore. A bridge opening today is just another bridge opening. Back then it was the rise of this great city."
Even Letterman couldn't get Omero. In the early-'90s, the Late Night with David Letterman show on NBC gave Mr. First an open invite to come on and chat with Dave, but Omero turned down the Late Night bookers on the grounds that he preferred not to make the long flight from Miami to New York.
Mr. First's Final Act
Omero passed away in 1996, not all that long after Robert Lyman had found him. And after Michael died in 2008, at age 95, I found out that my passage with him over the Delaware Memorial Bridge had been his last first-related ride.
Today, Lyman still values the relationship he had with Mr. First. "Omero's lawyer is the one who called and let me know he had passed away and I have to say it hit me pretty hard."
I asked Lyman why he feels that Omero chose to work with him other than bigger names who had up-front money. "I'm not sure," Lyman admitted. "But after we met, I think it's fair to say we became genuine friends. At that time, I had just moved back home from Madison. My dad had some health problems and wanted me to move back to help with the family business."
The family business being a campground.
"So I was back in the sticks and most of my friends had moved and I was feeling pretty isolated," said Lyman. "With Omero, after a few phone calls, I essentially forgot he was the topic of a writing project and we just talked a lot, mainly about our lives. He seemed endlessly curious about the settler's cabin I live in and asked a million questions about it."
On the topic of the Mr. First film project, Lyman concluded that, "I feel good that a lot of talented people had positive reactions to the script and wanted to see it three-dimensionalized, but I still feel I let Omero down in that I couldn't get it made during his lifetime."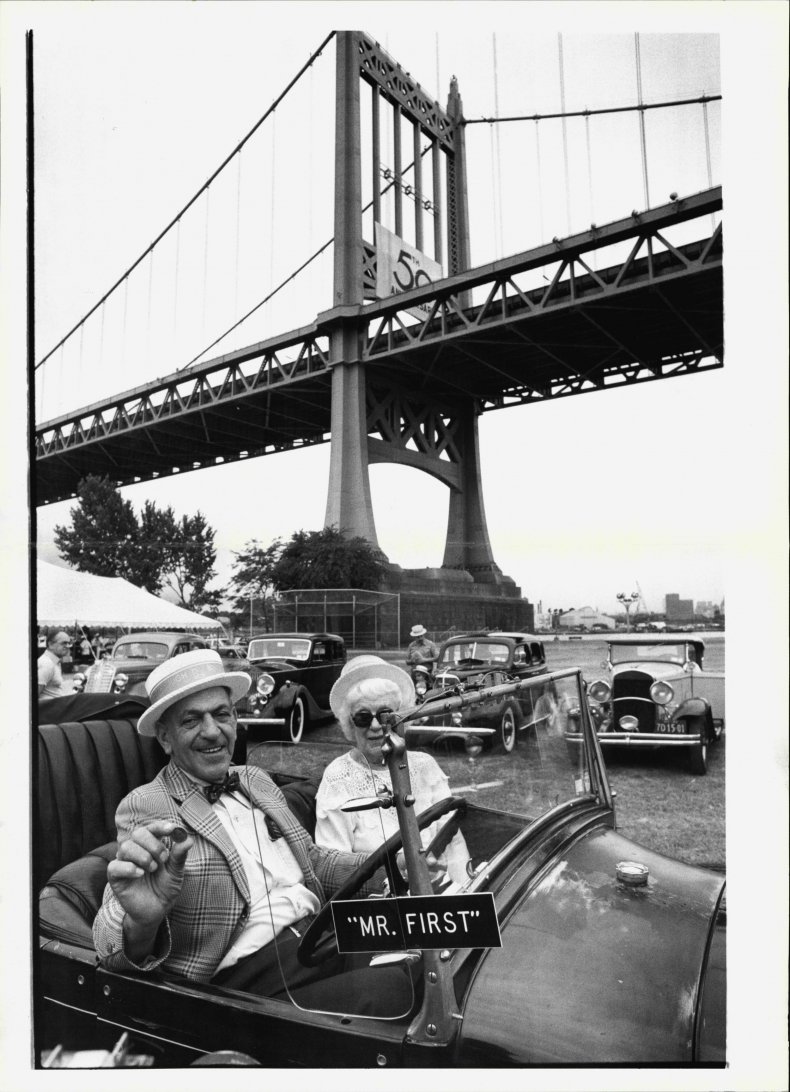 As a slew of 75th anniversaries for the original firsts approach, the enduring saga of Omero Catan lives on. Mr. First is indeed an incredible human story, but it also reaches far beyond the scope of just Omero and his brother.
Throughout the interviews I conducted for this article, the one common thread that's recognized repeatedly is that the Mr. First story is also a great celebration of the city of New York. There are a number of films, often ones by Scorsese or Spike Lee or Woody Allen, which have been labeled as definitive New York movies. However, most of these films are mainly heavy in New York atmosphere. The legend of Mr. First is quite literally the story of a metropolis, and a country coming of age.